Catrin Soldo, cofounder of design clearinghouse and tour company of/Berlin, shares what makes the German capital so unique.
By: Sandra Ramani
Bridal Guide: From foodies to fashionistas, art lovers to bar hoppers, everyone is buzzing about Berlin. What do you love about it?
Catrin Soldo: Berlin is the most exciting city in Europe right now. What I love most is the laid-back atmosphere — it's almost like a Mediterranean city, with people hanging out in cafés, in parks and by the river. It's also diverse and still very affordable, which means artists and designers are able to live, work and create here.

Photo Credit: ©VisitBerlin, Wolfgang Scholvien
BG: What are some of your favorite neighborhoods?
CS: My absolute favorite neighborhood is Kreuzberg — it's beautiful, lively, cool and very relaxed, all at the same time. You'll find an amazing mix of people, from those who used to live here in the "wild" '70s and '80s before the end of the Cold War, to young families, Turkish immigrants, hipsters and more. Mitte is another great area; it's got a lot of the important tourist sites and buildings, but also tons of small shops and art and design studios in between.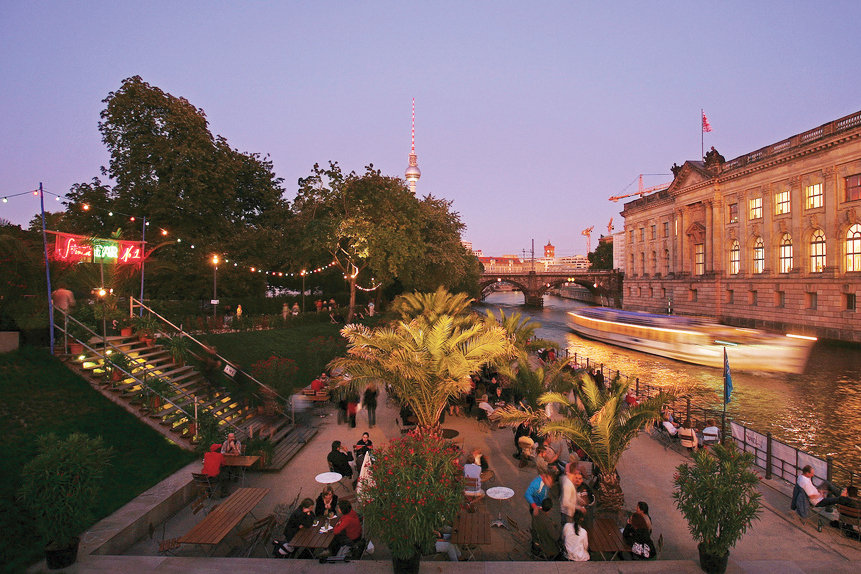 Photo courtesy of Strandbar Mitte/Beachbar Mitte
BG: What are some must-do local activities?
CS: Riding a bike is the easiest and most beautiful way to explore the city and to get to know the DNA of Berlin; you can rent bikes at almost every corner for just 8 to 10 euros a day. If the weather is bad, check out museums like the hamburger Bahnhof, a converted 19th-century train station-turned-contemporary art museum, or the Gemäldegalerie, which has the world's leading collection of European paintings from the 13th to 18th centuries (smb.museum).

Photo Credit: ©VisitBerlin, Wolfgang Scholvien

Photo Credit: ©VisitBerlin, Stijn Nieuwendijk

Photo Credit: Lluís Ribes Mateau
BG: Where should travelers head for romance?
CS: Rent a boat (available with or without a skipper) for a scenic sail on the River Spree; you can also book a delicious picnic or barbecue. A must-visit sunset picnic spot is Tempelhofer Feld, the site of the former Tempelhof Airport, which has been turned into a popular public park. It's so romantic there, and somehow it feels like you're by the sea. Take a stroll through the historic village of Rixdorf in the Neukölln neighborhood, where you'll find an oasis of old farmhouses, cobblestone streets and beautiful gardens such as the Comenius Garden. Or take in the stunning city views from the lively Klunkerkranich Rooftop Café, also in Neukölln, which has a working urban garden.

Photo Credit: ©VisitBerlin, Ferran Porta
Pages