Venue-hunting? Before you sign the contract, here are some factors you should consider!
1. DON'T rule out venues automatically. 
It's tough to guesstimate how much a potential venue is going to set you back based on the photos alone. Give yourself free reign to visit any and all wedding locations that pique your interest — whether they're must-sees or just maybes — if you have the time and aren't getting hitched in six months or less. When we walked into The Palazzo Room at The Venetian, a venue in Garfield, NJ, my now-husband Jason nearly passed out when he saw the sky-high ceilings and glittering chandeliers. But when we started to comparison-shop and crunched some numbers, we realized it matched up with many other venues in price. In fact, it offered more food options and amenities than the others.
The Venetian: The venue we ended up booking!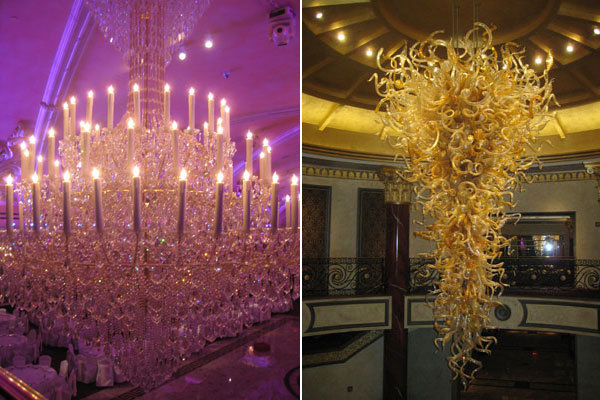 2. DO take the bare bones into account.
It's easy to transform a venue from so-so to stunning with drapery, lighting, and centerpieces. However, those décor elements come with a hefty price tag, so budget BG brides may want to consider selecting a place that they could see themselves getting married in, with minor retouches. I've heard stories of couples who loathed the ceiling, carpeting or general layout of their wedding venue, signed the contract, then spent thousands trying to bring it up to their standards. Bad idea!
3. DON'T lose sight of your priorities.
During the wedding-planning process, it's easy to get swept away in the thought that this is a once-in-a-lifetime event. Every bride has their moments where your judgment goes out the window — mine was when I begged Jason to see Oheka Castle, knowing full well that it was far past our budget max (a Jonas brother got married there, for goodness sake). Being the great fiancé that he is, we went for a tour anyway, and I somehow deluded myself into thinking that we could swing the cost. That is, before he pointed out that we wouldn't be able to have a single flower, song, or piece of cake. Whoops.
 
Oheka Castle
4. DO inquire about the deposit price first.
One popular misconception is that there is an industry-wide standard that all wedding venues follow when it comes to booking your date and making that initial payment. Jason and I visited places that charged anywhere from $500 to 20% of the total cost of your wedding. If you want to reserve a specific date ASAP, call the vendor beforehand and ask how much the deposit is so that you don't show up short-handed.
5. DO take advantage of word-of-mouth.
Those three little words are of the utmost importance to vendors since most brides take into account what kind of experience their friends and family members may have had at a particular wedding venue. Tell your assigned sales rep about real-life couples who got married at their establishment and recommended it to you, and they may throw in some small extras or lower the price a smidge. It doesn't hurt to try!
Florentine Gardens
6. DON'T be afraid to negotiate.
Most wedding venues have a set amount that they need to fulfill for a particular date, which could be influenced based on how many guests you have. If you offer to make the minimum number of guests higher, this could knock down your price per plate, so long as you are 100% certain that you could fill all of those seats. Politely tell the sales rep what your price range is and ask if you can subtract any of the extras (e.g. chair covers at $5 a pop) to try and hit that number. Be aware though that if you are dead-set on a particular venue, you're going to have to accept the general margins of what it costs — even negotiating has its limits.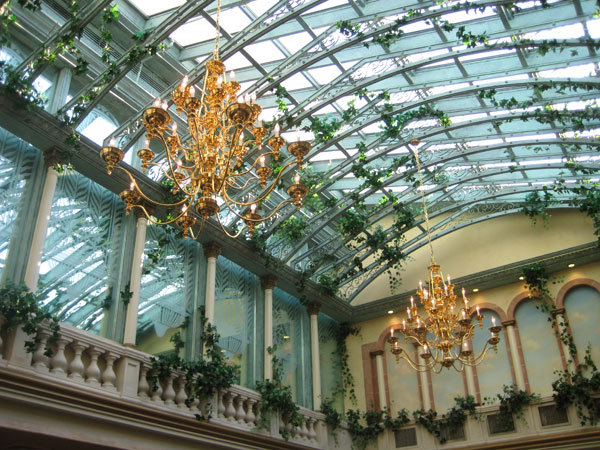 Jerricho Terrace
7. DO be flexible with your date.
Venues charge a premium for Saturday evenings, so you can instantly save by booking your wedding on any other day of the week (Thursday and Friday evenings are becoming especially popular). I saved a sizeable chunk of my budget by booking my shindig on a holiday Sunday, which was ideal so that guests don't have to take the next day off of work. However, be aware that most venues are becoming savvy to this and may charge slightly extra for a holiday Sunday than a regular one. Your wedding will also cost less if you book it during a non-popular season for the area that you're considering, like March in New York vs. June. 
Flowerfields
8. DON'T forget about extra fees.
Ask your sales rep to calculate the total cost per person, including the 20% service charge and tax for your state.Often, they will just quote you for the sum excluding those two figures, which can make a big difference in your total cost. Also, be wary of venues that may charge extra costs for services like cake-cutting, parking, or using outside vendors.
Marina del Ray
9. DO ask about preferred vendors. 
Most wedding venues have a list of photographers, DJs, and florists that they recommend who have worked with them on events in the past. Be sure to ask about the rules regarding bringing in outside vendors. For example, my venue just invested in a state-of-the-art lighting system, so they only allow their affiliated lighting company to use their equipment, rather than whichever DJ I may choose.
10. DON'T wait until the last minute.
Dates book up much more quickly than most brides would expect, so don't hesitate if you know you're going to select a certain venue in the end. If you're having a long engagement like I am, try to book your venue early so that you get quoted that year's prices versus the year you're actually getting married. I got 2011 rates rather than 2013, which saved me at least 15%. Also, be aware that most venues don't allow you to switch the date once you've signed their contract, so you're locked into "I Do."
Photos courtesy of Stefania Sainato
— Stefania Sainato