Take a bite out of your honeymoon destination with one of these food experiences.
By: Sherri Eisenberg
Sure, food feeds us. But for travelers, it does more. Food allows visitors to literally drink in the culture of their surroundings. And the experience of taste is so powerful that more and more honeymooners are selecting their ultimate destination based on their palate. For couples who cook together, learning a few new tricks in the kitchen can be almost as exhilarating as learning a few new tricks in the bedroom. Okay, we exaggerate: But there's no denying the bonding that comes with feeding each other body and soul. For duos who love to dine, these four locales serve up plenty of iconic local cuisine for honeymooners to learn about and indulge in. Bon appétit!
Thailand 
Authentic Thai cuisine balances a pow-pow-bam-boom punch of flavors, from sweet to sour, salty and spicy. It's not subtle — but it is unforgettable, as are the golden temples and boat-filled rivers of this beautiful country of a thousand smiles.
Where to Go: Northeastern Thai cuisine, called Isan, is influenced by nearby Laos. And while the elephants and the mountaintop temples are a draw for many visitors, foodies flock here for classic dishes like khao soi (a red curry), som tam (green papaya salad) and sticky rice.

Photo Credit: Four Seasons Resort Chiang Mai
Where to Explore: The Four Seasons Resort Chiang Mai may have an awesome open-air cooking school, but the real treat here is the market tour. Start your day with a culinary lesson in regional ingredients as a translator leads you through stall after stall of produce, meat and exotic spices, picking up tastes for you along the way. The experienced — and adventurous — foodies will want to try durian, the world's most, um, fragrant fruit and a few of the crispy fried insects.
Tip: Don't leave without buying packets of the local blend of red curry powder, an ingredient that's nearly impossible to find back home. Finish the experience by sharing a wok with your new husband at your own cooking station back at the al fresco school, and whipping up an authentic meal together that will forever put your local takeout joint to shame.

Photo Credit: Four Seasons Resort Chiang Mai
Where to Stay: The 98 rooms at the Four Seasons Resort Chiang Mai have enormous bathrooms, honeymoon-worthy curtained beds, enough silk and Siamese artwork to remind you that you're in Thailand and private outdoor space to take in the views of the misted mountains and the rice paddies (room rates start at $534 a night; fourseasons.com).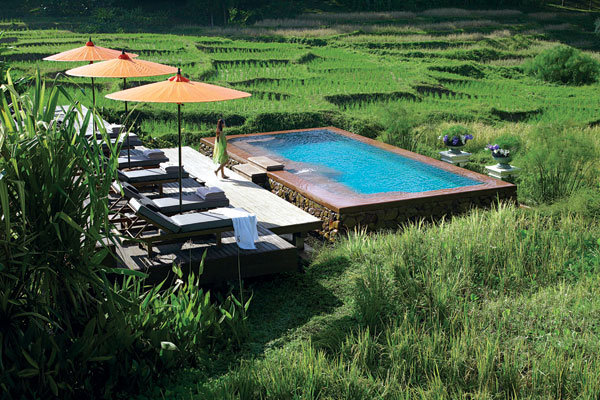 Photo Credit: Four Seasons Chiang Mai
More Foodie Picks:
► Mexico
► South Africa
► Hawaii
► In the USA
Pages