I hit the beach (and paddleboard and air) on my honeymoon to Hawaii.
By: Stefania Sainato
I always knew I wanted to visit Hawaii on my honeymoon. When I was a little girl, I'd beg my parents to make a detour at the airport, instead of wherever we were going. Twenty years later, I know it was well worth the wait.
My husband, Jason, and I left for our trip of a lifetime mere hours after cutting the cake so we could wake up in paradise. For two weeks, we did just that and had a bonanza of "pinch me" moments: helicoptering around the Jurassic Park waterfall, sunset-watching on the lanai (balcony) and consuming our weight in fish tacos and fruity cocktails. In a word: heaven.

Photo courtesy of The St. Regis Princeville Resort
Kauai: Ultimate Relaxation
After months of wedding planning we needed R&R with no set itinerary. We heard that Kauai is perfect for shaka (relaxing), so we booked into the St. Regis Princeville, overlooking Hanalei Bay. Rooms have contemporary Hawaiian decor and peekaboo showers — with a flick of a switch they become clear or opaque for privacy. The resort is an oasis of absolute relaxation and we relished every moment to do so. Here, even normal activities like lounging by the pool felt like an elevated experience. It's no wonder it's a favorite retreat of George Clooney! (room rates start at $1,200 a night and include breakfast; stregisprinceville.com).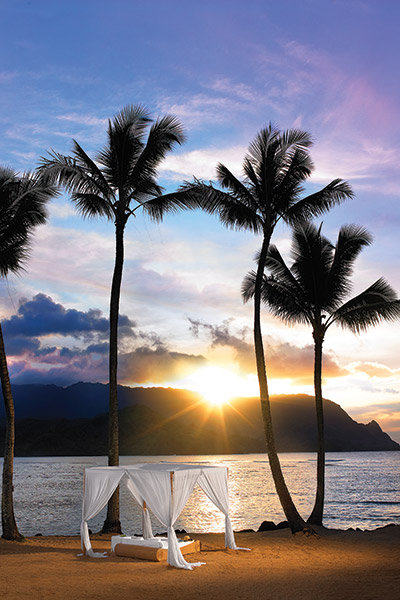 Photos courtesy of The St. Regis Princeville Resort
Up in the Air
On a helicopter ride, we soared above the Napali Coast, a 17-mile stretch of cliffs, waterfalls and lava tubes on the northwest shore. Our pilot shared the history of the verdant island and Hawaiian culture as we soared and dropped hundreds of feet in dizzying succession over Waimea Canyon. The ride was more daring than we anticipated — I gripped Jason's sunburned arms so tightly they turned white — but it was a trip highlight.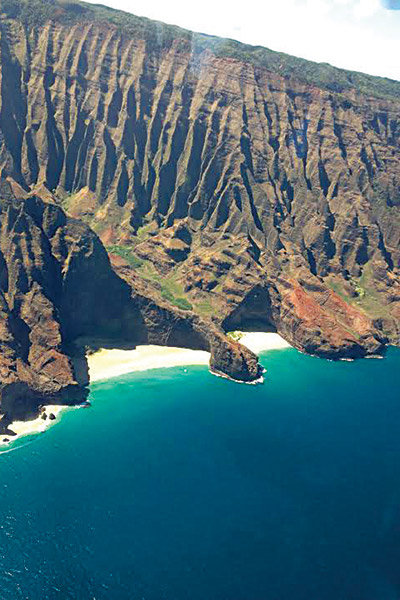 Photo Credit: Stefania Sainato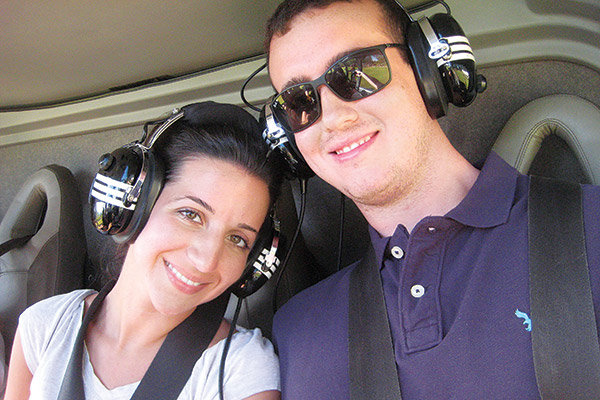 Photo Credit: Stefania Sainato

Photo courtesy of Four Seasons Resort Maui
By the Shore
Beach bums like me are in their glory with Kauai's more than 80 strands. We especially loved Hideaway Beach near the hotel. Getting there was an adventure: Using ropes, we hiked to a glittering cove with peaceful solitude — it was like being in a screen saver! We also went to nearby Pu'u Po'a Beach. Its offshore reef and calm waters are perfect for snorkeling.

Photo Credit: Stefania Sainato
Travel Tip: Factor a resort fee into the total cost of your stay (most hotels charge between $25 - $65 per night).
Pages