This Los Angeles couple basked in the romantic allure of one of the world's most enticing island destinations.
By: Jenna Mehoney
-AS SEEN IN BRIDAL GUIDE MAGAZINE-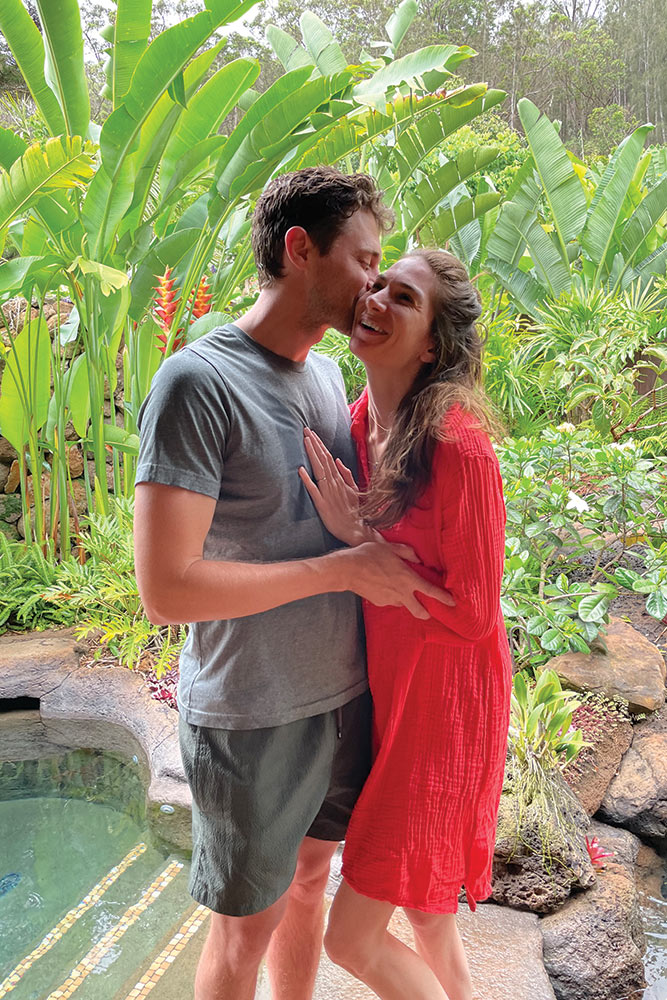 Somewhere Over the Rainbow, the lyrical ode to escape and possibility, is something of a theme song for Hawaii. And with good reason. A corner of the Polynesian Triangle — an expanse of island nations and territories across the South Pacific — the Hawaiian archipelago is one of those ultra-romantic, bucket-list destinations that promises all the amenities of happily ever after. The natural appeals are many, from glittering beaches and photogenic coves teeming with colorful fish to surf-worthy waves and tranquil waters that are home to dolphins and (in season), tail-slapping whales — plus active volcanoes, towering mountains and lush tropical forests, waterfalls a go-go and endless rainbows.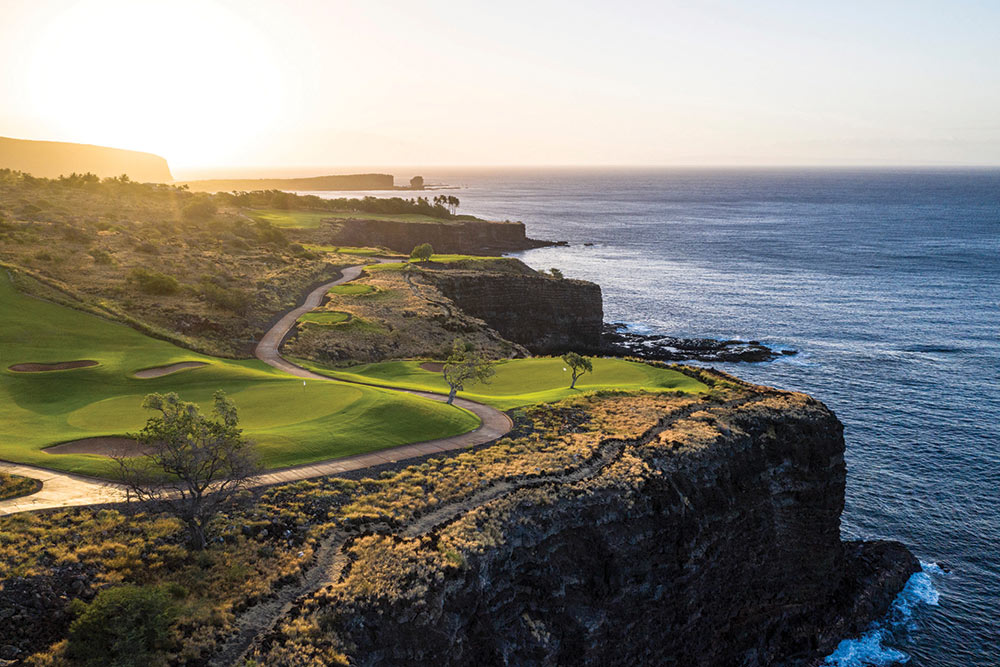 While all of that doesn't need to be topped — it is, throughout Hawaii. The island state offers an impressive range of properties that house pampering spas, innovative cuisine, and some of the most romantic guest rooms on the planet, served with that singular spirit of Aloha, a welcoming sense of hospitality and inclusion by the local people. All of that is what brought Los Angeles couple Margaux Lushing and Stephen Kob to spend their 10-day honeymoon at paradise on earth. Here, they share their amazing trip's highlights.
BRIDAL GUIDE: How did you choose Hawaii as your trip-of-a-lifetime destination?
MARGAUX LUSHING: We were looking for a honeymoon-worthy destination that wasn't too far afield, because in summer, 2021, international travel was still pretty much off the table. We wanted a balance of low-key, luxury and an abundance of natural beauty, while feeling far away from home. The Hawaiian islands offer all that along with killer sunset views each day.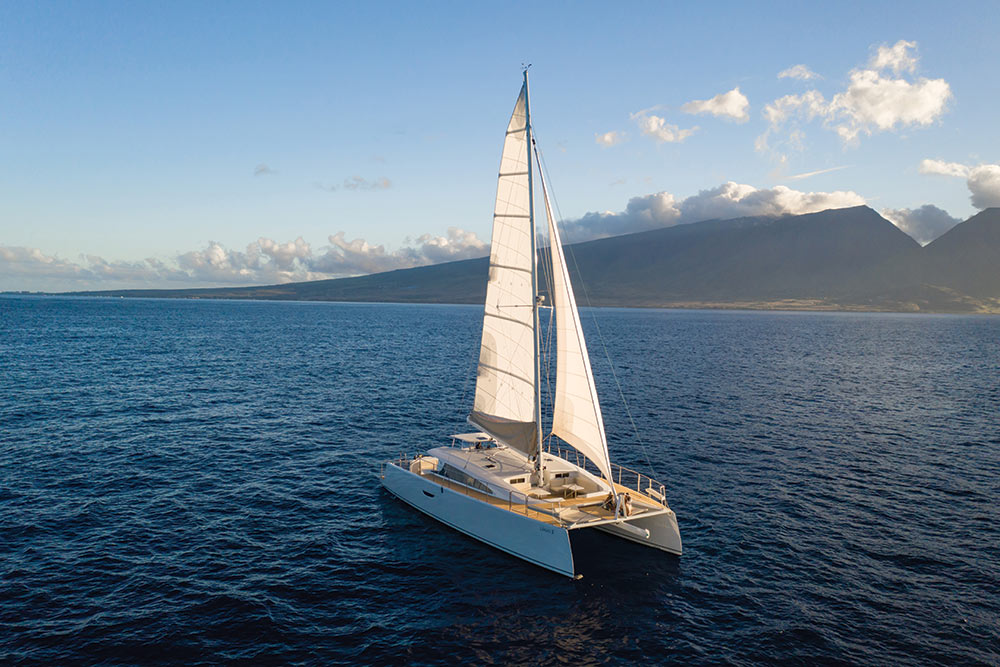 BG: Hawaii is a chain of 137 islands, five of which welcome visitors. How did you select among them?
ML: Given the state of the world, being easily accessible from LA was key. The Big Island (AKA Hawai'i), which I have visited in the past, is a single, five-hour flight from LAX. Compared to some of the other islands, this one's less crowded, and there's a spacious feel. We spent the first half of our trip there, between two resorts, then hopped to Lana'i to spend time at two more properties. We really wanted to find a beautiful beach with great amenities and lots of special-occasion food. Lana'i had been on both of our dream-destination lists. Plus, taking the Four Seasons single-prop charter plane to the tiny island sounded like an adventure in itself.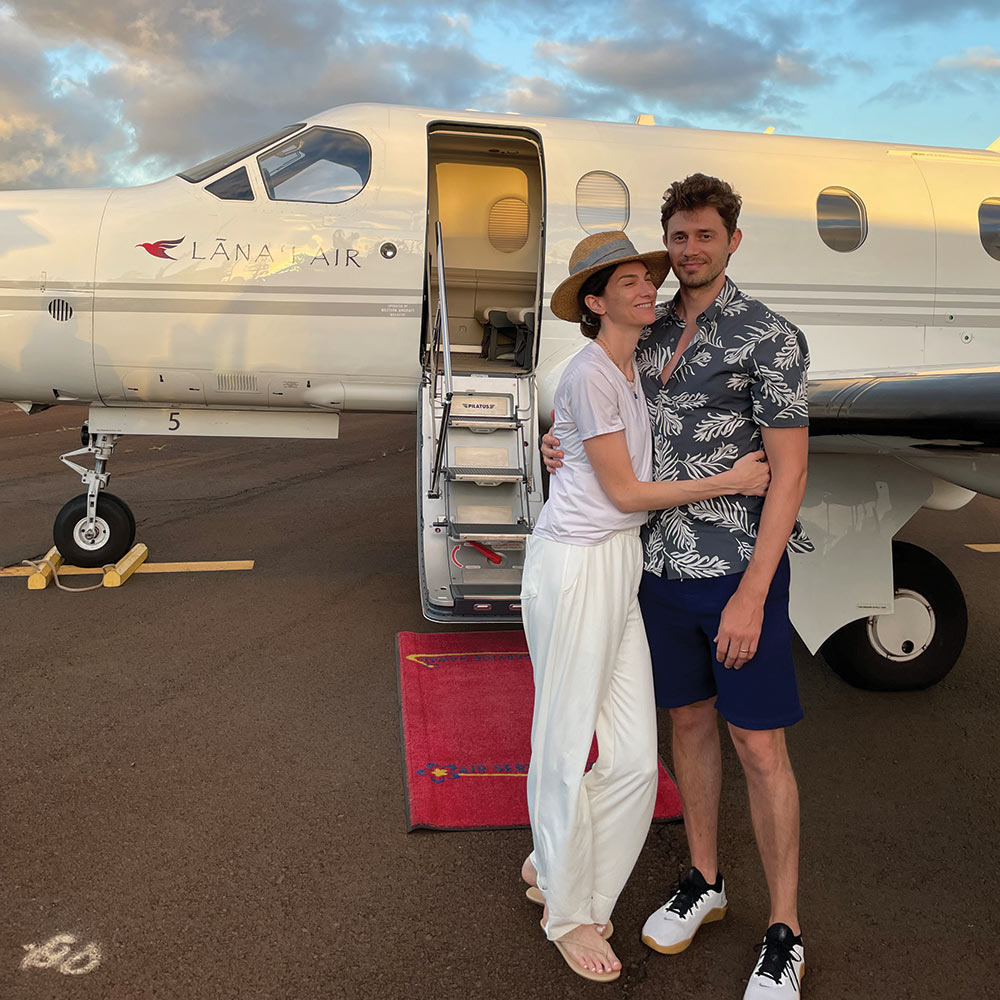 BG: Where did you stay?
ML: On the Big Island, we checked into The Fairmont Orchid with gorgeous ocean views and beautiful grounds (room rates start at $679 a night). There, we experienced lomi lomi massages at the resort's open-air hales (houses) positioned on the beach with amazing water views. It was wonderfully relaxing. Then we stayed at the neighboring The Mauna Lani Resort to experience its chic renovation, three pools and excellent food. As vegans, we were thrilled to savor a custom tasting menu at the popular CanoeHouse restaurant (room rates start at $950 a night). The small island of Lana'i, which once produced 75% of the world's pineapples (a fact we learned on our trip), has just three hotels. We stayed at the adults-only, wellness retreat Four Seasons Sensei Lana'i and the beachfront Four Seasons Lana'i (room rates start at $800 a night, two-night minimum and $1,150 a night, respectively). It was an unreal experience to be on a beach in Hawaii with so few other guests. Both resorts have Nobu restaurants, which is our go-to for special occasions in LA. At Sensei we were impressed by the rooms with their perfect balance of old Hawaii meets contemporary comfort. The onsen garden and a connected sculpture garden near the yoga pavilion were so romantic, and the pool was stunning and quiet. We enjoyed uncrowded meals next to a koi-filled pond.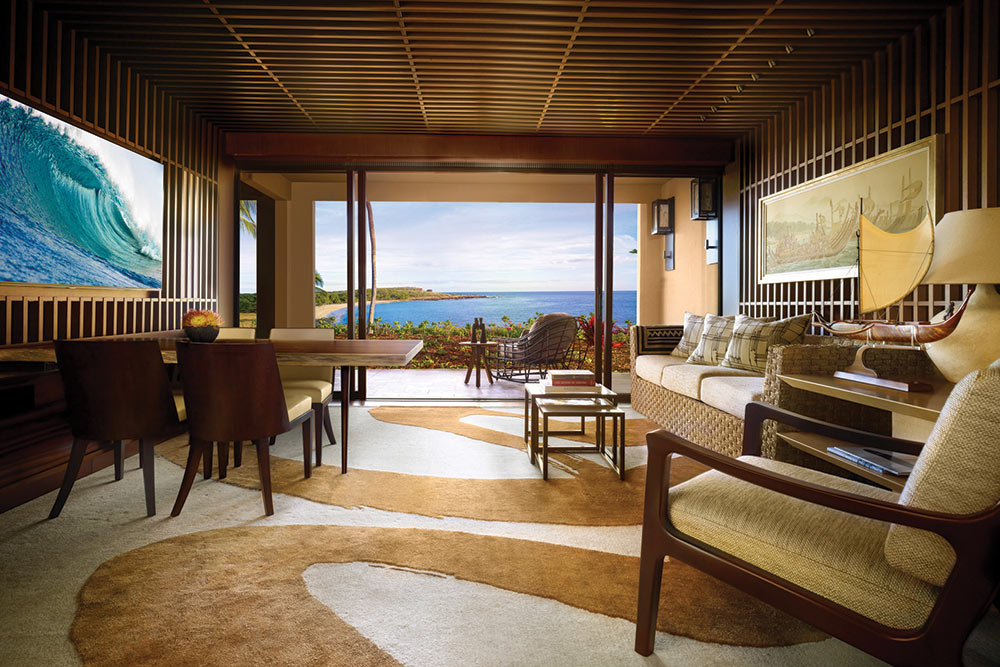 BG: Did you have a memorable meal?
ML: We specifically arranged our itinerary so that we had great meals every day; there was no one favorite. On our final night, we returned from a gorgeous sunset sail and walked right into dinner at Nobu at Four Seasons Lana'i. We just told our server we were vegan and asked her to bring all of the vegan-friendly greatest hits. It was wonderful, classic Nobu dining and such a perfect last dinner.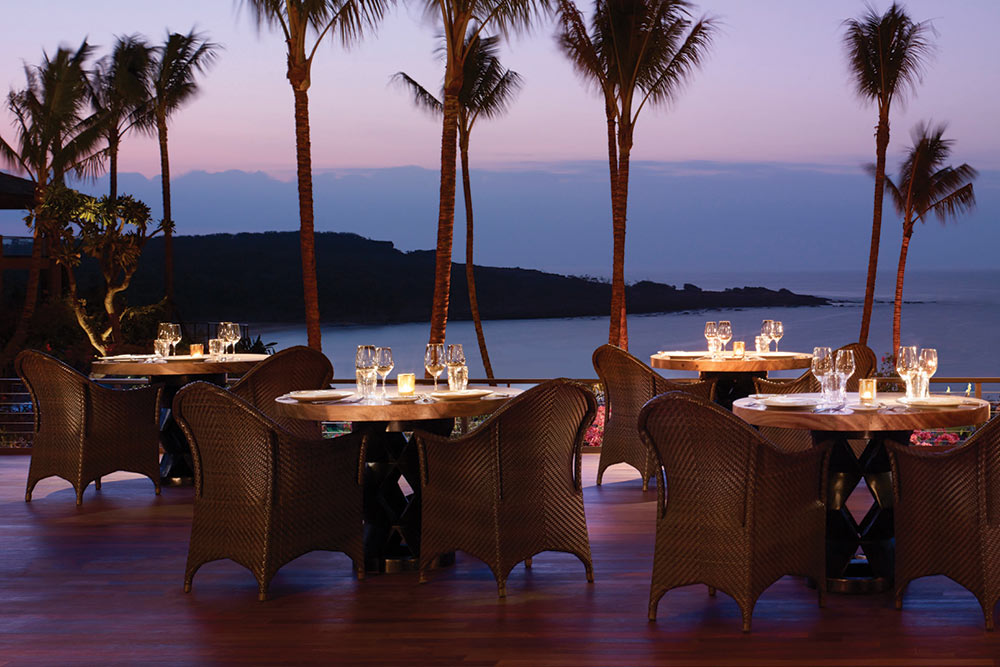 BG: Did you go on excursions?
ML: On the Big Island, we soared high above on a helicopter tour with Blue Hawaiian Helicopters. It was mind-blowing to fly over the island's massive active volcanoes and across waterfall-laden valleys. It was spectacular. Another only-in-Hawaii excursion was the sunrise canoe outing suggested by the staff at the Mauna Lani. Honestly, we were not the most enthused about waking up for a 6:30 a.m. canoe departure from the beach. But as soon as we paddled past the protected beach area into the open ocean we were thrilled. We saw a pod of dolphins, and we swam, just as the sun was rising. It was one of the most special experiences of the trip. We loved the sunset sail organized by the beach resort on Lana'i. During the three-hour tour we were the only boat on the water. With Mai Tais in hand, we were able to see the most stunning sunset in every direction.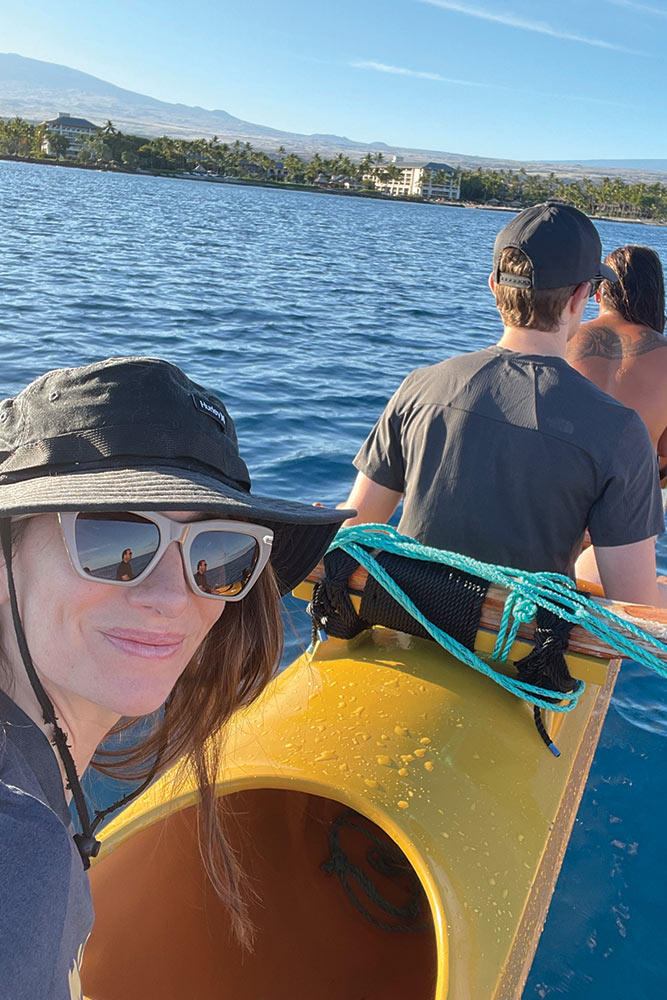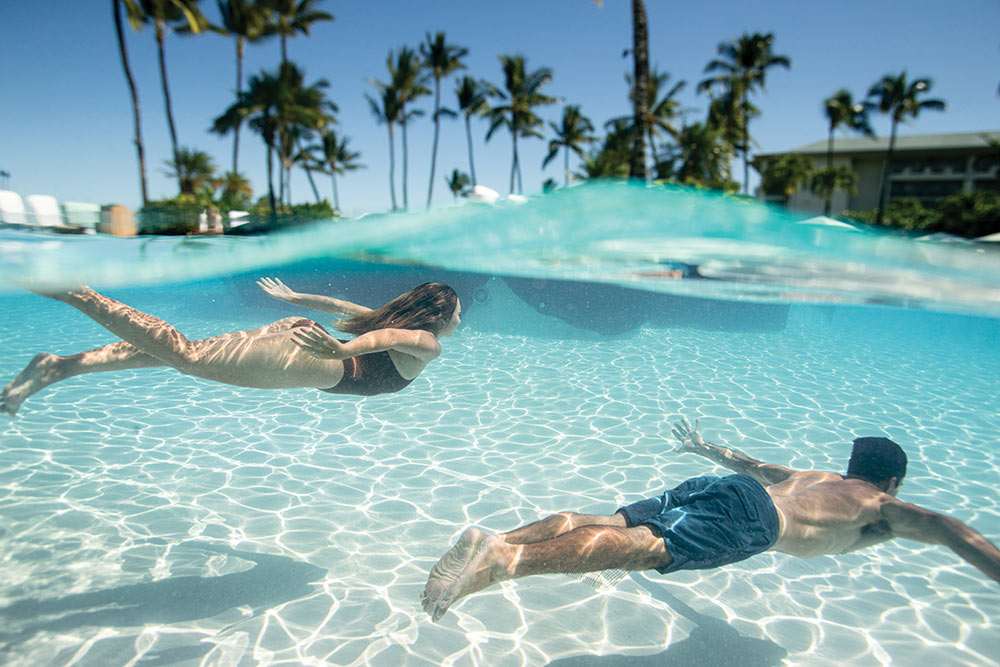 BG: Did you have a favorite snack or treat?
ML: At the Mauna Lani I got hooked on the sugar-free, matcha lattes and the ube colada, a decadent spin on the piña colada made with an ube (purple yam) float. I craved both when we left.
BG: Have any travel tips?
ML: Book everything early! At the Fairmont Orchid, the beach cabanas are a luxury when the sun is high, and we were happy that we had reserved them in advance. Similarly, we arranged our dinners and car rental months ahead.