Where the city sizzles, sparkles and shines — a tour with award-winning chef and culinary director of SLS Hotels, José Andrés.
By: Jenna Mahoney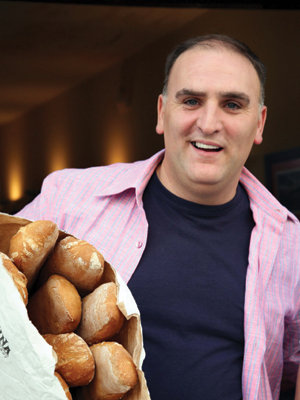 Where the city sizzles, sparkles and shines — a tour with award-winning chef and culinary director of SLS Hotels, José Andrés.
 Bridal Guide: What are some of your favorite things about Miami?
José Andrés: The energy of the city, the people, the Latin influences, the Art Deco design and, of course, the amazing seafood are all top on my list. I love to explore the city of Miami with my team, and discover the food and the culture of this place. There is such a rich and diverse history here that many people do not know.
BG: What do you like to do in the city?
JA: There are so many sexy places in Miami. I think the miles and miles of sand on the very wide Miami Beach are astonishing. It is so peaceful to walk along the beach at night. I love to see people laying out on the sand enjoying some great cheese, olives, fruit and wine, just like I grew up doing in Spain. In the South of Miami Beach, you will find South Pointe Park, which is a beautiful spot to relax with someone special and just look at the amazing ships that float in and out of the Port of Miami. It's particularly pretty at sunset.
BG: Do you have any favorite activities?
JA: Renting scooters is a great way to see Miami. Cruising along the most scenic pathways in the city —both on and off the beach — is very relaxing. But scuba diving is my new passion. I love the feeling of being in the water.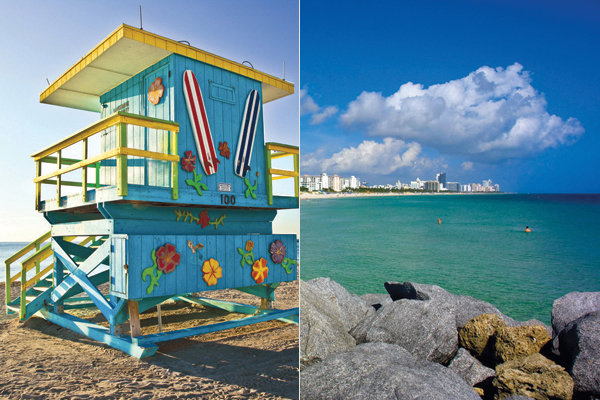 Photo Credit: Greater Miami Convention and Visitors Bureau
BG: Where do you like to stay in Miami?
JA: It has to be the new SLS Hotel South Beach. When I met hotelier and entrepreneur Sam Nazarian and his team several years ago, I liked what they had to say, and I appreciated the story they wanted to tell in a new way. Together we had a vision of changing people's idea of a luxury hotel that's pampering but modern, cool and sexy. Along with interior designer Phillipe Starck we were able to open a truly magical place with the SLS Hotel Beverly Hills and The Bazaar by José Andrés in L.A. Now in Miami, we've done it again, but in a way that reflects the sexiness of the city. And I'm proud to be the culinary director of this South Beach hotel, as well as the one in Beverly Hills and more to come (room rates start at $325 a night; slshotels.com).
BG: Do you have a favorite place to eat in Miami?
JA: It's so hard to pick just one with so many great restaurants in Miami! For those who love food, take a stroll down Calle Ocho, where you will find all kinds of authentic Hispanic delicacies. Some of my favorites include Michael's Genuine, Pubbelly and Michy's. I love the lunch menu we offer on the terrace at Bar Centro of course: Nothing beats a big plate of jamón (cured ham) and some pan con tomate (toasted bread with garlic and tomato). But I also enjoy the fresh seafood at Garcia's, or a medianoche (a pressed sandwich of roast pork, ham, mustard, Swiss cheese and dill pickles) from Enriqueta's. For dinner, if I'm not eating at The Bazaar, I'd suggest Puerta Sagua. It has some of the best Cuban food in South Beach — I like to stop there whenever I'm in town.
Photo Credit: Thomas Schauer and Darko Zagar
BG: Is there a typical treat that you savor?
JA: I love Cuban coffee in South Beach! I go to David's Café for freshly roasted Cuban coffee, which is sweeter than American coffee with hints of molasses. Also the guava pastries from Versailles Bakery are very authentic. I love to get my fix at Joe's Stone Crab too.
BG: Are there any must-sees for honeymooners?
JA: Miami's beach is astonishing, so big and beautiful with water so blue that it simply can't be missed. In the evening it is particularly romantic, especially standing at the SLS pool. The outside terrace at Area 31 is great too, as is the view from Juvia. Also the Fairchild Tropical Botanic Garden in Coral Gables has many rare tropical plants and colorful flowers. The 10 acres of old-world European gardens at Vizcaya Musuem, a bayfront mansion, are also very romantic. Sometimes the most romantic thing you can do is stay in your suite and order room service while watching the view from your window. That's what I thought about when I created the room service menu at the SLS.
Photo Credit: Greater Miami Convention and Visitors Bureau
BG: What is your favorite view?
JA: Honestly, nothing beats being on the beach, but the view when you're coming over the bridge on US 395 is also phenomenal.
Photo Credit: Greater Miami Convention and Visitors Bureau
BG: What is the most underrated Miami experience?
JA: When people see South Beach, they forget there is an entire city off of the island. South Beach is the main hot spot in Miami, but there are other areas in Miami that are good. Wynwood and the Design District have some fascinating art galleries to see. The modern art at the De La Cruz Collection is a hidden gem. I love to visit and see what provacative new works they have to share. There are also plenty of cultural events in Miami to experience, like concerts and performances at The Fillmore Miami Beach and the New World Symphony. 
Photo Credit: Greater Miami Convention and Visitors Bureau