Explore America's expansive and protected national parks with stays at these gorgeous properties.
By: Jenna Mahoney
-AS SEEN IN BRIDAL GUIDE MAGAZINE-
Possibly the most famous, Yellowstone National Park, which straddles Montana and Wyoming, was also the first. It was declared a National Park by Woodrow Wilson in 1872. And Republican president Theodore Roosevelt, who also is said to have been the inspiration for the "Teddy" bear, had the largest positive impact on the protection of national lands and parks. 
Southern Utah has a distinctly magical feel. The environment — an expanse of slot canyons, scrub-brush dotted gorges and ancient flat-topped mesas — seems to transform throughout the day as the sun dances across and eventually hides behind it. The night sky is equally compelling, and romantic. Here, a collection of National Parks, including Bryce Canyon and Lake Powell, are all exclusively accessed with a stay at this ultraluxe and uber-intimate collection of 34 modern minimalist suites. Activities include canyoneering, hiking, river rafting, hot-air ballooning and more. In June 2020, the property, which stretches over 600 rust-and-mauve desert acres, added 10 tents to its accommodations offerings (room rates start at $1,900 a night).
Below the soaring sandstone cliffs of America's Southwest, white tents dot the rugged red rock landscape of Zion National Park at this adventure enclave in one of the country's most majestic natural scenic locales. Stays at this hideaway that's tucked 20 miles away from the epic park's entrance offer exclusive Jeep rides over the rugged terrain, guided hikes and river-rafting excursions across the 196- acre Zion, as well as hot-air balloons and outdoor Vinyasa yoga sessions. Cuisine and in-accommodation bath amenities are all organic — naturally (room rates for a deluxe tent start at $349 a night).
The only rainforest in the United States is El Yunque, a 29,000-acre delight of dense tropical foliage and its corresponding fauna — keep your eyes peeled for tree frogs — crystalline waterfalls and petroglyphs by the indigenous Taino people on the island of Puerto Rico. And this full-service Caribbean resort that fronts a FOMO-flaunting strand of golden sands is located just 20 minutes from the park's entrance. Some of the rooms at this classic island property feature rainforest views, all have sleek furnishings and balconies (room rates start at $299 a night).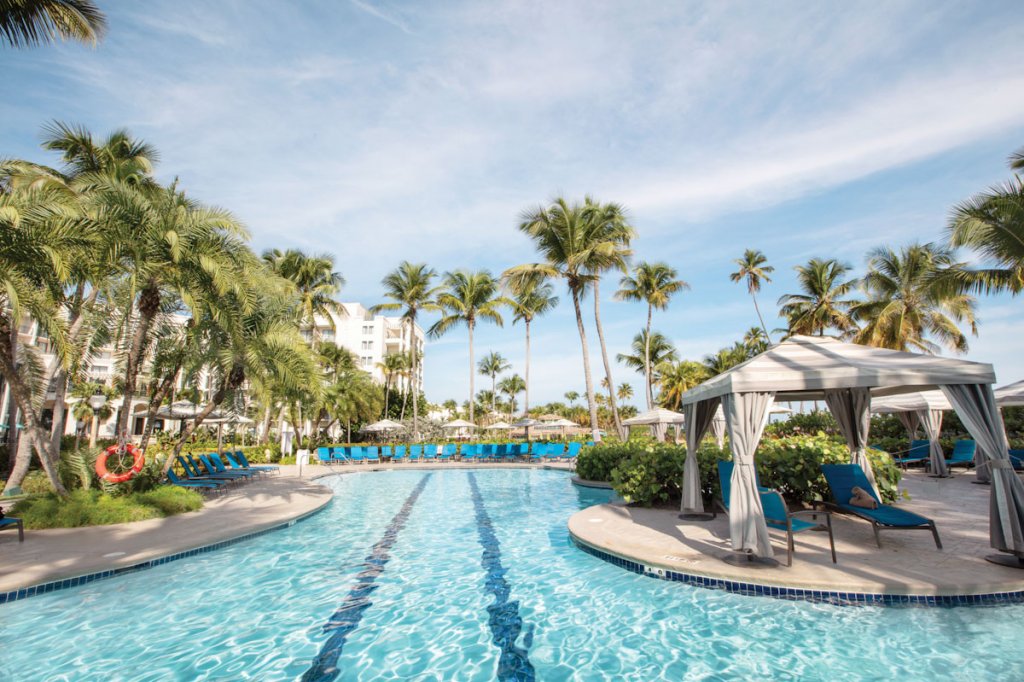 Said to have been the first U.S. hotel to use the term "glamping," this working cattle ranch-meets-adventure resort is perched on the banks of the storied Blackfoot River (Google image "Brad Pitt" and "fly fishing" — it's a treat). Accommodations are a mix of 28 wilderness homes (think: log cabins gone chic) and 36 luxury tents outfitted with stone-floored bathrooms and endless nature views. It's all about the great outdoors here with an activity menu that's as endless as Montana's Big Sky. For an unforgettable excursion on your trip of a lifetime book a helicopter tour over Glacier National Park's towering peaks (room rates start at $1,540 a night and are all inclusive).
A national treasure in its own right (the hotel is on both the National Historic Register and is a National Landmark), this posh California property is as stately as its renowned guest list — Winston Churchill, JFK, Barack Obama and Queen Elizabeth, among others, have all stayed here. In addition to classic rustic design touches and elevated service, the hallmark of the 97-room hideaway and its additional 24 guest cottages is the view. It's all perched to appreciate the park's most celebrated landmarks — Yosemite Falls, Half Dome and Glacier Point (room rates start at $478).
No one would blame you for equating California Dreamin' with sunny salty beaches, but SoCal's cool factor extends to the brush-and cactus-dotted desert inland. Joshua Tree National Park in the Mojave Desert is one such storied setting that's punctuated by low-slung hideaways like this two-room boho retreat. Both of the intimate accommodations promise awesome natural views from their indoor/outdoor settings, as well as deep soaking tubs that are perfectly positioned to view the spectacular sunset. Since the property is just a mile from the park's entrance, guests can walk to and fro with ease (room rates start at $339 a night).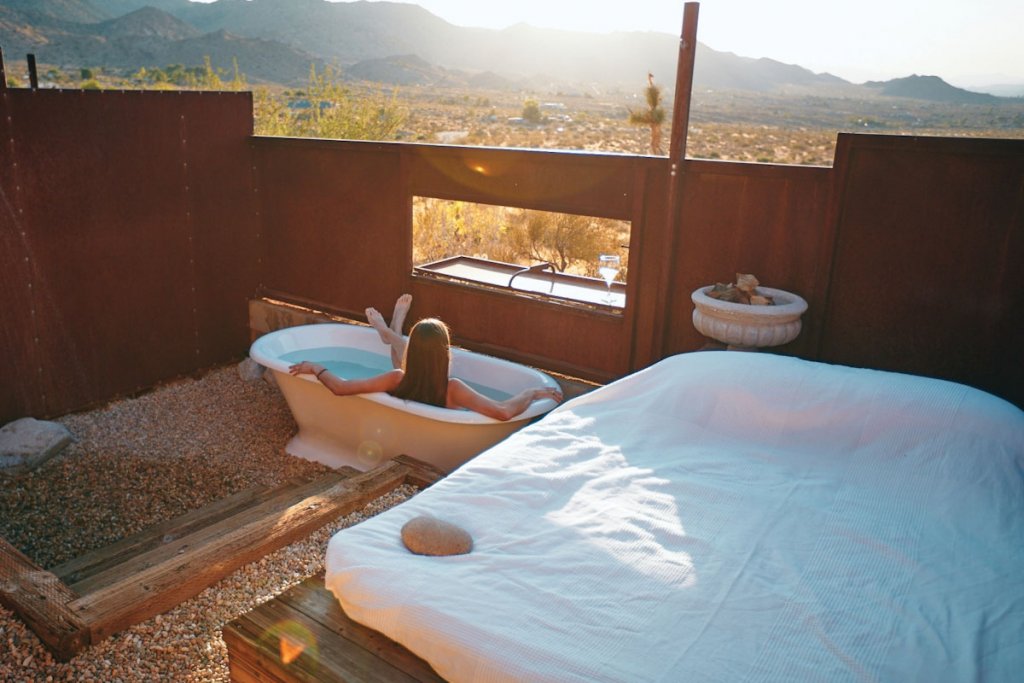 Maine's Acadia National Park is as emblematic of Vacationland as lobsters and lighthouses. At the island park, pine trees tower over granite outcroppings that meet the inky Atlantic Ocean where whales can be spied. Moose and deer may be spotted via hiking and biking trails traversing the dense woodlands and around shimmering ponds. This Bar Harbor resort is minutes from the park's entrance. Book into one of the Boathouse Suites for unbeatable views of the classic New England scene — Frenchman's Bay and the town's picturesque boat basin (room rates start at $265 a night).