Explore this little slice of paradise in the Florida Keys.
By: Jennifer Lazarus
While he was planning our honeymoon, my husband clung to advice given to him by a close friend — if you can splurge on this once-in-a-lifetime trip, you should, because you'll never regret it. Nearly eight years later, I can say that our honeymoon was as luxurious and indulgent as I ever dreamed possible, with a week spent on a yacht cruise traveling in and out of Tahiti's famous lagoons followed by a week in an over-the- water bungalow in Bora Bora. It was pure paradise and as good as I ever thought it would get. That is, until a few months ago when I took a much shorter trip stateside to an off-the-beaten track resort called Little Palm Island in the Florida Keys.
After a short two-hour flight to the Key West airport from the New York area, followed by a 45-minute sea plane adventure (more on that later!), I found myself on a secluded private island in the Florida Keys. If you had blindfolded me for the trip, I would have never known I was in Florida. This was not the Florida I knew — the tropical setting, rich ecosystems, crystal clear aqua waters of this private island might as well have been in Tahiti, because it certainly looked and felt the same — minus the jet lag! I was shocked to learn that paradise existed so close to home and didn't require me to bring my passport.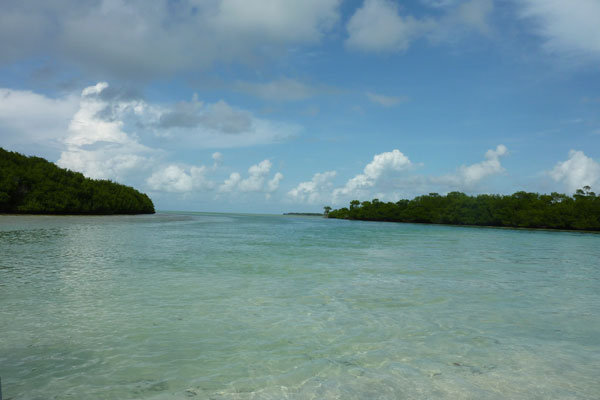 At the Key West airport, we were greeted by the lovely Julie Ann Floyd and Nikali Pontecorvo of Key West Seaplanes for our first adventure as part of the Noble Adventure Package from Noble House Hotels & Resorts, which owns Little Palm Island. The noble adventure package is a five-night stay which combines adventure and relaxation — perfect for any couple seeking one or both. Some of the highlights of the package include a half-day back country fishing trip, a snorkel trip, The "Lilyanna Picnic" sailing adventure, a $300 spa credit per person, an 80-minute "Twist of Zen" Yoga session and a full meal plan for two.
Julie had called me at home the night before to discuss our flight the next day when I told her I am actually terrified to fly — especially tiny, 4-seater planes. Julie made me feel so at ease, especially when she told me she flies her mother and young nieces and nephews on her plane. I figured she must really be a confident and capable flyer if she does that — and it didn't hurt that she promised me a glass of champagne before I boarded.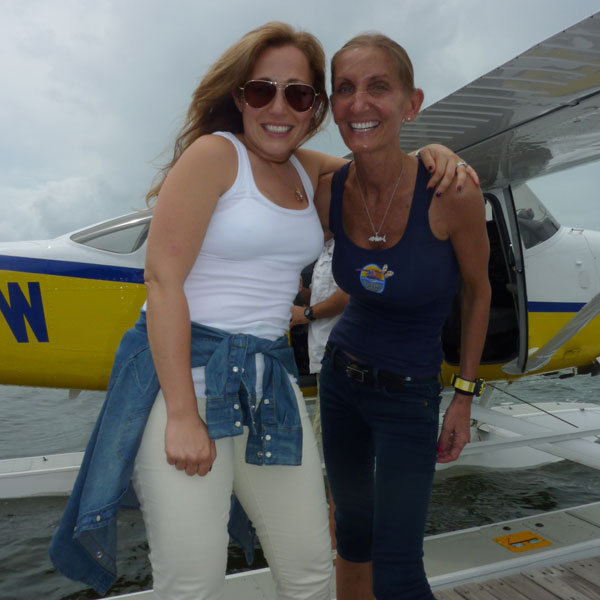 Forty-five thrilling minutes later, Julie landed our plane at the Little Palm Island Welcome Dock, and I was officially a convert. The seaplane adventure was spectacular and I didn't suffer a moment's anxiety! From the first-class service to the incredible aerial views you get from flying so low, to feeling like you're walking on water — the experience was incredible. It was definitely a once-in-a-lifetime adventure, and I am glad Julie convinced me to do it.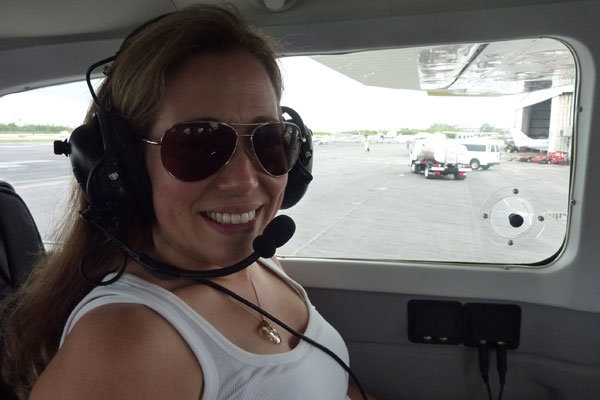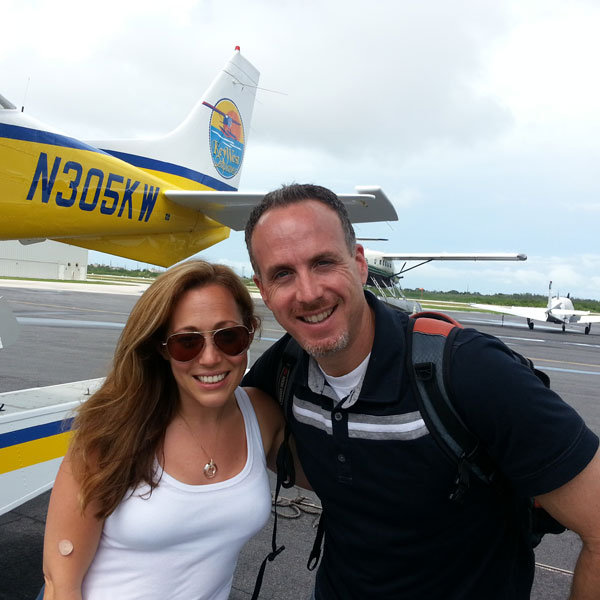 From the moment we stepped foot on the welcome dock at Little Palm Island, our stay was nothing short of idyllic. For starters, Little Palm Island is a tech-free zone — cell phones are not allowed anywhere except in a designated thatched-roof hut which can only fit one person at a time! Wifi is only available in the library, which also has the only TV on the property. Little Palm is truly about disconnecting and for some can take a bit of getting used to. But, be warned, after a day or so, disconnecting can become addictive.
Each of the 30 private bungalows that make up the guest suites at Little Palm are luxuriously furnished with upscale amenities like claw foot tubs, outdoor showers, canopy beds and patios outfitted with tables and chairs for private outdoor dining. We stayed in a basic bungalow, which was anything but basic. A sizeable living room opened into a very comfortable bedroom with a good sized bathroom and an outdoor shower.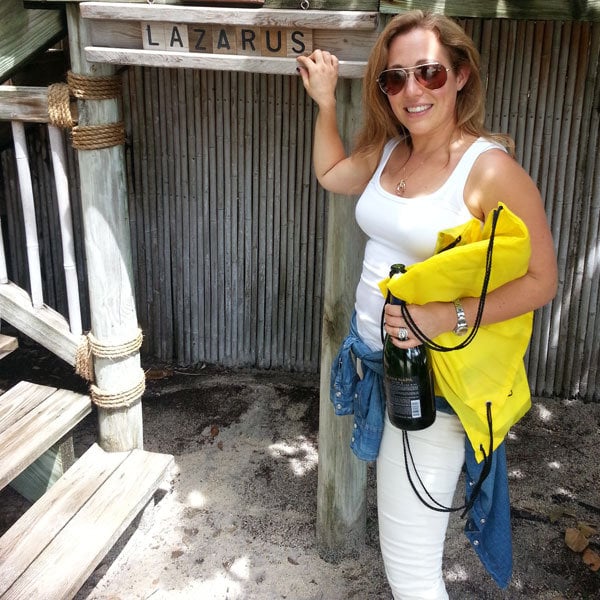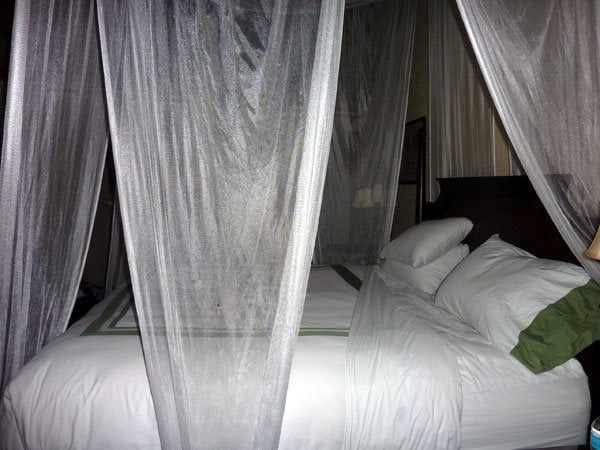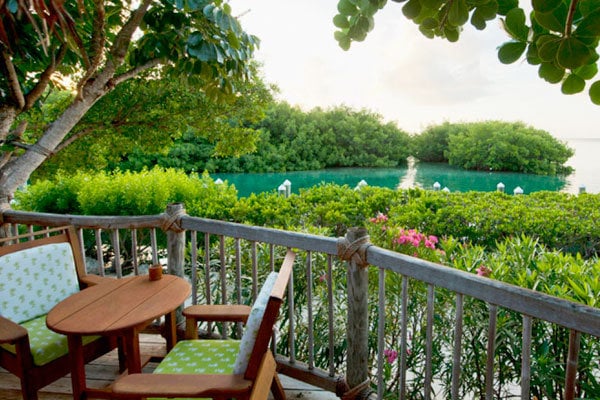 Little Palm has one restaurant — and that's all they need. Corporate Executive Chef Luis Pous and Executive Chef Alex Rosado make a dynamic duo when it comes to planning and executing their menus. Locally grown produce, fresh caught fish and seafood and a variety of meats grace the menu. This team does not disappoint. The menu consistently boasts a variety of dishes eliminating the need for more than one restaurant. Oh — and they make the most divine cappuccinos!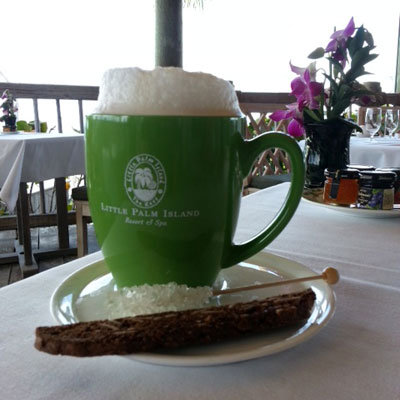 Our second adventure was snorkeling among the incredible reefs off the Florida Keys. Our guide — a longtime snorkeling enthusiast — made sure he led us to waters where we would see many exotic fish and even shark. Swimming close to a 6-foot reef shark made me feel a little uneasy, but our guide gave us strict instructions on how to handle this (keep your distance, and he will keep his!). He also helped us navigate in and around giant jellyfish.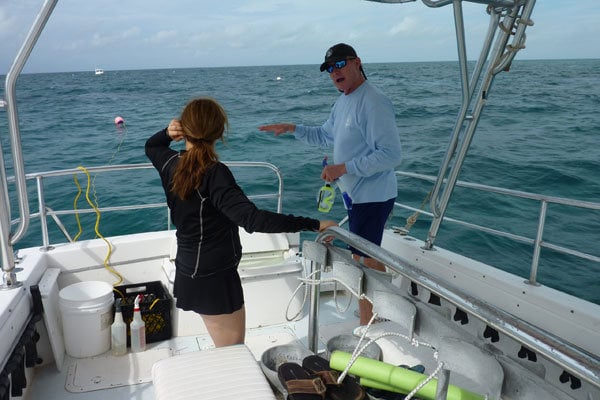 Next up, the "Lilyanna Picnic," described as a 3-hour cruise aboard a 38-foot catamaran complete with a gourmet picnic and wine. I love to sail, so I was really looking forward to this adventure but, sadly, the sailboat was in need of repairs. The resort offered us the choice of any other activity from their adventure package, but we chose to relax instead and prepare for our blissful couple's massage and soothing Milk and Honey body wrap at the luxurious SpaTerre. I could barely contain my excitement about this part of the package, while my husband was a little hesitant. Not a regular purveyor of the spa, he was a touch uncomfortable with the idea. Ten minutes into our first treatment, and he was singing a different tune!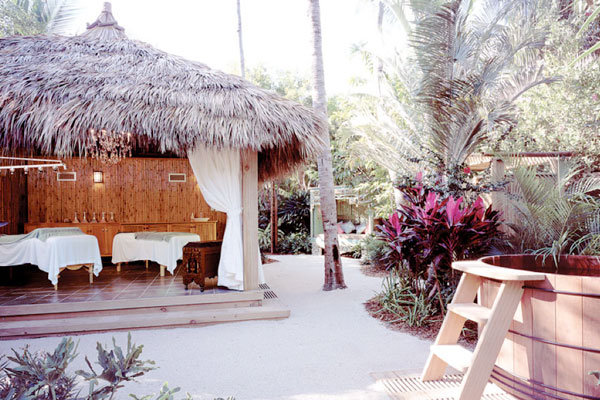 SpaTerre is a first-class spa offering the ultimate in relaxation and indulgence. I left there feeling like it was the staff's sole mission in life to assure my relaxation and happiness. And they succeeded. Neither of us could remember ever feeling this relaxed — at least not since our honeymoon. With two young kids and demanding jobs, getting us to unwind is quite the challenge.
On day two of our trip, I was totally ensconced in the experience and regretting ever having to leave. After enjoying a delicious breakfast overlooking the sparkling Atlantic, not wanting to waste another minute we hurried off to our 80-minute private "Twist of Zen" yoga lesson. The luscious natural surroundings of the Island served as our studio as we sweated through the lesson that challenged us physically while completely relaxing our minds. I couldn't believe as I watched my husband get lost in the peace and serenity of the experience. I remind him of it often.
That afternoon, we were all set to go back country fishing — now this was one activity my husband was very excited about! Fishing isn't my first choice of activities, but I have to say, the experience of Flats Fishing in the Florida Keys was unique. The shallow, crystal blue waters make it easy to jump off the boat and swim, or lie lazily in the sun. If you're not into fishing but your loved one is, this is not a bad way to accompany him. While my husband was busy catching all kinds of interesting fish, I was lounging in the soft, sand bottoms of the Atlantic Ocean. It was pure heaven.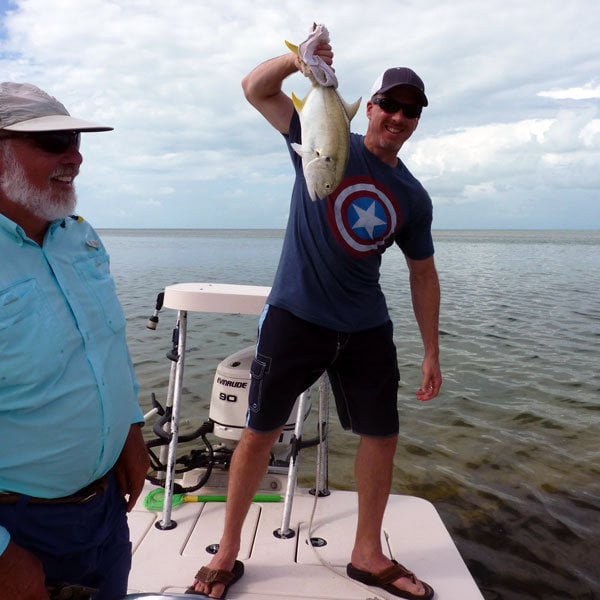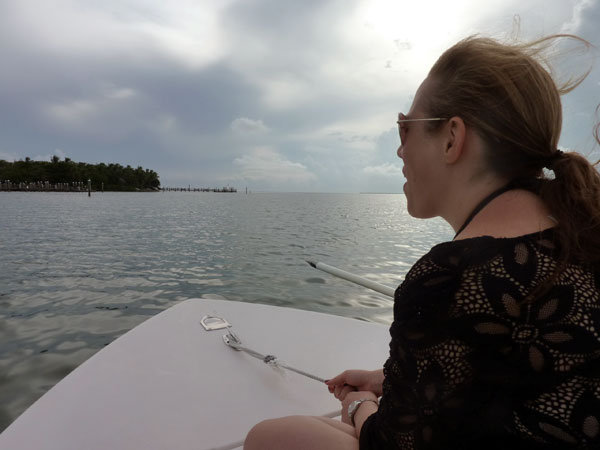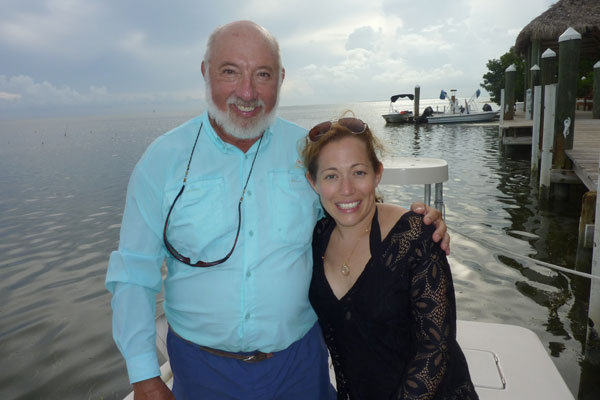 The Key deer is an endangered deer that lives only in the Florida Keys. It is a subspecies of the white-tailed deer.

That night, we capped off our trip with another elegant and delicious meal by candlelight and the sad realization that this unexpected paradise would soon be a memory.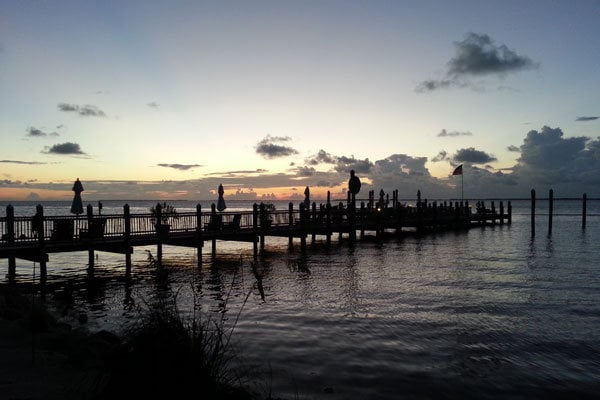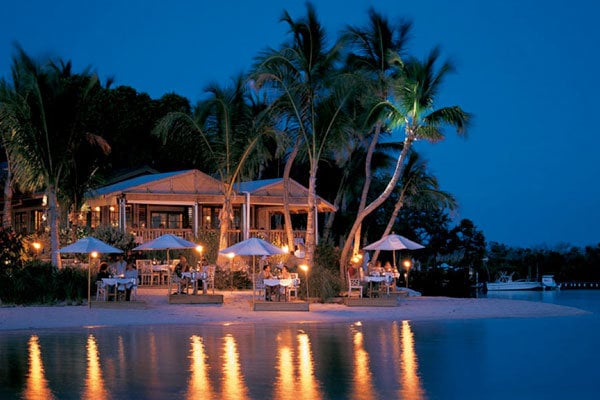 The following morning, our friends Julie and Nik from Key West Seaplanes generously offered to give us a ride back to the Key West airport and save us the 45-minute drive. As we glided above the water and watched our island paradise disappear, it felt like the perfect ending to a fairytale. The most magical part? The short two-hour trip home.