Ride the rails, see the sites and only unpack once on these fabulously romantic itineraries.
By: Sandra Ramani
The Blue Train
The Route: Between Pretoria and Cape Town, South Africa.
Length of Trip: One night.
The Destinations: In the 1920s, two trains — the Union Limited and Union Express — were established to ferry travelers from Johannesburg, in the northern part of South Africa, all the way down to Cape Town on the southwestern coast, where many of them would catch the ships leaving for England. In the 1930s, the trains — whose steel carriages were painted blue — introduced what were then luxury touches, like a Saloon Car and air conditioning, thereby cementing their upscale reputation. Officially renamed The Blue Train when the route was re-opened post-WWII, the carriages were re-launched in 1997, and are now considered one of the top travel experiences in the country, attracting celebs, VIPs and honeymooners. During the 27-hour, 994-mile trip, you'll ride by the lush, diverse beauty of South Africa and stop for a guided excursion. On the southbound trip from Pretoria to Cape Town, the break is in the town of Kimberly, known for its diamond rush history; on the northbound route, you'll see the charming, lamppost- lined, Victorian-era village of Matjiesfontein.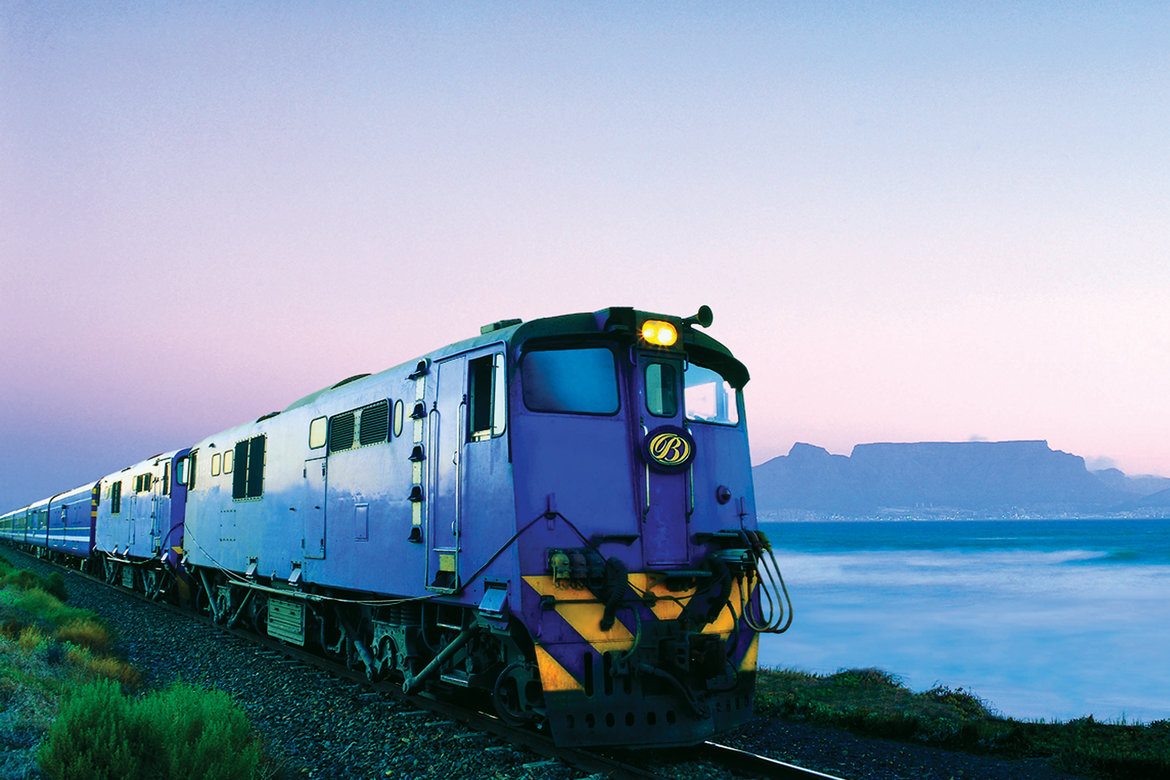 All Aboard! Known as "a five-star hotel on wheels," The Blue Train is designed for a maximum of 80 guests. The 19-car train offers a few single cabins and two double options: De Luxe Suites and the larger Luxury Suites both have two twin or one double bed — topped with goose-down pillows and duvets — plus digital entertainment systems (from which you can watch the tracks from the driver's perspective), butler service and gold-and-marble private bathrooms that feature monogrammed towels, heated floors and either a shower or bathtub. Both are converted into sitting rooms during the day, but you may want to share a cognac and cigar with other guests (or enjoy a selection from the book and movie library) in the woodpaneled Club Car or head to the Lounge Car for afternoon high tea and views from the picture windows. The elegant Dining Car serves chef-prepared meals featuring local ingredients — from Karoo lamb to Knysna oysters — on fine china and crystal, as a string quartet sets the mood. Be sure to bring your finest, as diners often dress up for meals for the ultimate Old World experience (rates for the De Luxe cabin start at about $1,253 per person and include meals and drinks; bluetrain.co.za).


Photos courtesy of The Blue Train
Pages