Ride the rails, see the sites and only unpack once on these fabulously romantic itineraries.
By: Sandra Ramani
Pullman Rail Journeys
The Route: Between Chicago and New Orleans.
Length of Trip: One night.
The Destinations: In the late-1800s, after spending an overnight train journey trying to sleep in his upright seat, George Pullman was inspired to create railcars with chairs that could fold down into berths at night — and thus the sleeper car was born. Well into the 20th century, the Pullman name was synonymous with overnight train travel, as the company not only built and operated sleeper cars, but also trained the famous Pullman Porters, whose impeccable on-board service was legendary. By 1969, though, the Pullman sleeper car was done — until a new company decided to revive the icon. Using meticulously restored cars from the 1920s-1950s (they've got about 70 vintage cars in various stages of operation and restoration), Pullman Rail Journeys ecreates that Golden Age experience, complete with porters, waitstaff, lounge car attendants and conductors trained in the classic Pullman tradition. Service currently runs regularly between Chicago and New Orleans — a 934-mile, 19.5-hour trip — with other routes in the works. There are also one-off special event trips throughout the year, such as a Chicago-Miami journey offered for New Year's Eve. For the Chi-Town-NOLA trips, guests can opt to board in either city and enjoy one night on the train, or choose one of several packages that combine the rail ride with hotels and activities at both ends.
All Aboard! With chairs that turn into double beds, private bathrooms with showers, closets and picture windows, the premier Master Bedrooms are best for couples. All rooms have been outfitted with modern conveniences like WiFi, as well as amenities like blue-striped towels that were specially woven for the train based on a vintage Pullman pattern. Rates include all meals, snacks, and beverages, which can be enjoyed in the Dining Car or in your room. The Lounge Car is the place to socialize with other travelers, play a board game, savor a Chicago- or New Orleans-made bottled beer and enjoy entertainment such as live folk music (rates for the Master Bedroom start at $2,494 per person and include all meals and drinks; travelpullman.com).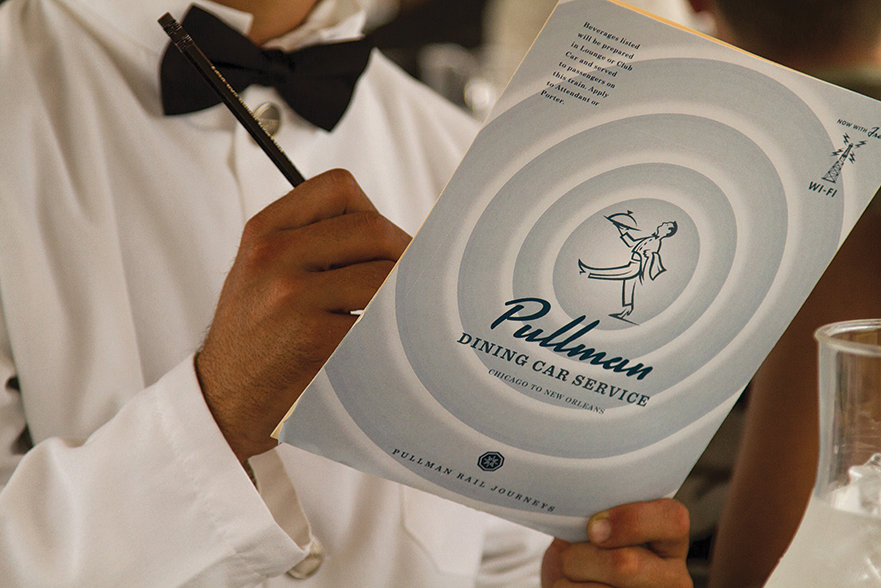 Photo courtesy of Pullman Rail Journeys
Pages