Enhance your classic — and romantic — road trip honeymoon with these unexpected amenities.
By: Becca Hensley
-AS SEEN IN BRIDAL GUIDE MAGAZINE-

Photo: Four Seasons Hotels and Resorts
Take to the highway for the most romantic adventure of your life. No rules, just a GPS, and wheels turning in the right direction. Go ahead. Hit the gas. As the adage goes: It's the journey, not the destination. And on these amazing road trips with a twist — think being limo-ed or hopping on the back of a bike — you'll enjoy it all.
Classic Car: Italy and France
Like characters in a Fellini film, in your 1960s convertible, scarves dancing in the wind, you'll breeze down back roads stopping to admire fields of sun flowers, ocean views, vineyards, and tiny villages in southern France and northern Italy. Picnic packed, begin the trek in France at Four Seasons Grand Hotel Cap du Ferrat, a history-filled grande dame on the sea. Stop for a quick dip amid the waves, and lunch beachside. Continue to Tuscany, its golden light a beacon, to make a rest stop at Four Seasons Hotel Firenze, where you can spend a few days seeing top sights — the Duomo, the gasp-worthy David at Accademia Gallery and the Botticelli marvels of the Uffizi Gallery. Next, it's off to Milan. En route, you can stop in Parma to learn how Parmigiano Reggiano cheese is made, take time for lunch at Michelin-starred Osteria Francescana in Modena, the realm of celebrated chef Massimo Bottura and visit a centuries-old balsamic vinegar factory. At last, arrive at Four Seasons Hotel Milano, a restored convent set in the fashionable city's swankiest district.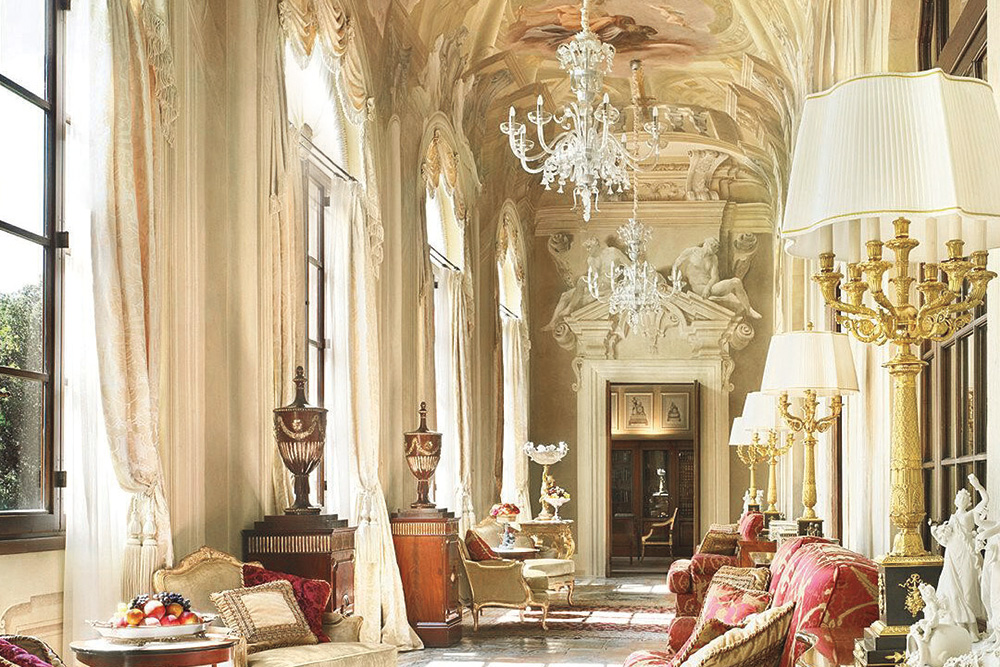 Photo: Four Seasons Hotels and Resorts
Offered by Four Seasons, this fully supported, concierge-planned vintage car ramble showcases Europe the dolce vita way. Start at any of the three approved hotels, and choose your vehicle — 1960 Giulietta Spider; 1958 Mercedes-Benz 190 SL Cabrio or a 1956 Porsche 356A Speedster. P.S. If you'd rather ride as passengers, Four Seasons will provide a driver to whisk you along the way (rates for a 6-night itinerary start at about $15,270 and include accommodations, car rental, and private excursions).
Motorbike: Portugal
Portugal, a sliver of land wedged between Spain and the Atlantic Ocean, bears a rich history that include the Celts, Romans, and Moors – as well as centuries of royalty and a maritime past known as the Age of Discovery. Beloved for its melancholic Fado music, colorful ceramics, fresh seafood, and vinho verde, ("green" wine) this lesser-traveled European nation has fascinating cities and sleepy corners alike. Expect to discover medieval castles, quaint villages, vineyards, dramatic beaches, old monasteries, and contemporary art museums. With a temperate climate, Portugal draws visitors year-round, though summers in the romantic southern Algarve may feel too crowded for honeymooners seeking alone time.

Photo: Fotos Lisboa
Take it all in via motorcycle organized with the help of Hertz Ride. From Monsaraz, a hilltop town, to the Douro Valley winelands, from Nazare's surfable beaches to dazzling Lisbon, Portugal is a biker's dream. Roaring down scenery-edged roads, you'll feel an endorphin-produced zen meditative state regular riders extol. Roll along riverbanks, through cork and almond forests and bump over cobblestoned, ancient hamlets.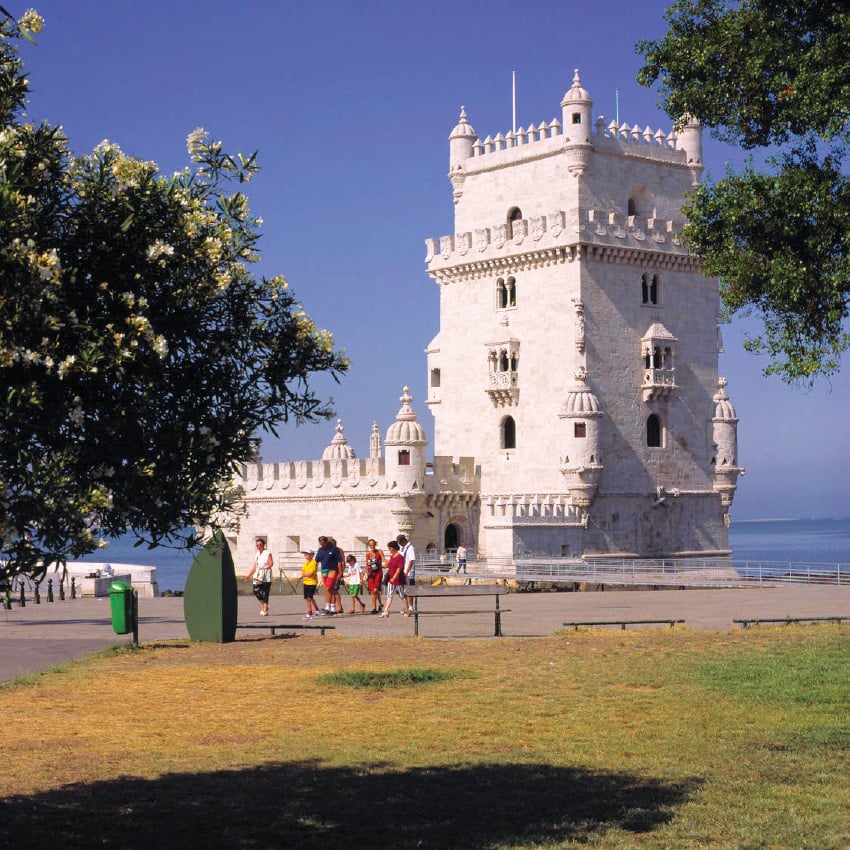 Photo: Fotos Lisboa
Whether you choose a guided-tour Hertz Ride, or a self-directed spin, you'll find your top-of-the-line BMW motorbike at the airport, where you'll also receive a map and a detailed itinerary loaded  with activities (such as wine tastings) and directions to hotels (rates for the 8-night itinerary start at $3,000 and include accommodations, motorcycle rental, 9 days of riding, most breakfasts and dinners, and local support as needed).
Camper Van: American Southwest

Photo: Tracks & Trails
Nothing says privacy like the two of you discovering the great national parks of the American West in a 22-foot-long, fully kitted-out recreational vehicle. A road trip by camper means quality time, an unhurried pace, the option to control your own schedule, and the thrill of the open highway (or meandering hiking path, as the case may be). Plus, you'll sing together, gossip, tell jokes, roast marshmallows by a blazing fire, spot wildlife — and maybe fight over directions, only to make up afterwards. Camper life means you only unpack once, can cook your own meals and stop to explore whatever, whenever you want.
Book with professional RV vacation organizer Tracks & Trails for a full-service planning and itinerary curation. They'll guide you away from tourist traps, share their tips and connect you with top outfitters wherever you roam. And you'll get an expertly penned bespoke itinerary, a top-choice vehicle, and scheduled campground reservations.

Photo: Tracks & Trails
On the evocative 11-night tour, Zion, Bryce, Lake Powell and Grand Canyon, which begins and ends in Las Vegas, you'll experience some of the United States' most spectacular natural treasures. Full of jaw-dropping wonder, this trip includes romantic activities such as a sunset jeep tour in Zion, a helicopter flight over the Grand Canyon and stargazing on a private telescope tour at the Dark Ranger Observatory near Bryce Canyon (rates for the 11-night itinerary start at $6,500 and include RV rental, campsites, first night hotel in Las Vegas, and service fee).
Limo: Northeastern U.S.A.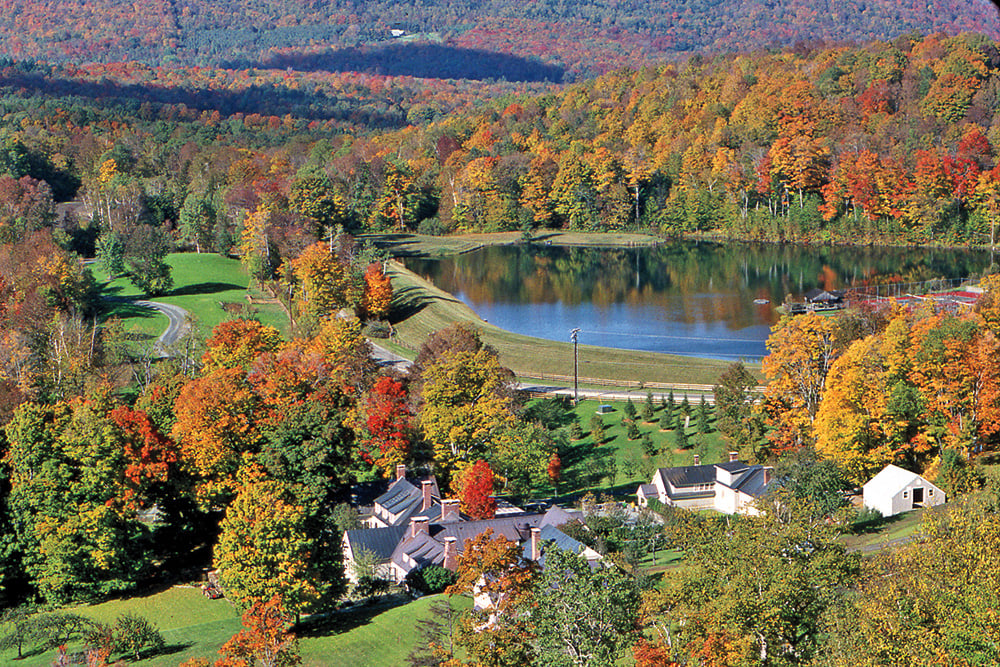 Photo: Twin Farms
In the 1950s, Relais & Châteaux's first hotels emerged along the tracks of the legendary Blue Train, a stretch of road that went from Paris to the Cote d' Azur. It was known as the Route du Bonheur — the Road of Happiness — because it delivered frenzied city folk to their long-awaited vacations. The hotels, havens defined by their gastronomic presentations, built their reputation on their kitchens.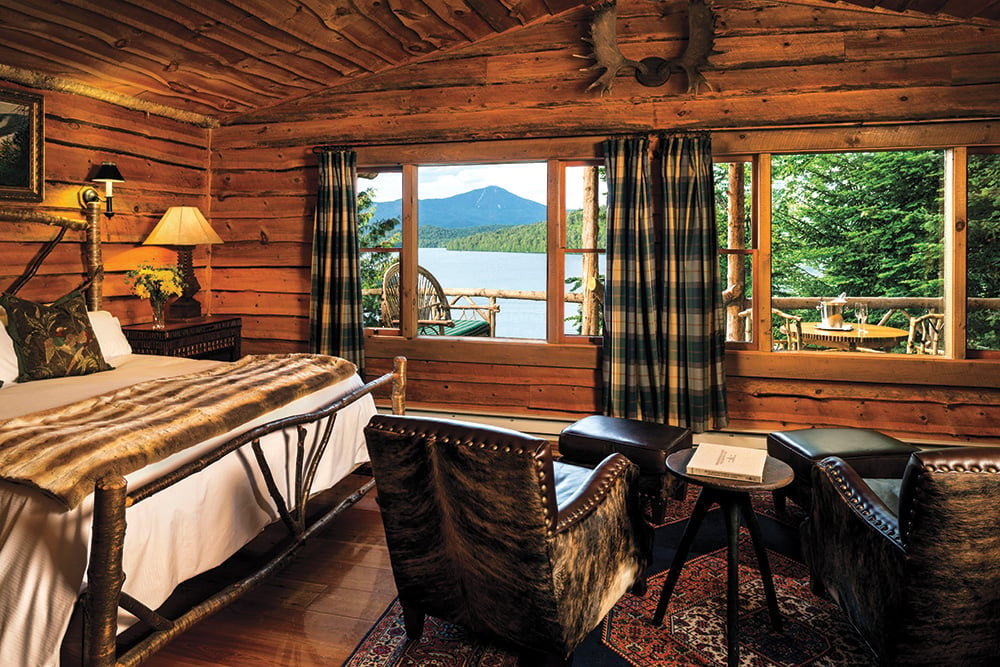 Photo: Lake Placid Lodge
Today, you needn't fly to France to experience the haute offerings. Relais & Châteaux, a group of primarily independently owned hotels, peppers the globe, and their standards revolve around gourmet offerings, coddling amenities and proximity to one another. This itinerary in the Northeast USA is classic in its cuisine and settings. Begin in New York's Adirondacks on Saranac Lake at The Point, formerly a rural family retreat for the Rockefellers. An intimate Gilded Age waterfront hideaway, the extraordinary inn has only 11 guest suites, all adorned with heirloom art and antiques. All inclusive, The Point excels at offering on-demand treats, such as champagne and truffle popcorn. The nightly Gatsby-style black-tie dinner party is another standout. Follow in the tire tread of bygone bluebloods for the rest of your trip, when a chauffeur-driven limousine transports you to three other extraordinary Relais & Châteaux properties to continue your moveable feast. Enjoy Lake Placid Lodge, an Arts and Crafts marvel set amid pines. Then, it's off to Vermont for a night each at elegant The Pitcher Inn and bucolic, all-inclusive Twin Farms, ensconced in a 1790s farmhouse (rates for a 4-night itinerary start at $6,960 and include accommodations, limousine transportation, and some meals).