There are some destinations that are synonymous with romance. Italy's colorful Amalfi Coast is one such spot. The natural setting and seaside views are simply jaw dropping, the scenic sites speak to ancient history while the hotels are robust with modern amenities. And have we mentioned the food? — the regional cuisine is some of the world's best.
By: Jenna Mahoney

Photo Credit: Jenna Mahoney
Winding Road
Sun-drenched, pastel houses set amid terraces of lemon and orange groves cut into the rugged coastal landscape are hallmarks of the region. Take a day to make your way around the endless bends in the road, stopping at the viewpoints, rocky beaches and picturesque towns. In Amalfi, the village, marvel at the circa 11th-century cathedral, which is a blend of late Baroque and Byzantine styles. Then stroll around the main piazza (plaza), gelato in hand, browsing for handmade paper (the town's specialty), hand-milled soaps and the region's most famous product — limoncello.

Photo Credit: Jenna Mahoney
Antiquity Rocks
Staying in Sorrento also provides easy access to the ancient city of Pompeii. Opt for a late-afternoon, guided excursion and you'll not only avoid the blistering sun, you'll also fnd the ruins to be blissfully free of many other visitors. And the sprawling site is simply spectacular. There are ancient roads and frescoed homes of the ruling class, public gathering spaces such as theaters, bars, stores, the spa and even a brothel.

Photo Credit: Jenna Mahoney
City Sojourn
Vacation — its appeal is the prospect of doing as little or as much as you like in the moment. and making base camp at the Grand Hotel Excelsior Vittoria fits that bill to a T. Spend some days lazing around the pool, unwinding in the intimate spa and learning the art of pizza making. Or get lost in the maze of Sorrento streets. One day, hire a boat with Sr. Pepe (the hotel concierge can arrange it). He'll pick you up at the port just below the hotel and take you on a tour of the rock grottos in the area before stopping for a beachside lunch at his family restaurant.
Grand Home
Perched above the Bay of Naples in the center of historic Sorrento, the de facto starting point of the Amalfi Coast, the Grand Hotel Excelsior Vittoria is the perfect — and luxe — base for any Italian holiday. Family-owned for five generations, the 91-room grande dame has welcomed a litany of bold-faced names from Sophia Loren to Pavarotti (there's a suite named for him). Rooms are individually appointed with local tiles, antiques and bona fide linens on the beds.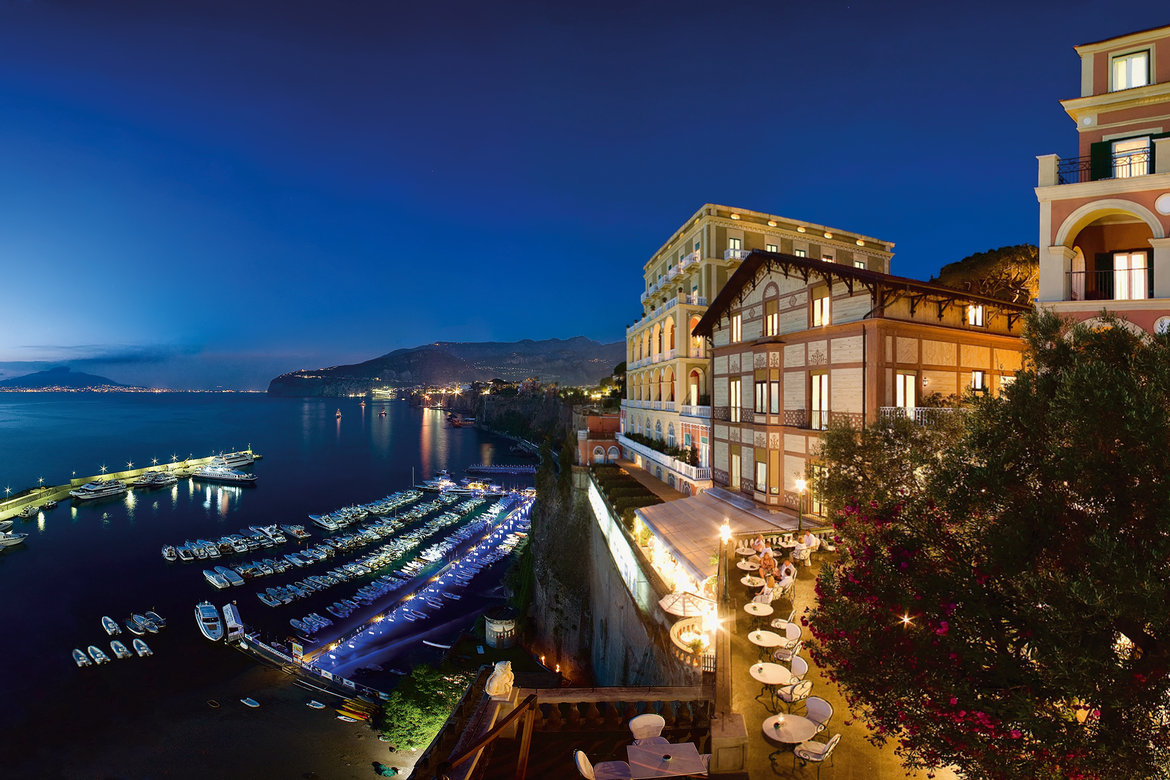 Photos courtesy of Grand Hotel Excelsior Vittoria
The bayview terrace is a fantastic spot for an aperitivo — cocktail and snack (room rates start at about $500 a night; exvitt.it).

Photos courtesy of Grand Hotel Excelsior Vittoria