Our travel editor explores the seven hills of one of Europe's oldest capitals.
By: Jenna Mahoney
-AS SEEN IN BRIDAL GUIDE MAGAZINE-

Photo Credit: Jenna Mahoney
Mediterranean countries have long been lauded as vacation paradises. The romantic allure of the sun-kissed coastal destinations endures thanks to bucolic scenery, historic cultural attractions, and days that seem to linger, steeped in storybook cafe culture. Of course, food and wine are hallmarks. For generations, the Iberian country of Portugal has remained a quiet option. Not anymore — Lisbon, the country's capital and the world's second oldest, has exploded onto the travel scene with all the excellent offerings for which the Mediterranean region is celebrated at a fraction of the price. Here's what I discovered on a recent jaunt to the romantic city.

Photo Credit: Jenna Mahoney
Walk This Way
The "City of Seven Hills" moniker is no joke — Lisbon crests and falls like the sea. It's fitting, since the Portuguese have long looked to the ocean for food, wealth and adventure. In some ways the city is very walkable: There's a wide main boulevard with a leafy central cafe-filled area, and many roads lead to plazas dotted with tables and benches. Yet sidewalks are narrow and made of ancient stones. Often, they end abruptly or are interrupted by stairs.

Photo Credit: Jenna Mahoney
However, Lisbon is picturesque in the sense that it feels like an Insta-feed at every turn. And seeing it all on foot is the best vantage point. Both public and hop-on, hop-off tour buses are very easy to navigate to get over each hill or closer to your targeted neighborhood (called district here). One public transport must is riding the historic Tram 28, a rattling circa 1930s trolley that passes by many important sites.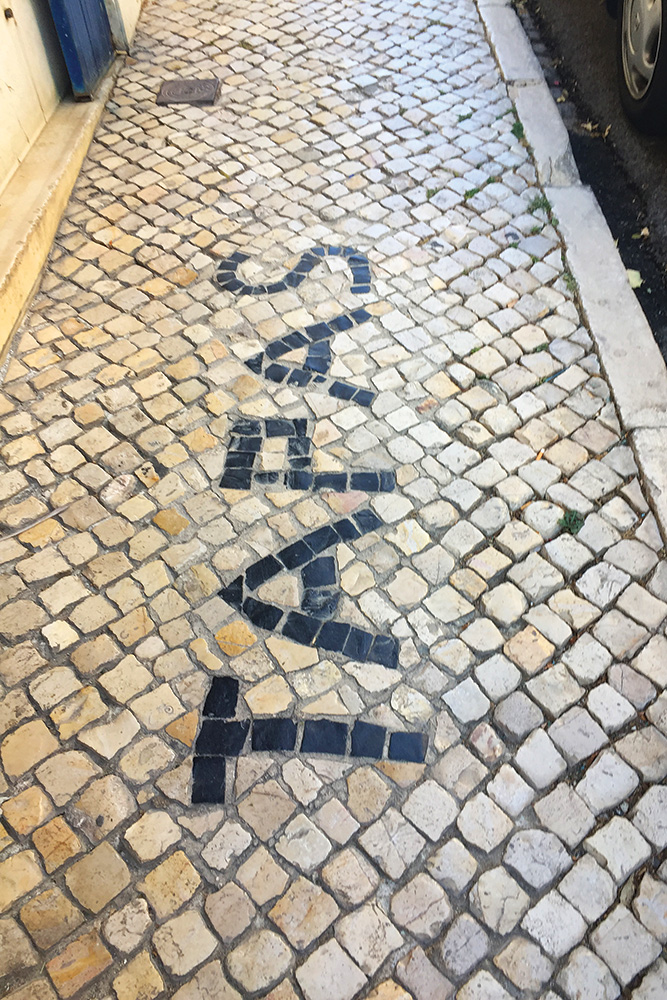 Photo Credit: Jenna Mahoney
Castle on a Cloud
Second only to Athens in age, Lisbon was home to Phoenicians (who gave the city its name), Moors and Holy Roman crusaders. The Old City, which winds up the hill La Colina de Sao Jorge is a warren of ancient buildings, churches and fountains. At the top sits the eponymous Castle. It is here — on the city's highest point — that the current capital was born. Towering stone walls encompass ruins that were left by the Romans. Expansive terraces dotted with ancient olive trees and fountains look over the city and out onto the Tagus River.

Photo Credit: Jenna Mahoney
Just outside the complex, you'll find shops selling handmade ceramics and leather goods and items made of cork. The restaurants and cafes in the area cater to visitors, but prices are still favorable and food is straight-from-the-sea fresh.
Down by the River
I'll admit it: Santa Maria de Belém on the banks of the Tagus wasn't my favorite part of our visit to the city. There are throngs of tourists jockeying for glimpses of the waterfront Padrão do Descobrimentos (a sail-shaped monument to seafaring discoveries of Portugal), Belem Tower (the circa 16th-century ceremonial gateway to Lisbon) and the sprawling Jerónimos Monastery. But the Maritime Museum, which is housed in part of the latter and dates to 1863, is not only informative and interesting, it's delightfully crowd free. There are model ships, medals, maps, uniforms and videos about the pioneering and formidable fleet, as well as cabin furnishings from royal ships. The most impressive collection, however, is the selection of real naval boats throughout the ages.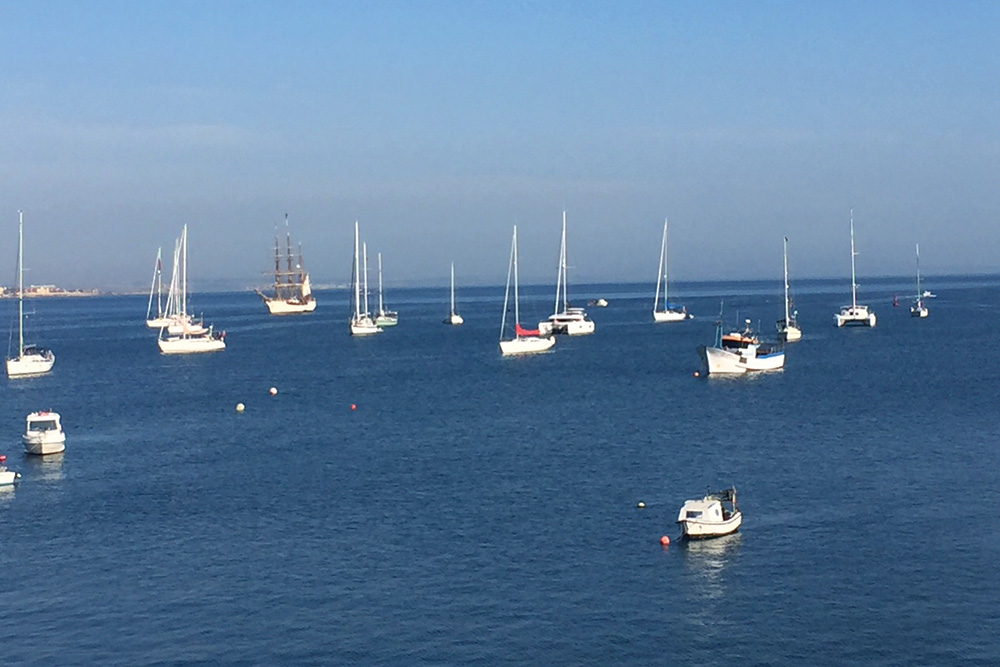 Photo Credit: Jenna Mahoney
Putting on the Ritz
While the visitor scene is exploding in Lisbon (tourism numbers have doubled each year for nearly the past decade), the city boasts only one true luxury property, the Four Seasons Hotel Ritz Lisbon. Set on a hill overlooking the expansive Eduardo VII Park, the modern hideaway encompasses an impressive art collection that is as renowned as its own architectural story.

Photo courtesy of Four Seasons Hotels & Resorts
Hotel amenities include an enormous tness center with an open-air rooftop track, an indoor pool and stellar service. All of the 282 accommodations have decadent marble bathrooms; most have balconies. Book one on the park side for spectacular — and never-ending — city views, especially at night.

Photo courtesy of Four Seasons Hotels & Resorts
Another standout is O Japonês restaurant, a delightful sushi celebration of Portugal's undeniable bounty of the sea. Sit outside for the best evening atmosphere (room rates start at about $650 a night; fourseasons.com).

Photo courtesy of Four Seasons Hotels & Resorts
Food, Glorious Food
Somewhere, someone has scientifically proven that it is impossible to find a bad meal in Lisbon, especially if, like me, you prefer to eat tapas style. Olives, grilled sardines served with fresh bread, bacalhau à bras (shredded cod with potatoes and egg) are on every menu. You'll also find unbeatable local wines at every turn. One of my favorite places to explore when I travel is the local market. Lisbon's Mercado da Ribeira in the Baxia district is the epitome of the city today. Stalls of fish, shellfish and produce are framed by a Time Out marketplace that features inventive approaches to traditional Portuguese cooking. Tip: Hit the croquette outpost for bite-sized goodies paired with ice-cold local beer.

Photo Credit: Jenna Mahoney