Think of it as your final wedding responsibility. Here, answers about thanking your guests properly.
By: Diane Forden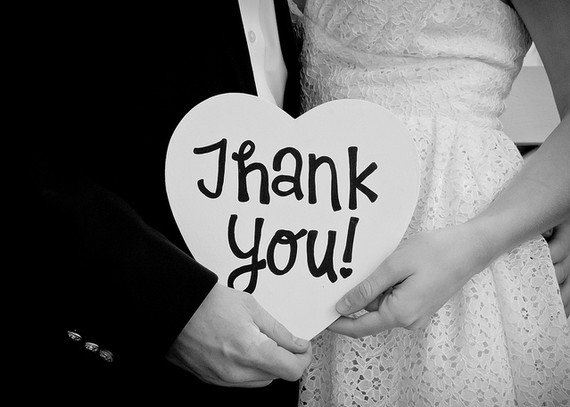 Photo Credit: You're That Girl Designs/Etsy
1. What should we write in our thank-you notes?
2. How much time do we have to send them out after the wedding?
3. Who writes the thank-yous — bride or groom?
4. Do we need to send a thank-you to a guest who didn't bring a gift?
5. Is it appropriate to send a thank-you with a preprinted message?
6. Should we send thank-you notes to our vendors?
Have an etiquette question? Leave a comment below!
Q: What do you suggest we write in our thank-you notes?
A: Be gracious and sincere. Also include several elements, such as mentioning the gift by name, referring to how you'll use it and expressing your appreciation. For gifts of money, don't state the amount, but do mention the fact that it's a monetary gift as well as how you plan to use it. And ask your groom to help out. While you should pen all bridal shower thank-yous yourself (unless you have a coed shower), your groom can do some of the engagement and wedding notes. You write the notes to your family and friends, and he does the ones to his.
Q: It's been five months since a friend's wedding, and I have yet to receive a thank-you note for my gift. Is this amount of time acceptable? As a bride-to-be, when should I plan to send out my own notes? 
A: Promptness counts when it comes to thanking friends and family for their gifts. You may have heard that you have up to a year after your big day to send out your notes, but that's not true (sorry!). Here's a timeline for all your special occasions: engagement party and shower, within two to three weeks of the festivities; gifts sent before the wedding date, as soon as possible, but definitely before the wedding; gifts given on the day itself, within three months; gifts received after your wedding, within two to three weeks.
It may be an oversight on your friend's part or perhaps she's simply overwhelmed by the task. If you find yourself in the same position, you should still send your notes no matter how many months have passed. According to Kelly Brown, author of 101 Ways to Say Thank You (Sterling), you can acknowledge the late date by writing, "In all the excitement of the wedding I somehow managed to separate your gift from your card…" or "Many apologies for the tardiness of my note. As you can imagine we are still getting used to married life…" To avoid getting behind, it's best to write your thank-yous as soon as gifts start arriving. Keep a list of what you've received and what notes you've sent. Get your fiancé involved as well. He can write to his family members and friends. Just don't use e-mail. For a wedding, only handwritten notes are acceptable.
Q: I know that the bride is responsible for writing the shower thank-you notes, but what about the wedding gifts? Do I have to respond to all those myself, too? 
A: Certainly not. While every wedding gift deserves a prompt response, it would be highly chauvinistic to expect the bride to write each and every one! After all, your new husband will get to enjoy the gifts, too, so do not hesitate to ask him to pick up a pen and get to work.
The easiest way to divvy up the responsibility is to have your groom acknowledge those gifts from his friends and family since he knows them best, and you write to those guests you are more familiar with. If the spouse doing the writing is the only one signing his or her name, remember to mention the other partner in the body of the note ("Mary and I really love the vase. Fondly, Thomas"). Also, either order stationery that has both of your names or combined initials on it, or order two sets - one with your name and one with his.
Q: Do we need to send a thank-you note to my friend who traveled quite a distance to attend our wedding but didn't give us a gift?
A: Regardless of whether or not a gift was given, anyone who attended your wedding should receive a thank-you note. No doubt, your friend spent considerable time and money to get there, and her presence should be considered your gift. Be gracious, and let her know that you are delighted that she was able to share in your big day and that you appreciate the effort she made to attend.
Q: Our photographer suggested that preprinted thank-you notes accompanied by a wedding photo would ease the burden of responding to all the gifts. Is this appropriate? 
A: Yes and no. It is never acceptable to send a preprinted thank-you note - a handwritten, personal message from you and your new husband, including a reference to the specific gift, is the least you should offer your guests for their time and expense. And while photos are nice mementos to include with your notes, it can sometimes take months to get them back from the photographer. Since all thank-yous should be sent to guests within three months of your wedding (and earlier is preferred), you should only take this route if your photographer can meet your deadline.
Q: Is it necessary to write thank-you notes to all of my vendors after the wedding? 
A: It's not necessary, but if you feel that the service provided was exceptional, you can certainly send a note. Like most of us, wedding vendors appreciate recognition for a job well done, and they will love having your thank-you note as a testimonial for future customers.