Forget stuffy. Be sure your guests let loose and truly enjoy your wedding with these entertaining ideas — straight from the pros!
By: Elena Donovan Mauer
1. Walk Down Memory Lane
Make the guest feel like integral parts of the day by incorporating them into the décor — in a gallery of meaningful photos. "We do something we like to call 'memory lane,'" says Northern California event planner Sasha Souza. "We hang pictures of the bride and groom with friends and family along the walk from the ceremony to the reception. It's a fun cocktail party conversation starter." As guests take a leisurely stroll and find pictures of themselves with you, they can reminisce and socialize.

Photo Credit: Rochelle Mort Photography

2. Break the Ice Creatively
When you enter your reception for the first time as husband and wife, don't just take a conventional arm-in-arm stroll. "Run. Skip. Dance. Swoop in on a rope swing!" suggests Alyssa Brown of AE Planning+Design in San Francisco. Brainstorm with your groom about the most creative, appropriate way to make a big impression. This is a great way to break the ice and set up for a fun vibe for the rest of the event.

3. Play Party Games
"We did a wedding where the menus were puzzles, so each person got one piece of the puzzle at their place setting, then everyone had to put the pieces together to get the full menu description," says Brown. "Crossword puzzles are fun for the back of a program or if you have guests going on a long bus ride to get to the reception venue."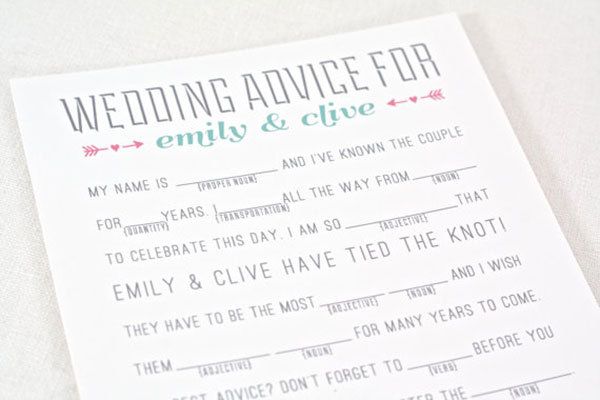 Photo Credit: Sweet Potato Shop/Etsy

4. Be Entertaining
Guests always love the energy of a live band but tend to want to hear the original artist sing their favorite tunes. As a compromise, a bride may hire a dance band but also play DJ'ed music during the breaks, or she'll arrange to have live music during some parts of the event and recorded music during others. Souza suggests combining the best of both worlds — at the same time. "We've worked with a band called The Infusion Experience," says Souza. "The DJ plays the original music while the percussion players play live. It's a huge crowd pleaser!"
5. Surprise 'em!
"Pablo Neruda is the world's most romantic poet," sats Bussen. "And a modern, pretty paperback edition of his love poems makes a wonderful, lasting guest favor that's much more meaningful that a bag of Jordan almonds! If you buy in bulk, you might get a discount — contact your bookseller directly. And don't forget to add a personalized bookmark thanking your friends and family for sharing your big day with you."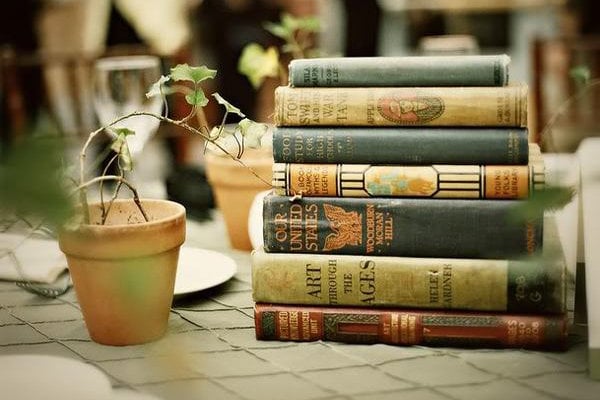 Photo Credit: One Love Photo on Snippet and Ink via Lover.ly 
Next: Creative food & drinks, unique entertainment, and more ►
6. Offer a Dessert Buffet
You can assume most people have a sweet tooth, so have guest get involved in creating their very own dessert. "A cupcake-making station is a reinvention of the popular hot fudge station," says New York City event planner Shawn Rabideau. "Have abundant trays of different flavors and colors: a guest might pile crushed Oreos on a chocolate buttercream cupcake or top a red velvet cupcake with cream cheese." This sort of do-it-yourself treat is absolutely guaranteed to bring out the kid in everyone!

Photo Credit: Braedon Flynn Photography on Wedding Chicks via Lover.ly

If you're planning a warm-weather wedding, feel free to get really playful with refreshments. Consider serving up a nostalgic and fun Sno-Cone station. "It's easy to rent a shaved-ice machine from the caterer or a party rental company," says Bussen. "Add a choice of colorful syrups and even your favorite apres-dinner liqueurs. Think frozen White Russians, Orange Shaved Ice with Grand Marnier, or Ruby Port and Berry. This will be the hit of the party."
7. Be More Entertaining
"Consider unexpected, untraditional entertainments, like tarot card readers, magicians and flip book stations (booths where guests create quick movies and make mini books)," says Marcy Blum, an event planner in New York City. She advises asking yourselves what sorts of activities the two of you like to do. You can use your shared interests as surefire wedding inspiration. (Did you meet at a comedy club? You may want to hire a stand-up comic.) Or you can use your heritage as inspiration: "I've had couples surprise their guests with ethnic dancers or musicians who share a set with the band," says Blum. "You can hire square dance instructors," adds Blum. "Have them teach guests to do a line dance — they'll have a blast."
8. Host Those Stations
Guests love having a chef prepare a dish just for them. "We're doing more chef-hosted stations of single items," says Souza, "like an heirloom tomato salad bar with local tomatoes and cheeses. We've also done gazpacho made to order." Look to your region's specialties, says Souza. "If out-of-town guests can't get it at home, it's a special treat. That tomato bar get a huge crush of people — I've never seen anything like it!" Bussen agrees that local food can be a hit. "Display a '100 Mile Table', filled with local produce and artisanal foods, all from within one hundred miles of your celebration — handmade cheeses, homemade pickles — and great local beer!"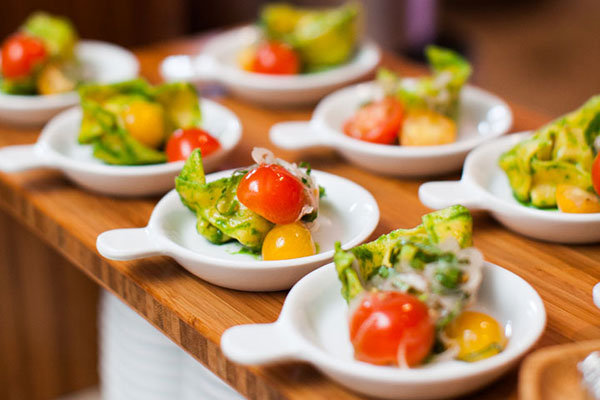 Photo Credit: The Popes Photography on Lisa Dupar Catering via Lover.ly
9. Try a Wine Tasting
Looking for a fun, interactive cocktail hour idea? At her own wedding, Souza provided "flights," or 1- to 2-ounce tastes of three different wines. "Everybody got a little notebook with information about the flavor notes," she says. Another plus: As long as you can supply your own wine without being charged corkage fees, this option may cost less than some speciality bars.  
10. Hire the Local Food Truck
Long after dinner's over, and guests are still out on the dance floor, serve up a surprise snack. Arrange to have a local mobile food vendor pull up his truck outside your event. "Give guests a wrist band or a ticket so they can walk up to the truck and get a snack, then come back inside and start dancing again," says Souza. She's hired trucks serving everything from spicy Korean tacos to crème brûlée. Rabideau has hired a cupcake truck to serve sweets decorated with the couple's initials, and Brown suggests a truck that serves breakfast foods like waffles and pancakes for a late-night treat.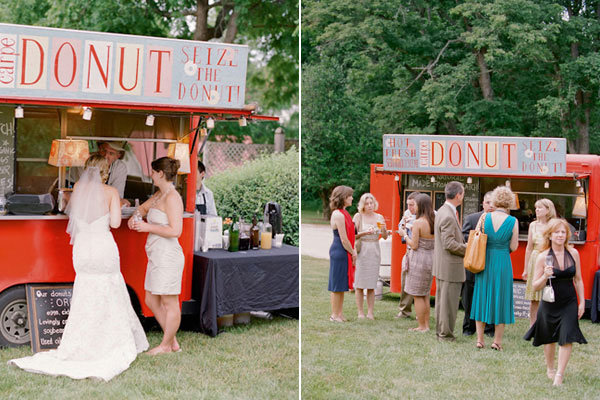 Photo Credit: Abby Jiu on Snippet and Ink via Lover.ly
Next: New twist on guest books, fun midnight snacks, and more ►
11. Personalize Your Guest Book
Photo booths have been done at many weddings. If you'd like to try something new, Karen Bussen of Simple Stunning, an event planning company in New York City, suggests: Give guests dry-erase boards and markers and set up a colorful curtain as a backdrop. They write messages to the happy couple, and are photographed with them in front of the curtain. It's interactive, inexpensive — you can even appoint a friend with an iPhone to take the pictures — and when you put the photos in an album, it makes a one-of-a-kind guest book.

Photo Credit: Katrina Louise on Wedding Chicks via Lover.ly
12. Make a Special Toast
Instead of a pricey tasting bar, make one toast with a favorite liquor. "We've done tequila toasts, when it's special to the couple," says Souza. "Then you can limit the amount everyone drinks, which allows you to serve better quality liquor."

13. Create a Campfire Feel
If you're having an outdoor wedding, create a lounge area where guest can hang out and talk. "We've had a lounge with a coffee station serving lattes and hot toddies," says Joannie Liss of Joannie Liss Events in Los Angeles. "We've had acoustics guitarists play, so guests could sing along as we served mini sliders, grilled cheese and mini s'mores.

Photo Credit: Steve Steinhardt on Inspired By This via Lover.ly
14. Choose a Sweet Treat
In lieu of a traditional favor, you might send guest off on their merry way with a midnight snack. "Give them milk and mini donuts served in takeaway boxes," suggests Amy Atlas of Amy Atlas Events. Or hand out packages of cookies iced with your monogram or beribboned boxes holding two artisanal chocolates or even small tins of a speciality tea.

Photo Credit: Craig Paulson Photography on Craig Paulson Photography via Lover.ly
15. Have an Informal After-Party
Some brides plan an after-party that's almost as complex as the reception. But what most guest really want is just to let loose. Save yourself some planning time by renting a bus or van to drop guests off at a local nightclub. You can go with them if you like, or just have some alone time with your groom rather than party late at night. "Usually the bride and groom don't go," says Souza. A wedding is all about the experience that you and your guests share, Souza adds. "When guests leave feeling that they had a wonderful time, you'll know that day was a huge success.