Forget stuffy. Be sure your guests let loose and truly enjoy your wedding with these entertaining ideas — straight from the pros!
By: Elena Donovan Mauer
6. Offer a Dessert Buffet
You can assume most people have a sweet tooth, so have guest get involved in creating their very own dessert. "A cupcake-making station is a reinvention of the popular hot fudge station," says New York City event planner Shawn Rabideau. "Have abundant trays of different flavors and colors: a guest might pile crushed Oreos on a chocolate buttercream cupcake or top a red velvet cupcake with cream cheese." This sort of do-it-yourself treat is absolutely guaranteed to bring out the kid in everyone!

Photo Credit: Braedon Flynn Photography on Wedding Chicks via Lover.ly

If you're planning a warm-weather wedding, feel free to get really playful with refreshments. Consider serving up a nostalgic and fun Sno-Cone station. "It's easy to rent a shaved-ice machine from the caterer or a party rental company," says Bussen. "Add a choice of colorful syrups and even your favorite apres-dinner liqueurs. Think frozen White Russians, Orange Shaved Ice with Grand Marnier, or Ruby Port and Berry. This will be the hit of the party."
7. Be More Entertaining
"Consider unexpected, untraditional entertainments, like tarot card readers, magicians and flip book stations (booths where guests create quick movies and make mini books)," says Marcy Blum, an event planner in New York City. She advises asking yourselves what sorts of activities the two of you like to do. You can use your shared interests as surefire wedding inspiration. (Did you meet at a comedy club? You may want to hire a stand-up comic.) Or you can use your heritage as inspiration: "I've had couples surprise their guests with ethnic dancers or musicians who share a set with the band," says Blum. "You can hire square dance instructors," adds Blum. "Have them teach guests to do a line dance — they'll have a blast."
8. Host Those Stations
Guests love having a chef prepare a dish just for them. "We're doing more chef-hosted stations of single items," says Souza, "like an heirloom tomato salad bar with local tomatoes and cheeses. We've also done gazpacho made to order." Look to your region's specialties, says Souza. "If out-of-town guests can't get it at home, it's a special treat. That tomato bar get a huge crush of people — I've never seen anything like it!" Bussen agrees that local food can be a hit. "Display a '100 Mile Table', filled with local produce and artisanal foods, all from within one hundred miles of your celebration — handmade cheeses, homemade pickles — and great local beer!"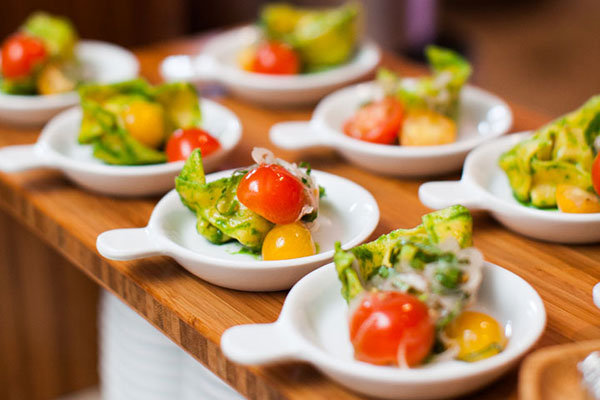 Photo Credit: The Popes Photography on Lisa Dupar Catering via Lover.ly
9. Try a Wine Tasting
Looking for a fun, interactive cocktail hour idea? At her own wedding, Souza provided "flights," or 1- to 2-ounce tastes of three different wines. "Everybody got a little notebook with information about the flavor notes," she says. Another plus: As long as you can supply your own wine without being charged corkage fees, this option may cost less than some speciality bars.  
10. Hire the Local Food Truck
Long after dinner's over, and guests are still out on the dance floor, serve up a surprise snack. Arrange to have a local mobile food vendor pull up his truck outside your event. "Give guests a wrist band or a ticket so they can walk up to the truck and get a snack, then come back inside and start dancing again," says Souza. She's hired trucks serving everything from spicy Korean tacos to crème brûlée. Rabideau has hired a cupcake truck to serve sweets decorated with the couple's initials, and Brown suggests a truck that serves breakfast foods like waffles and pancakes for a late-night treat.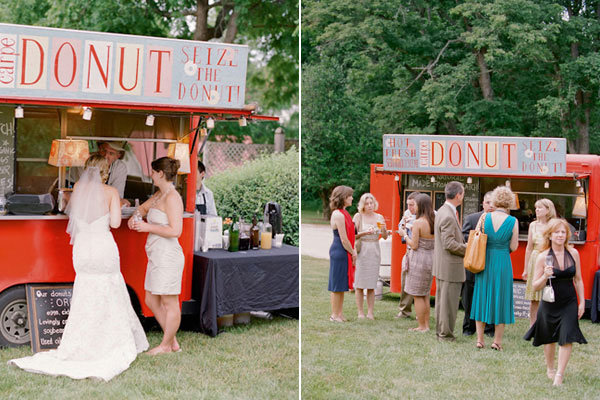 Photo Credit: Abby Jiu on Snippet and Ink via Lover.ly
Next: New twist on guest books, fun midnight snacks, and more ►
Pages