A wedding on the beach is such a good idea — it's relaxing and romantic. But other than a sandy aisle and white resin chairs, not a lot of couples know what to do with this space. Things can get tricky with an aisle runner (which we don't recommend), and sometimes beaches won't allow anything thrown, included rose petals or confetti. Finding out the rules and regulations is part of the planning process for one amazing beach wedding. 

Photo Credit: Relate Studios
Rothweiler Event Design recommends holding the entire wedding on the beach instead of just the ceremony. This will give you the beautiful space for the full six hours, as opposed to just a quick 30 minute ceremony. Frankly, there is too much set up and preparation required to just host the ceremony and run. Plus, when you have the entire party in one location, you'll be able to find beaches that will give you more privacy, whereas if you simply host your ceremony there, your wedding will become a spectator sport.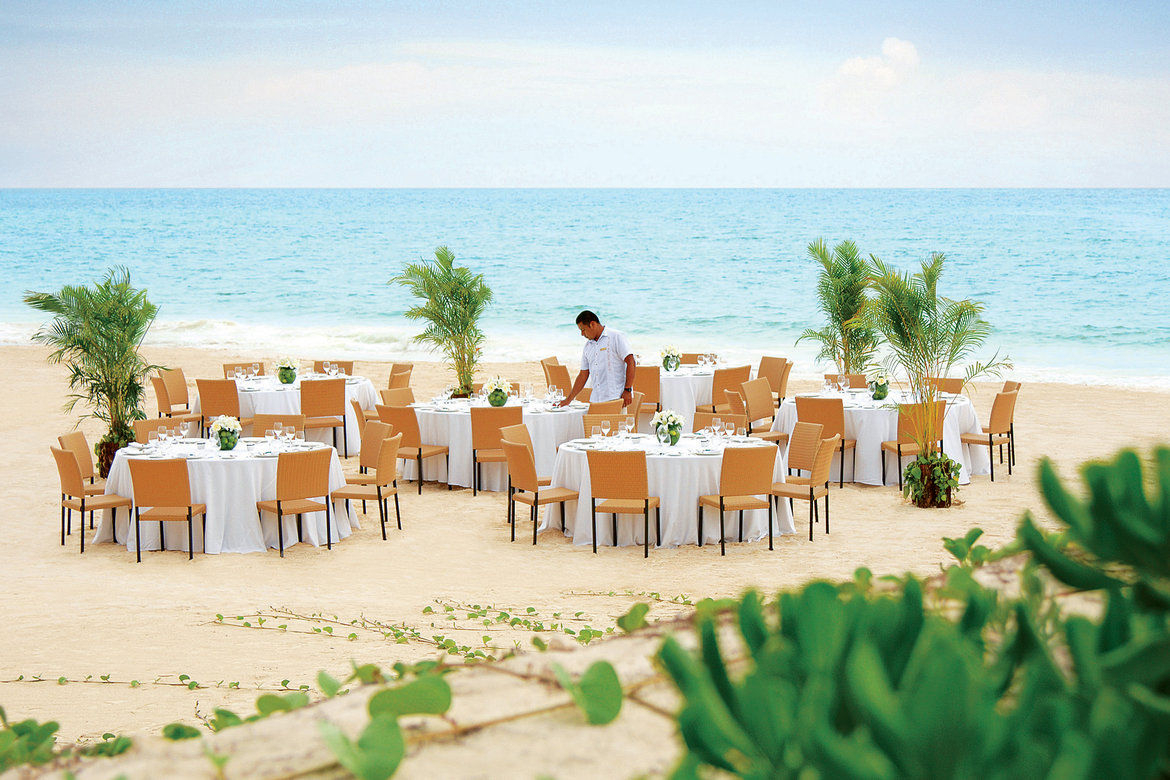 Photo courtesy of Fairmont Mayakoba
Take the elements of the beach like fun and comfort, and incorporate that into your design by pitching a tent and using sofas and chairs for seating during cocktail hour and post-reception. There are various tents that you can use, but we recommend going the extra mile and selecting a tent that can handle all types of weather. This way, the flaps can be pulled down in case of rain/cold/wind and kept up if the weather is perfect. To really elevate your wedding, check out the amazing clear top tents that are available so that your guests can dance under the night sky, no matter what the weather is.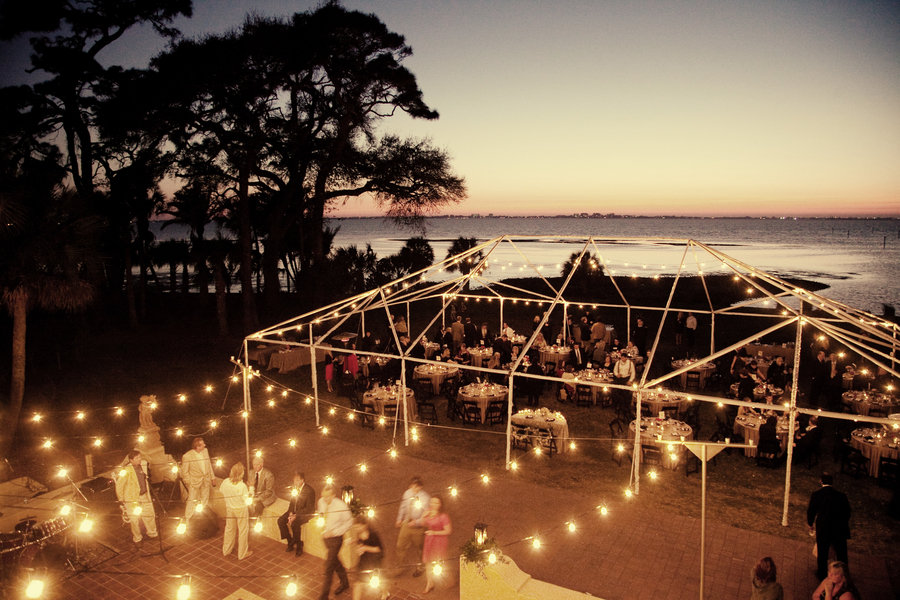 Photo Credit: K and K Photography
Make your menu full of "beach" items; depending on what beach you are on, this can vary greatly. For instance, if you're hosting your wedding down the Jersey Shore, make sure to include things during your cocktail hour that you could find on the boardwalk — cheesesteak sliders, mini pizzas and even cotton candy and funnel cake are must haves. Consider just having a cocktail reception so that your guests can party on the beach all night long without a formal sit down dinner. You can even bring in some boardwalk games for your own private use!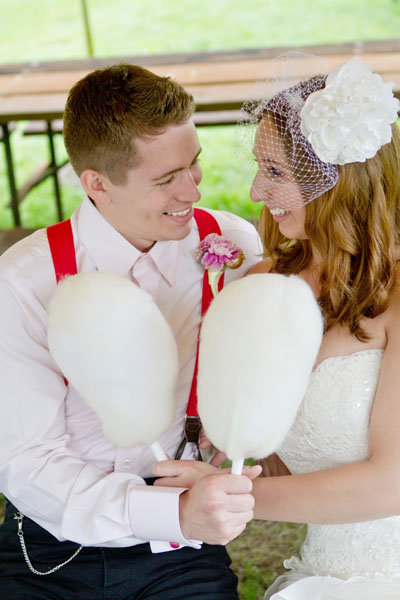 Photo Credit: Heather Fitch Photography
If you're hosting your beach wedding in another state, such as South or North Carolina, we recommend working their Southern traditions into your cuisine. Consider including mint julip signature drinks on the menu and a more formal dress code. For beach weddings in hot spots like Miami, bring the club directly to the sand and hire a DJ from one of hottest clubs to come in and play your cocktail hour. For your reception, though, we recommend using a DJ with wedding experience — of course, if you can find one that does both, even better! 
California beaches are perfect for that laid-back vibe, and a bonfire at the end of the night is a must. Start your wedding on the later side if you can, right at dusk, so that the entire party is at night and you can all enjoy the fire/after party. Offer up pashminas and flip flops as wedding favors that guests can use as the night goes on.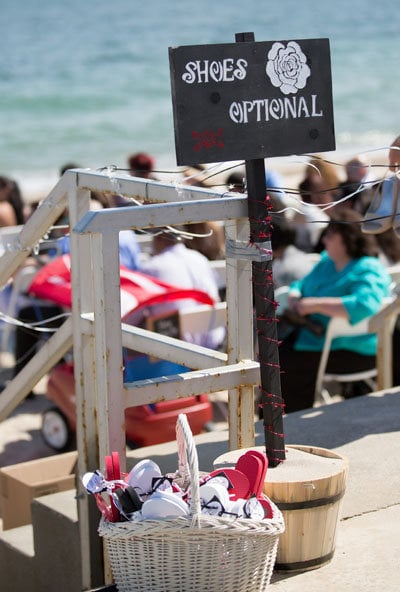 Photo Credit: Shoreshotz Weddings
Instead of using flowers for centerpieces, incorporate driftwood and other natural elements on plain white linens. The best thing about this is that you don't have to go crazy with different types of linens and patterns because a clean white poly blend is all you need for your backdrop. If you want to keep with a nautical theme, break out the blue and white striped linens, or use accent pillows in those colors for your seating pads and on your lounge furniture. 

Photo Credit: Alea Lovely Fine Art Photography
Where ever you are and whatever beach you choose, it's important to know your surroundings and what's available. Anyone can throw a beach party, but pulling inspiration from what is around you will make your wedding stand out from the rest. 
—Danielle Rothweiler
Danielle Rothweiler is a full-service seasoned event planner who has worked with some of the NY/NJ Metro Area's most exclusive venues and elite vendors. Quick-witted, sharp-as-a-tack and great under pressure, Danielle is known for her innovative ideas and keen attention to detail. She has worked with a number of media/TV personalities on various high profile events. Danielle believes strongly in giving back to the community and works very closely with the NYC Hope Gala, created to support fundraising efforts on behalf of The Four Diamonds, and The Penn State Dance Marathon (THON), which contributes to the mission of conquering childhood cancer. Danielle is also the Founder of NJ's Annual Same Sex Wedding Giveaway initiative.