Guest blogger: Allison Silber, founder and creative director for engagedandinspired.com.
Engaged & Inspired is a wedding publication for crafty brides who strive fill their wedding day with loads of personality. The team of real brides post about the highs and lows of wedding planning and what it takes to pull off their big day. Aside from running Engaged & Inspired, Allison also offers planning and design services to the Carmel Valley area.
The invitation is the first impression each guest will have of your wedding day — it sets the tone for your entire event. It's a way to offer guests a special treat to come home to, since physical mail is becoming more and more uncommon. The days of generic paper design are over: there are plenty of ways to make your invite even more awesome, and I'm here to show you how to do that!

Photo Credit: Jose Villa via Kiss the Groom
1. Wrap it up beautifully.
Wrapping the invitation with twine, lace, leaves or some other special token is a simple way to complete the package.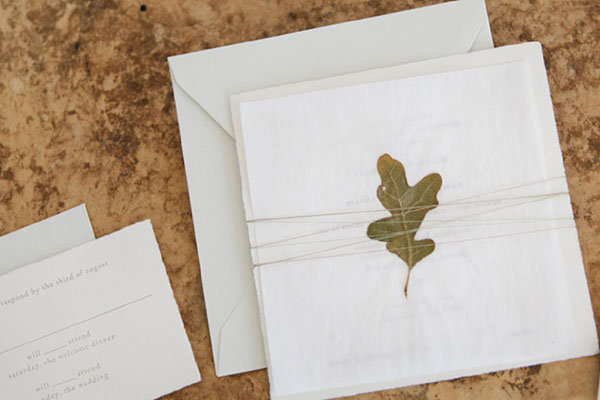 Photo Credit: Tiny Pine Press
There are plenty of different options for invitation sleeves, but this muslin bag sleeve takes it to another level. Plus, these bags can be found online at affordable prices, so you won't have to break the bank to spruce up your invitations.

Photo Credit: Oh So Beautiful Paper
2. Add a gilded touch.
Oh gold — we all love it and can't seem to get enough of it! If you are including metallic details in your wedding day, consider using a gold foiling printing technique for your invitations (see below). It turns out beautifully, doesn't it?

Photo Credits: Bella Figura
3. Think outside of the rectangle.
Invitations don't have to conform to standard paper sizes. Have a little fun with your suite and go for a circle or a custom shape! Just keep in mind that it will cost more to mail an envelope that is rigid, nonrectangular or not uniformly thick.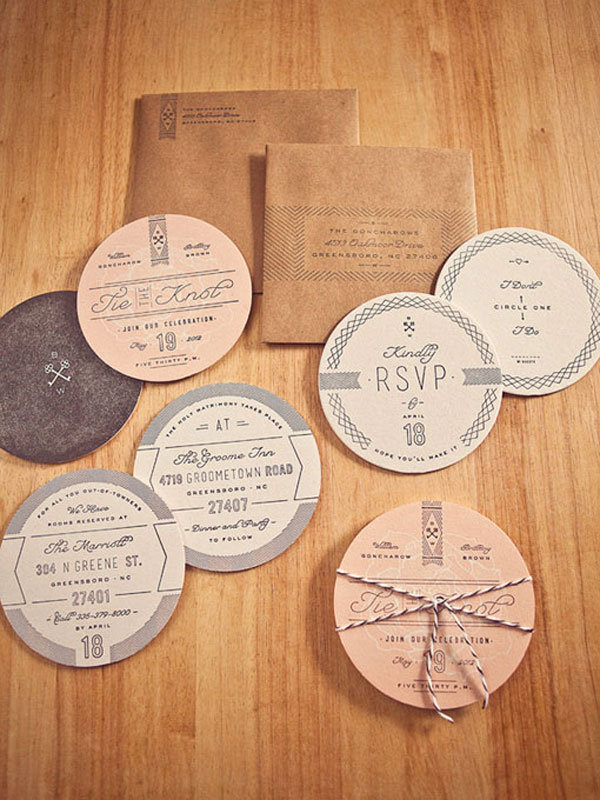 Photo Credit: F5 Photography
4. Invest in calligraphy.
Calligraphy is a totally-worth-it splurge. As soon as your guests see it in their mailbox, they will be instantly overjoyed.

Photo Credit: Etsy
5. Print on non-traditional materials.
If you want to be truly different, consider ditching paper altogether and going for one of these alternatives. Wood, leather or fabric makes for amazing invitation sets. And if you are looking for something a little different, this is your best bet. You can find plenty of places online that will print on these surfaces for just about the same price (or even cheaper) than paper.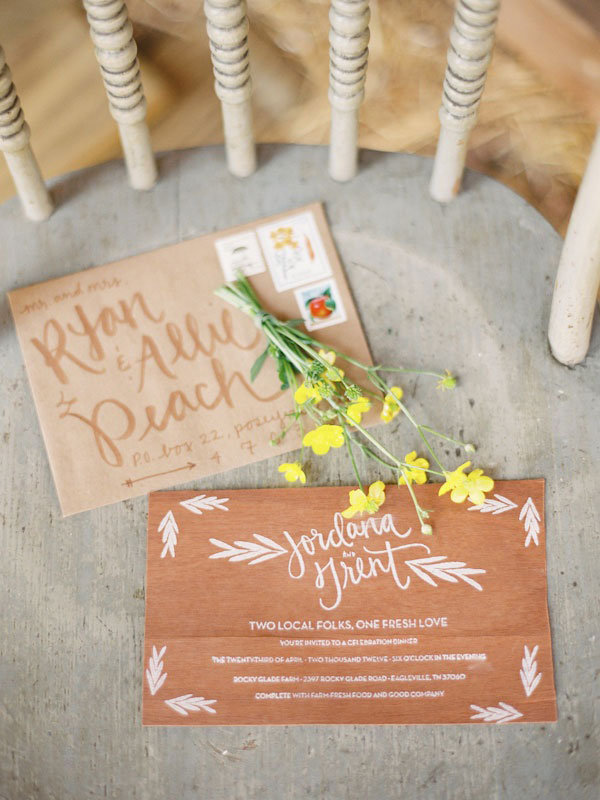 Photo Credit: Jessica Lorren 
Photo Credit: Lizzy B. Loves via Oh So Beautiful Paper

Photo Credit: Heather Cook Elliott
What to know before you shop for invites: The one thing you must remember while creating your invitation suite is to keep the look coherent with your wedding-day design plans. Oftentimes, wedding vendors will refer to your invitations as a source for design inspiration, so ensure that you're setting the perfect "mood" with your design. Incorporate textures or design motifs that you'd like to see throughout your wedding day, and choose no more than three fonts for consistency.
More from Engaged & Inspired:
—Allison