Have you ever had a nightmare so terrifying, it took a good five minutes to realize it didn't actually happen? I've always had a colorful imagination (even in waking life), but with only six months left until my wedding, so many movie-like plots have interrupted my slumber that I'd love to arrange a meeting with Mr. Spielberg. Among the most bizarre: I'm "outside" myself, watching my body walk into a house I've never seen before. Up the stairs, there's a door with glowing red script. In a trance, as if possessed, I turn the knob against my will, even though every part of my body is screaming, "Don't do it!" Then, I wake up.
Professional dream analyst Patricia Garfield, the author of The Universal Dream Key and Women's Bodies, Women's Dreams, explained to me that dreaming is like grand opera: it exaggerates and dramatizes in order to get our attention. Every dream has a purpose, whether it's to warn us, inspire us, encourage us to slow down or get moving, and so forth. Dreaming is a biological rhythm that is triggered by REM (rapid eye movement) and it uses a deeper layer of the brain than the cortex (what we use most of the time when we're awake), which is why dreams are highly emotional. "By coming to understand the images and messages within them, we become more aware of what matters to us," said Garfield.
I'm not the only bride who tosses and turns 50 times a night — below, some of the most common nightmares our Facebook readers have had.

How sweet is this sign?
Photo by: Our Labor of Love on Bridal Musings via Lover.ly
1. The Wedding Day Arrives, and No One is Ready
"I'm frantically setting up tables and flowers, and the clock is going crazy. My mom comes running in, pulls me by the arm, and tells me that it's time to go. I look to where she's pointing, and all of the guests are sitting there waiting for me, including my groom at the altar. Meanwhile, I'm in pajamas, my hair is a mess, and nothing is ready, not even my cake! I wake up in a sweat before Mom has time to drag me down my (bad) dream aisle." –Allie Marie
"I keep dreaming that it's the morning of my wedding, just hours before the ceremony is supposed to take place. I look down at my feet, and I haven't had a pedicure. My nails are chipped, and my hair is a mess. All of my bridesmaids are wearing weird dresses because they 'didn't feel like wearing' the ones we originally picked out. Then, one of the girls comes up to me and asks why I'm so upset when I 'didn't bother to send out invitations, so how can I expect people to even show up?' I wake up in sheer panic every time! It's made me strive to be pro-active." –Kelsie Kavajecz

You guys STILL aren't ready yet?!
Photo by: Abby Jiu on Snippet and Ink via Lover.ly
Garfield's take: "This is the most common type of wedding nightmare. Each image represents different aspects of their state of mind. In both dreams, the bride has messy hair, which indicates mental and emotional agitation. The absence of cake symbolizes a lack of energy and emotional support. Feet symbolize stability, so Kelsie's chipped toenails may suggest she's feeling unstable right now. Wrong or inappropriate clothing in a dream, like the bridesmaid dresses, project a feeling of vulnerability. Most brides have a sense of being judged; they want everything to be perfect.
2. You Forget the Wedding Entirely
"I dreamt that I went shopping for white stockings. When I came home, I realized that I'd completely forgotten that it was my wedding day, and started crying my eyes out. My parents came up the stairs to my flat, and I told them the wedding was today and we totally missed it. I was inconsolable!" –Caroline MacLeod
"I'm in a church or reception hall decorating for something, but I'm not sure what. Then, all of a sudden, my family comes into the room, and my mom says it's the wedding day, even though our real date isn't until June and I haven't even gone wedding dress shopping yet. I wake up and immediately calculate how many days I have left until the real date! I've had this dream so many times." –Chenese Simms

Maybe if I tie a knot, this time I won't forget...
Photo by: Deep Grey Photography on Polka Dot Bride via Lover.ly
Garfield's take: "Shopping in dreams usually suggests that the dreamer is facing choices in their waking state. In Caroline's dream, picking out the stockings distracts her from realizing that she is supposed to get married that day. Since it's a minor element of wedding attire, she needs to think about what's distracting her from focusing on important wedding-planning tasks. Her dream might be saying, 'Hey, get your priorities straight!' In Chenese's dream, she's missing the wedding gown itself, which she hasn't purchased yet in real life. Her dream is like an alarm bell telling her to get a move on."
3. The Bride, Groom, or Guests Have a Distorted Appearance
"I've had several nightmares where I am in a beautiful dress, smiling, when all of a sudden, I get a horrible allergic reaction. My lips swell, my skin breaks out in large red puffy hives, and my entire body itches. My photographer tells me that she'll try to Photoshop my distorted face and body, but when we get the photos back, it looks like I was stabbed by a bunch of wasps on my wedding day!" –Laura Staples
"I dreamt that when they opened the doors for me to start walking down the aisle, everyone in the room had indigo-colored hair…it's my wedding color." –Heather Scott
"I dreamt that all of my teeth fell out on the morning of my wedding. I could actually see my reflection staring back at me, with no front teeth! I've had this dream about three times." –Jennifer McMahon

Looks like I've still got 'em, whew.
Photo on Polka-Dot Bride via Lover.ly
Garfield's take: "Dreams of teeth falling out often relate to the tension of holding anger inside—there are many inevitable frustrations that can arise during the wedding-planning process. Also, Jennifer may have been gritting her teeth in her sleep during the dream. In Laura's case, being stung in dreams relates to angry words expressed by other people. She may be uncomfortable about 'stinging' comments in waking life. The photographer in her dream may represent a part of herself that's more reassuring. Heather's dream may suggest that the people surrounded by her are all affected by her thinking. The condition of a dream character's hair is indicative of their thoughts."
4. A Misbehaving Wedding Guest
"My worst nightmare: We're reciting our vows, and when the preacher asks if anyone objects, my groom's mom stands up and objects. She causes a huge scene and pours a drink down my wedding dress!" –Kaci Hall

Dad's take on the Harlem Shake craze.
Photo by Cliff Brunk Photography on Polka-Dot Bride via Lover.ly
Garfield's take: "It's not unusual for brides to dream about guests misbehaving at their wedding. Such dreams usually arise from a sense of insecurity about the person who's acting out (every bride has layers of insecurity about the wedding at some level). Keep in mind that worrisome dreams are normal during periods of pressure. Lean on your partner and trust that everything will work out. Most importantly, accept the unexpected with good humor."
5. Your Groom is MIA
"In one dream, I didn't see my husband for hours after the wedding. We took all of the photos without him!" –Joyce Godwin

He's toast when I find him.
Photo by: Funky Photographers on Bridal Musings via Lover.ly
Garfield's take: "When it's the groom who misbehaves in a dream, it causes more than a twinge. How dependable and trustworthy is he? This type of dream suggests deeper concern about the reliability of the groom-to-be for being a fully present partner in the relationship. Involving him more in the wedding-planning process and opening up about your feelings may put you at ease."
A Nightmare That Isn't Listed Above
Take short relaxation breaks during waking hours throughout this hectic preparation period. Sit in a quiet room for five minutes alone, keep your feet elevated, and sip tea or listen to your favorite music. Get a massage from your fiancé, go for a brief walk in a beautiful space—do whatever makes you feel most at peace. Before you go to sleep, breathe into a lavender-scented satchet or a pine-stuffed pillow to unwind.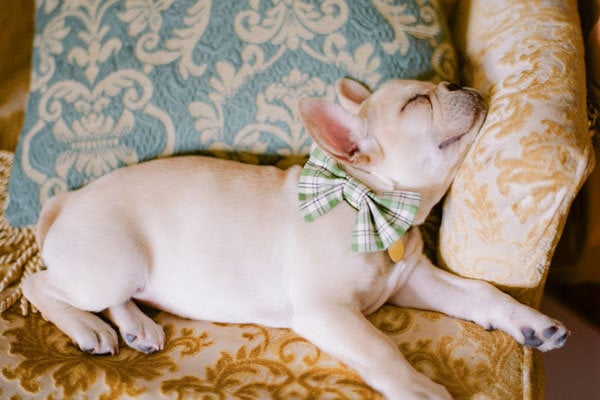 Or, just look at photos of cute puppies, like this little guy!
Photo by: Abby Jiu on Snippet and Ink via Lover.ly
Plagued by a recurring dream, like some of these brides were? Garfield believes they're especially important because they suggest an unresolved issue or a new problem that reminds brides of how they felt during a former period of stress. "There are many ways to cope with dream foes: fighting back, getting help to confine them, challenging them with questions, or even befriending them. We can learn something from every dream image," she said.
Physical sensations are an important level of dreaming. I was battling a severe sinus infection when I dreamt of my nightmare, which Garfield believes may have contributed to my "suffocation" scenario. "Dreams can reveal how the body is working or how you're feeling emotionally. Sometimes, all three levels combine in one — body, mind, and spirit. Be alert to all of these possibilities.
If you have an atypical wedding nightmare, like mine, ask yourself for a clarifying dream. For example, "What does the red script signify? What is behind the door?" Repeat the statement or question to yourself in the drowsy period as you drift off the sleep. "It may take a few nights before the answer emerges, but dreamers may find that this process produces more information," said Garfield.
—Stefania Sainato