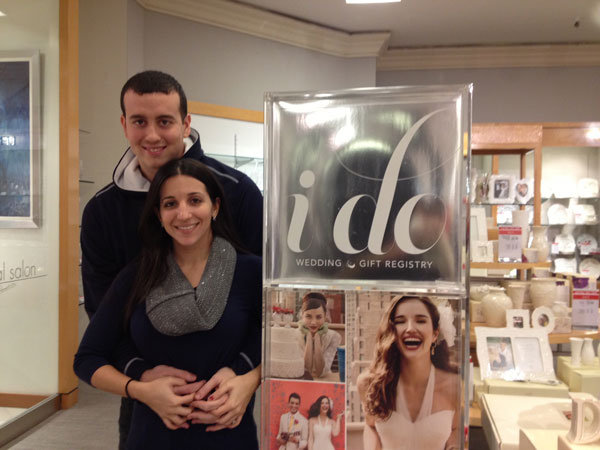 I knew I couldn't tackle the task of making my house a home without my groom. Armed with Jason's male perspective and Mom's real-world experience (she tagged along for support), we filtered hundreds of products down to the chosen few. Here's what we learned, as told from our POVs.
The Bride:
I was beyond giddy to register. When else in your life can you create the ultimate wish list without paying a dime? My scanning goals: Invest in items I'd be using the most frequently, like cookware; don't include items that guests might be reluctant to bring to a bridal shower, such as garbage cans or toilet plungers; and maintain a uniform sense of "style," which was challenging since we don't know which colors will match our new apartment.
We tried to register for gifts in a variety of price points, from affordable to only-my-aunts-would-love-me-this-much. We created registries at Macy's, Bed Bath and Beyond, and East Side China, a fantastic housewares specialty shop in our neighborhood. We felt that selecting a wide range of gifts would benefit not just us, but also our guests, who would have more choices than if we'd stuck to just one. We were very grateful for our consultants' wonderful registry advice; especially Michelle from Macy's and Holly from East Side China.
If I could give just one tip to fellow brides, it would be this: If you can't choose between different brands or versions of the same product, scan them all and then decide later which one you actually want to keep. That way, you're not stuck in the store forever and you can scroll through everything at once in your cart, which will give you a better sense of what to pick. Also, don't be afraid to register for a few pricier items that you'll get a lot of use from, since some of your guests might want to do group gifts. I was torn about whether to scan my stainless steel All-Clad cookware set, but my Mom convinced me that some people would chip in together to buy it. Lo and behold, that was the first thing purchased off my list. Thanks, Mom!
Here, a few of my favorites: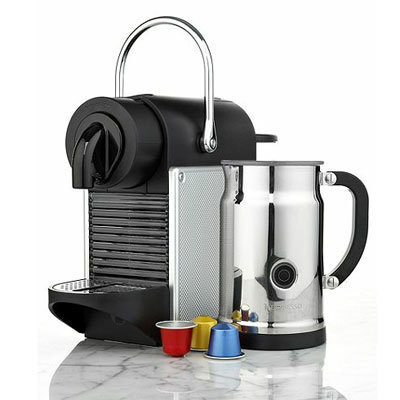 1. Nespresso AD60USALNE Espresso Maker, Pixie Bundle. I can't speak to anyone in the morning until I've had my espresso. Our consultant, Michelle, helped us select this set. It comes with an Aeroccino Frother, so I can whip up cappuccinos and lattes that are just as tasty as those from my uncle's coffee shop in Milan (a bride can dream). This is the one registry item besides my pans that I can solemnly swear I'll use every day. (Available on Macys.com.)

2. Simply Anna Dinnerware by Anna Weatherley. With its goldtone edge and scalloped shape, I knew this pattern was a must-have for holiday parties and other special occasions. Plus, East Side China offers unbeatable bargains and selection. Our consultant, Holly, helped us select goblets and flatware from a different brand that would match just perfectly. (Available at East Side China; call 718-633-8672 for more info).

3. Wall Solutions Rod and Frame Set. I felt it was important to register for casual décor, not just china cabinet-worthy pieces. This frame set will instantly liven up our walls. (Available at BedBathandBeyond.com).

The Groom
Many guys I know feel that creating the wedding registry is "the bride's job" and their role is simply to scan items using the cool laser gun. I completely disagree with this mentality (although I did have fun scanning everything from a Naked fruit juice to my fiancé to a giant chandelier we would never use). Although the bridal shower will be girls-only, the gifts will be used by both of us. Therefore, I felt it was important to be an active participant in the process and help select items that I want, too.
The week after Christmas, my lovely fiancé Stefania, my wonderful mother-in-law-to-be, and I began our registry at Macy's in Herald Square. After meeting with our bridal consultant, Michelle, for about a half hour, we were set free to explore the store and scan whatever our hearts desired. While having dinner with a few friends the night before, Stefania whipped out a packet of papers with reviews and ratings for items she wanted. I poked fun at her, saying how I would have just winged it at the store the following day. Thankfully she came prepared— there is no way I would have been able to choose which of the dozen sets of pots would fit our needs.
Our approach was to attack the parts of the registry we knew the most about. We decided on the kitchen appliances and pots/pans first. The last part we looked at was the bedding. I was surprised by how many parts compose a complete bedding set and how expensive it is. Another aspect that surprised me was how physically demanding the process was. Between bending down to grab lower items, reaching up high to pull out boxes so that my fiancé could exam each item, and walking around the store for the entire day, I was exhausted! Since we also decided to register at Bed, Bath and Beyond and East Side China, it took a few different shopping trips—not to mention all of the reviewing we did online—to finalize everything. I'd recommend allocating at least a few weeks for this project.
Here, a few of my favorites:
1. Hotel Collection Bedding, Calligraphy Collection. We spend a third of our day in bed, so you might as well love what you're laying on. The comforter was unbelievably comfortable—I didn't want to get off the display model. (Available at Macys.com).

2. Lenox French Perle 65-Piece Flatware Set. I shocked my fiancé when I expressed how important flatware is to me. I want it to be sturdy when I dig into my steak for dinner—there's nothing worse than a flimsy fork. Holly helped us find this set, which passed my weight test. (Available at East Side China; call 718-633-8672 for more info).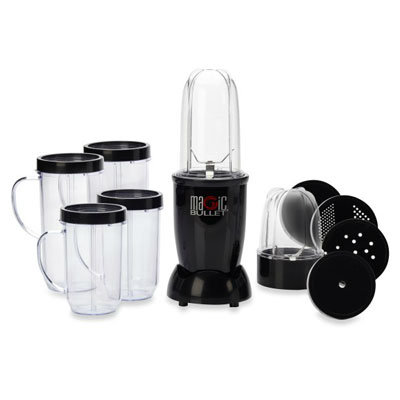 3. Magic Bullet® Black Edition Express Blender and Mixer System. I can see myself using this convenient mini-blender frequently. It is versatile enough to help prepare my protein shakes after the gym—if I decide to keep up my recent health kick—and make the batter for crepes (in case I deviate completely from my health kick). (Available at BedBathandBeyond.com).

Tell us: What's your favorite item on your wedding registry? Who did you go shopping with?
—Stefania Sainato