It's no surprise that planning a wedding can make you break out the tissues from time to time, but one thing I didn't realize as a bride is that there are distinct emotional phases you may go through before getting married. Just like Kübler-Ross' "Five Stages of Grief" theory, you can experience these stages in any order and every person's experience is just as unique as their wedding.
Thinking of wedding planning within this framework explains how it's possible to go from being giddy one moment to anxious or disinterested the next. Here, I share my experience, but I'd love to hear which stages, if any, you'd add to my list!
Stage 1: Pure Joy
Pop the champagne corks: This is really happening! Getting engaged to my husband Jason was a surreal experience, even though I had a feeling that bended-knee moment was coming. I was initiated into the incredibly wonderful (and wacky) world of weddings. I nostalgically look back on all of my wedding experiences now that my proofs are back, my beautiful wedding dress is dangling from a closet door, waiting to be preserved, and I'm transitioning into my role as a wife.
But the truth is that the source of my happiness was deeper than all of that. The Most Epic Party of Our Lives would just be the first of many adventures together: buying a house, traveling the world and hopefully having a baby someday. Professing our commitment added another dimension to our relationship, no matter how cliché it sounds.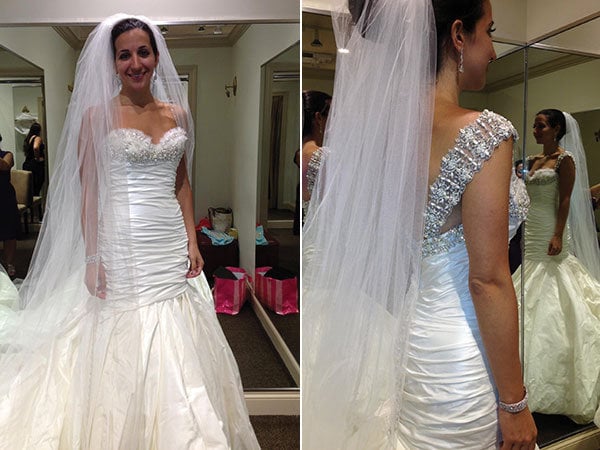 The winning dress! I added the custom straps shown at right.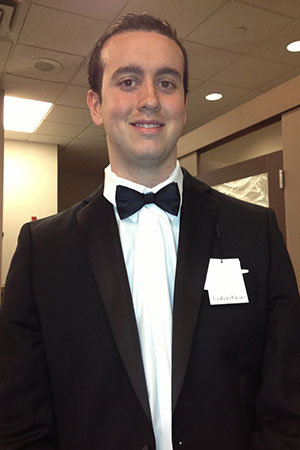 Tux shopping with my handsome groom.
The church where we got married.

The first time we visited our venue (please excuse the blurriness).

Stealing a kiss at my cousin's wedding.
How to make the most of this stage:
Prolong the engagement bliss as long as you can before you have to buckle down and start making some big decisions. Talk with your fiancé about your hopes and wishes for the wedding, but don't start asking everyone for advice on nitty-gritty details or scheduling that dress appointment before you've had a chance to discuss logistics - that'll come in due time.
Stage 2: Bewilderment
Once the daydreaming phase was over, we realized that executing our wedding would be much more difficult than we initially thought. Confusion set in, which was only compounded by the fact that people started offering their two cents on everything from what cake flavor they liked to which bridesmaid dresses they hated...and we hadn't even set a date yet! I began to secretly dread the "W" word and prayed it wouldn't come up in conversation at family functions or nights out with friends.
Who do we invite? When do we do what? How do we make the wedding reflective of our personalities? I remember trolling through message boards desperately searching for answers. And then there was the biggest question of all: how much is this all going to cost? The sticker shock came fast and furious, forcing us to prioritize on what was most important and make sacrifices over the next few years (we eliminated vacations, Christmas/birthday gifts, and date nights out).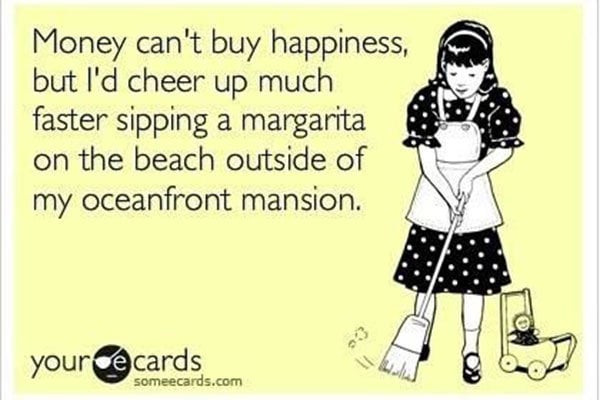 Couldn't have put it better myself.
How to make the most of this stage:
Event planning is akin to building a house - you need a solid foundation first and foremost. Start by locking in a date and deciding roughly how many guests you'll want to invite, since you'll need that information before you look at venues. Now's also the time to have that much-dreaded (yet necessary) conversation about finances and decide who's paying for what. Consider it good practice for married life! Decide the tone of your event, whether it'll be ultra-formal, a casual beachside affair or even a creative themed wedding. This will help guide the rest of your planning decisions.
Stage 3: Determination
After major tasks like choosing the venue, bridal party and dress were checked off, other decisions that were dependent on those factors fell into place. A vision began to take shape: a glamorous mermaid gown with an intricate back, a vintage limo from the '30s, an electric violinist who would play our favorite rock songs during the cocktail hour, etc. Finally it all felt very "us." And I fell in love with our wedding all over again.
In order to accomplish our goals in time, we broke projects up into smaller, more manageable pieces. For long-term projects that spanned the entire duration of our engagement, like my journey to get in great physical shape, I made weekly goals (e.g. attend three gym classes). When I met them, I would give myself a small reward, whether it was a pro mani or splurging on my favorite lunch.

DIY projects were the most time-consuming!
How to make the most of this stage:
Research rates for wedding services in your area so that you're well-informed at meetings with vendors. Ask recent brides not only who they'd recommend, but which vendors raised red flags, if any. On the flip side, ask your photographer, florist, DJ, etc. who they like working with, since they may be able to recommend great vendors to fit your needs. I can't stress how many miscellaneous papers, sketches, receipts, etc. you'll accrue during this time. Create an organization system that works for you.

Who knew it took so much paper to plan a wedding, even in the age of iPhones and tablet?
Stage 4: Overconfidence/Denial/Bargaining
I thought I'd be able to sit back, relax, and reap the benefits of being an early bird a couple of months before the wedding. I put off certain projects that I found undesirable - ahem, mailing out invitations - and preoccupied myself with anything that didn't have to do with our big day. It wasn't a conscious decision; in retrospect, it probably stemmed from anxiety over potentially hurting the feelings of anyone who wasn't invited.
When I wasn't in denial, I was in bargaining mode. There were times when I wished I had someone (read: a paid professional) to play the role of The Enforcer and back me up in awkward situations, like when I had to fire an MIA vendor and scramble to find a replacement at the last minute, or keep the peace with someone who created a major blowout the week before my wedding over something trivial. I realized that a year from now, these things wouldn't matter, unlike truly difficult circumstances that other brides far more courageous than myself have had to face before their weddings. I felt drained nonetheless.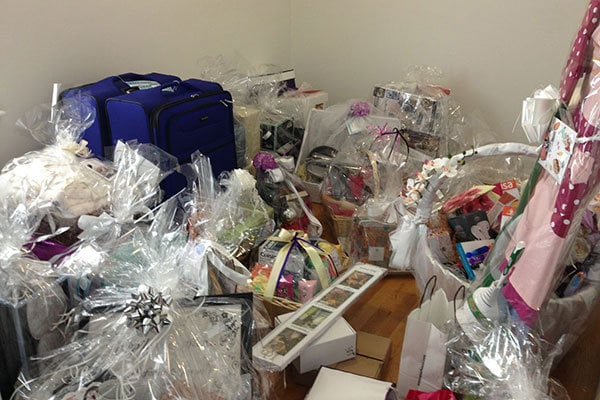 Turning a house into a home is no easy task...

See, the invitations and seating charts (pictured) still got done.
How to make the most of this stage:
Develop a support system of trusted advisors, whether it's your mom, your best friend, a knowledgeable coworker, whomever. No one is Superwoman, and if you try to manage everything on your own, like I did, without asking anyone for help, then odds are you'll crash and burn eventually. Learn to delegate smaller projects to those who want to contribute to the wedding cause. Try not to take things too personally and keep in mind that weddings can be stressful at times for parents, family members, and the bridal party, too — not just the bride and groom.

I couldn't have done it with my incredible maids of honor: Chrissy and Sonia. Here they are, squeezed into the car, holding my wedding dress on the ride home after my final fitting!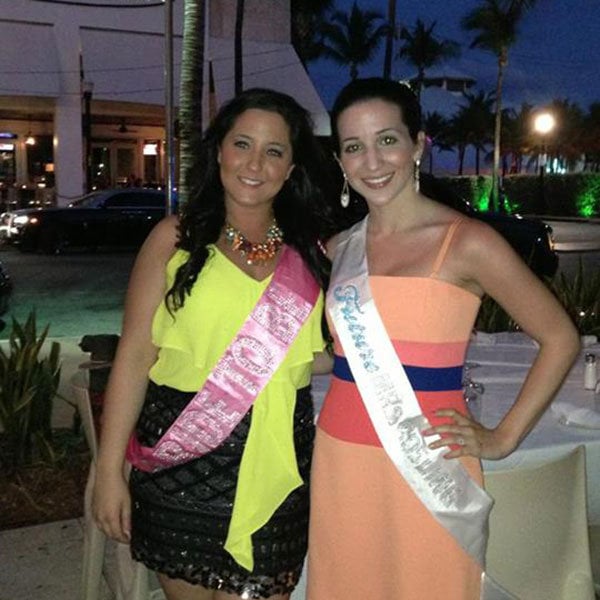 I bounced ideas off of Kerry, my friend (and new cousin!) who got married a few months before me. Here, we're pictured at our bachelorette parties in Miami.

Left: The best advice I received at Pre-Cana: Don't let anyone or anything come between your marriage, not even your children.
Right: My parents are my role models.
Stage 5: Decision Fatigue
A typical conversation with my now-husband in this stage went something like this:
Bride: "Sweetie, what song should we use for our same-day edit video? How about 'When You Got a Good Thing' by Lady Antebellum? Too country? 'White Dress' by Ben Rector? Overused? An acoustic male rendition of 'Teenage Dream' by Katy Perry? Too quirky? Forget it, just let the videographer choose, I'm done making decisions and never want to see another song list for as long as I live..."
Groom:
Bride: "But what if we hate the one they pick? Oh yeah, did you remember to tell the groomsmen to try on their tuxes?"
Groom:
Bride: "We have to drop off the programs, pick up a few extra favors and make sure we have everything for the hall. Want me to text you a reminder to-do list? Oh my God, we never submitted the final check to the DJ!"
How to make the most of this stage:
This frenzied kind of thinking is actually a scientific phenomena. The New York Times reports that our capacity to weigh options gets maxed out when we're calling upon it too often. Author John Tierney describes planning for a wedding "the decision-fatigue equivalent of Hell Week." More often than not, decision fatigue not only saps your energy, but it can put strain on your relationship, too. When you realize your partner is suffering from overload or vice versa, put the decision aside - go out on a date, work out, read a book, do anything but talk about the wedding. This will not only put you both in a better mood, but give you perspective to eventually come up with the right answer.

Which monogram do I choose?
6. Panic Followed by Acceptance
Bursts of clarity can come from even the most unexpected places. One of the most vivid moments I recall was during a casual family conversation that started out about how excited guests were to attend the wedding. My parents became anxious about everything going perfectly. "I don't care about wowing guests with centerpieces and gowns and food! I JUST WANT TO MARRY JASON! I LOVE HIM! I WANT TO SPEND THE REST OF MY LIFE WITH HIM!" I exclaimed out of nowhere.
My parents still tease me about my random outburst from time to time, but in all seriousness, it made me realize that no matter what happened, my wedding would be amazing because I was getting married and that was all that mattered. A peaceful feeling came over me the week before the wedding and I just focused on having fun with my family, bridal party and all of the people who had flown in for the occasion.
How to make the most of this stage:
Plan a few fun activities for the week before the wedding to help distract yourself. I had a "spa"-chelorette party with my girlfriends and a surprise Hawaiian bridal shower at work. I also entertained out-of-town guests from Europe with a boat sail around NYC, and an impromptu limo ride. It was the most fun I'd had in months and it really helped me remember what the wedding day was truly about.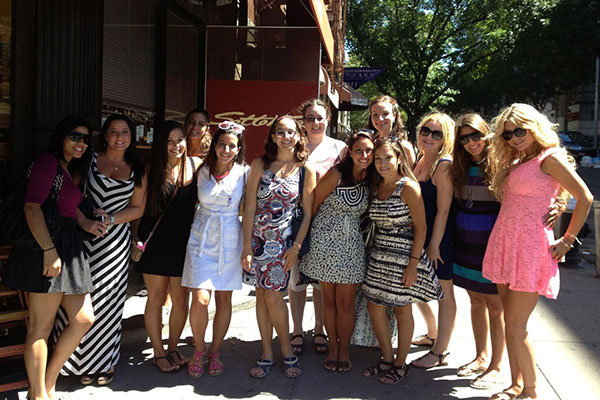 A brunch and spa day with my girlfriends is my personal definition of heaven.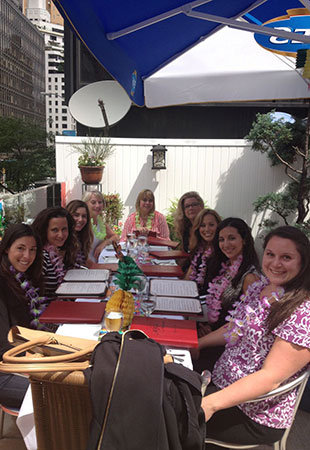 My coworkers threw me an amazing Hawaiian-themed bridal shower in honor of my honeymoon!

My crazy yet loveable family taking over NYC.
Whenever all else fails, and you start wondering if the effort will be worth it, just for the sake of 24 hours, remember this: When else will you be surrounded by all the people who have touched your lives from when you were a child until now? For Jason and I, that count included elderly ill relatives and people who had flown in from other states (and countries). Celebrating our new life together with all of them present was more beautiful than we ever could have imagined and made all of the planning craziness worth it.

All of the loved ones who attended our rehearsal dinner.
—Stefania Sainato