My husband and I are throwing our wedding reception at the Soledad Club, a former women's club perched high above Pacific Beach, with incredible views. We're having an evening celebration and we want to light up the interior in a special way. I've listed fifteen ideas here that will serve as inspiration.
1. Cluster candles into groups. After the sun sets, we'd love to have the tables glow, too. These centerpieces are compromised almost entirely out of candlelight.
Photo Credit: Jennifer Dery
2. Float candles in water.Take your centerpieces to the next level with some creative lighting strategies. Ornate centerpieces get all the attention with candles placed directly underneath.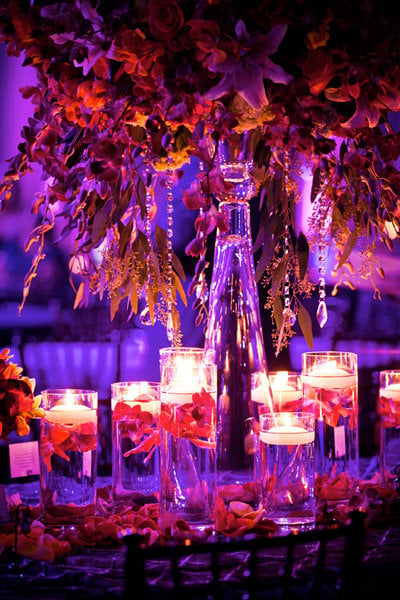 Photo Credit: Stevie Ramos Photography
3. Suspend your candles from tall floral arrangements. These tiny candles remind me of the glow of fireflies, creating a magical effect for an early summer wedding.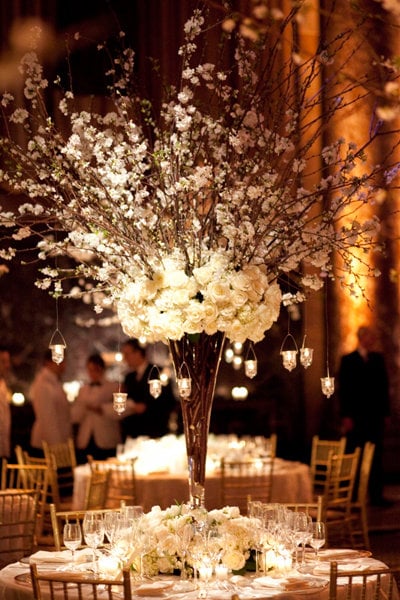 Photo Credit: Mel Barlow
Created By: Tantawan Bloom
4. Light up only your venue columns or trees. They'll provide a soft, inviting radiance that'll make your guests feel right at home.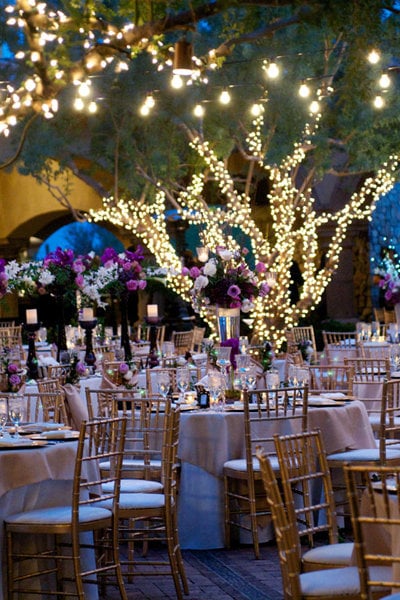 Photo Credit: Amanda Marie Photography
5. Indoor canopy of lights. My wedding venue has wooden beams that line the ceiling, with sheer fabric alternating in between each beam. Michael and I would love to string lights across the ceiling to make the whole room glow.
Photo Credit: Michael Riddle
6. Outdoor canopy of lights. Although outdoor weddings have different lighting needs, they can be just as beautiful. Check out this amazing "tent" of lights that envelopes the entire space in an inviting glow.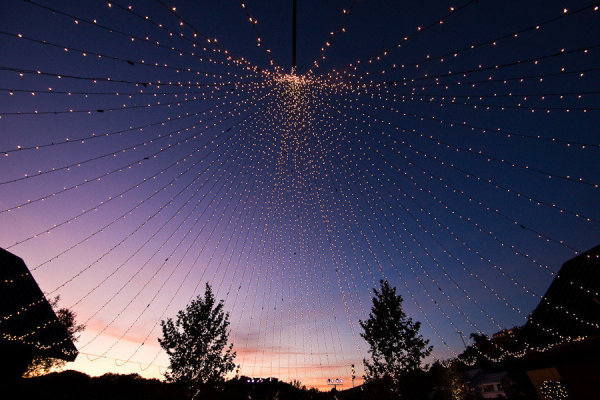 Photo Credit: Kate Webber Photography
7. Outdoor chandeliers add glamour to a rustic-chic celebration. Don't be afraid to incorporate indoor elements into your outdoor wedding—the effect is surprisingly beautiful.
Photo by: Elizabeth Messina on Kiss The Groom via Lover.ly
8. Color-washed reception walls. Illuminate the walls of your venue with your wedding colors. They can be stationary or you can switch up the hues throughout the evening during important moments (e.g. the first dance, the cake-cutting). This will provide a fun and unexpected touch to make your wedding that much more vibrant.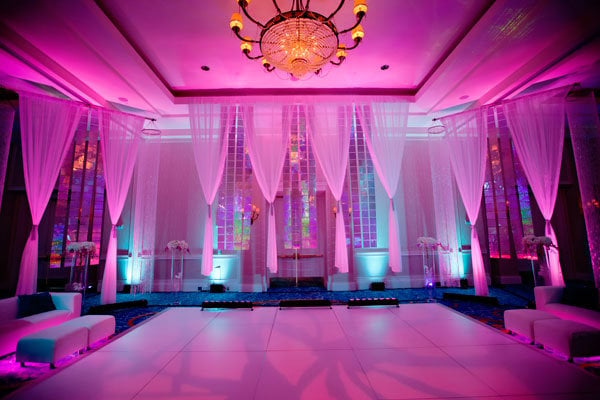 Photo Credit: David Schwartz Photography
9. Emblazon your dance floor with a pattern or monogram. Not only does it give an extra personal touch, but it will look amazing in photographs of your guests dancing!
Photo by: Keith Cephus Photography on Maharani Weddings via Lover.ly
10.  Illuminate your cake, dessert table, or escort cards. We'd love to have our sweetheart table flooded with romantic candlelight.
Photo Credit: Meg Baisden Photography
11. Incorporate colored lighting. Lights don't have to be white—use colored ones to provide even more contrast. I personally love this look because it provides just enough wow factor for a smaller, more intimate wedding.
Photo Credit: Hoffer Photography
12. Bring in the daylight. Just because you've got daylight streaming through, doesn't mean you can't find creative ways to bring even more light in!
Photo Credit: Erin Lindsey Images
13. Rent glass lanterns to add whimsy to your indoor venue. If you adore the look of lanterns but want something more upscale, try these glass ones instead. To me, they look like fancy disco balls.
Photo Credit: Elizabeth Messina on Kiss The Groom via Lover.ly
14. Floating lanterns as a symbol of good luck. Michael is definitely the more carefree one in our union, so he'd love to have our guests take part in this Asian tradition, popularized in movies such as Tangled and The Hangover Part II. However, some states (such as Hawaii and New York) prohibit the use of sky lanterns because they pose as a potential fire hazard. Check with your local office of fire prevention and control first to see if this is legal where you live, and if so, what safety precautions you and your guests must take.
15. Spectacular crystal trees. Getting married during the colder months? Although this winter wonderland might fall into fantasy territory, it's still great inspiration for using lights to invoke a snowy feeling.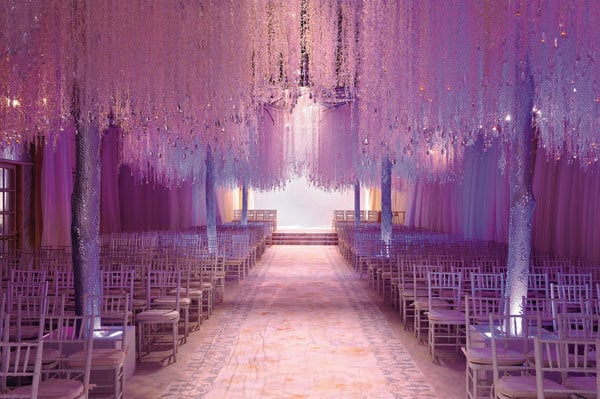 Photo Credit: John Lebbe
Created By: Preston Bailey
Leave a comment telling us which of these bright ideas you'd use for your own wedding!
—Lisa Turner

Lisa Turner is a real bride who is navigating the planning process with her friends and family while her groom, Michael Turner, is serving in Afghanistan. Already married last year, the high school sweethearts will have an official reception in January of 2013 in San Diego when he returns to the U.S. The party will take place in a clubhouse near the beach, complete with Mexican and vintage-inspired touches to celebrate their marriage in a fun and very California way.