After waiting over a year to celebrate our marriage, Michael and I were so excited to throw a wedding at the Soledad Club in San Diego, California on January 19th. Though we officially tied the knot in a quickie civil ceremony before he left for Afghanistan (read more about our decision to elope here), we weren't able to do a proper party until he came back. Surrounded by ninety of our closest friends and family members, we finally got our chance. Check out all of the fun details and photos from our big day below!
My Wedding-Day Look
I got ready with all of my best friends — Kate, Kelsey, Carrie, Minty and Christina. While Carrie managed eyelash application, Kate was the master curler, and we listened to random hip-hop music while I munched on Starbucks sandwiches. It was all very laid-back. Just being able to sit and soak it all in was divine. 
After reading countless wedding beauty forums, I realized that if I wanted my makeup to look great and last all night, going pro was the way to go. However, the top-rated makeup artists in my city charge at least $300 for a trial run and day-of application. So, I ended up taking my chances at a MAC counter the morning of my wedding, and I could not have been happier with how it turned out.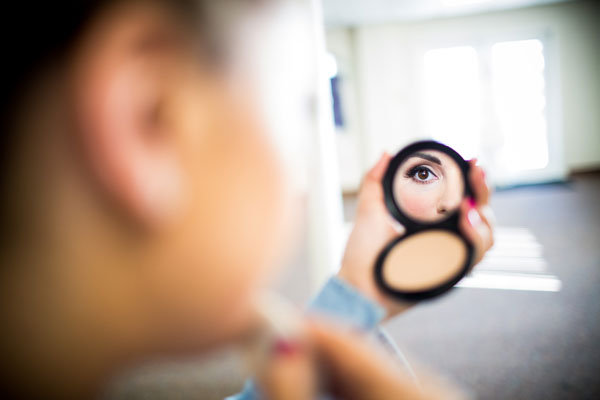 Because I hired a pro for makeup, I wanted to save some money by doing my own hair. I chose Jessica Alba-esque braids because I knew they'd stay put and look unique. The "wing girls" and I practiced the weekend before in Palm Springs, and then it just came together that day.
Tip for future brides: Don't attempt a hairstyle that doesn't suit you — or your hair type. If you're always rocking a headband or ponytail, make a fancier version so you feel at ease. And don't torture your hair to achieve a certain style.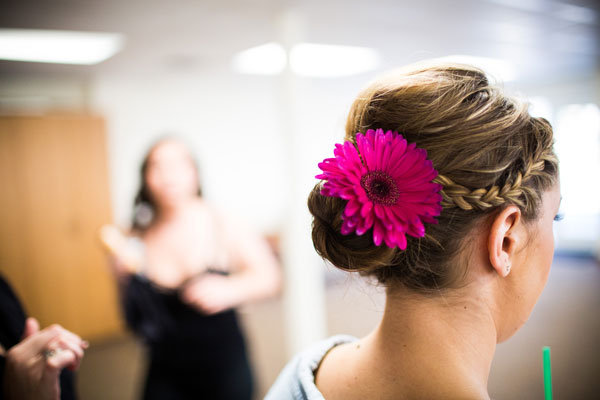 My wedding gown was a satin fit-and-flare number with silver beading and a revealing back. I purchased it at David's Bridal. I wanted something that would work well with my figure — read about my shape-up journey here — and not overwhelm my 5'2" frame. Though alterations cost almost half as much as the dress, buying off the rack saved me some serious cash. I'll never forget how everyone looked at me when I put it on. I'm usually in leggings and an oversized top, so wearing my dress made me feel ultra-glamorous and beautiful.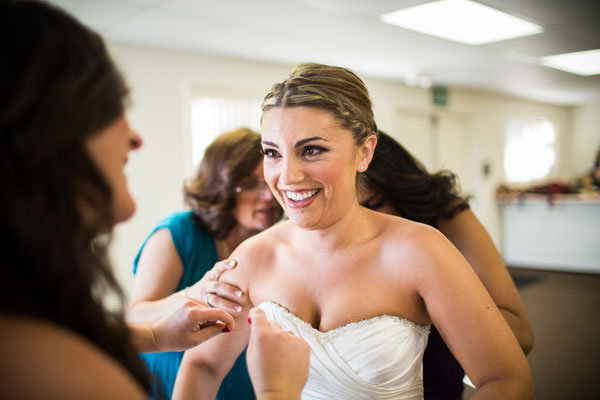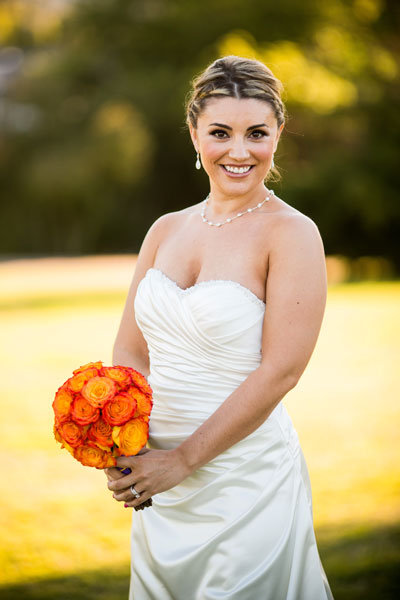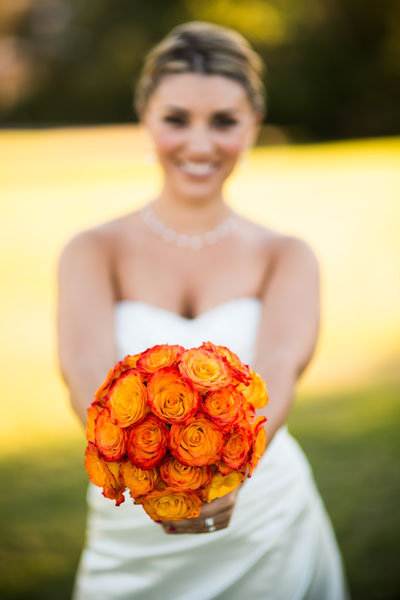 A must for me was fun, comfortable shoes that gave me a little height to match my over-six-foot husband. These are by Nina. (Check out more gorgeous bridal accessories here!)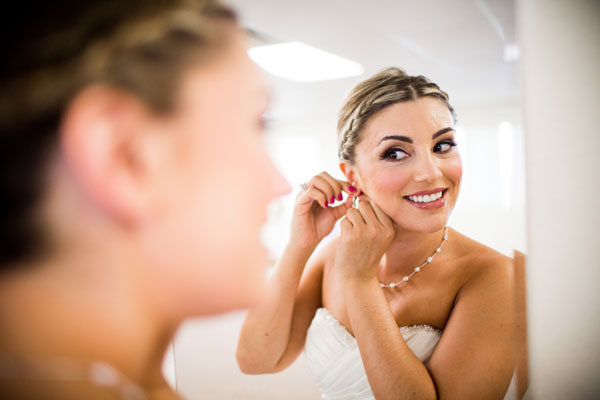 Our Flowers and Décor
As we were picking up wine a few days before the wedding, I spotted the most amazing rose bouquets at Costco and decided that I would use them to make my own. My mom picked up two-dozen bright orange roses, and I wrapped them up using floral tape, pins, and a few ribbons. The bouquet wasn't florist-quality, but it showed up great in photos and even survived two attempted tosses!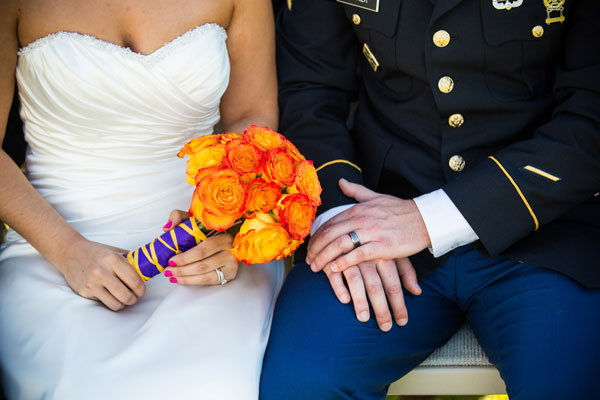 My venue decorations went beyond my highest expectations, but I also didn't really know what to expect. I knew I wanted flowers and colorful napkins for the tables, but I had no idea what the arrangement would look like until I saw it on my wedding day. Luckily, they were gorgeous, and went with the rest of the décor beautifully.
Our centerpieces featured orchids, Gerbera daisies, and lots of roses, all in tropical, bright colors. During the planning process, I wanted to make sure everything looked inviting and vibrant, with a California-fiesta vibe. The natural wooden chairs and white tablecloths were simple and elegant, and colored votive candles tied everything together.

Future brides, I'd recommend splurging a little on things that add to the overall ambiance of your wedding. For us, that meant paying extra to drape our venue's ceiling in soft fabric and adding colored uplighting. Don't settle on a venue you don't love that costs a little less, and pony up the cash for an open bar. Your guests will appreciate it! Also, pay for your photographer to stay for a few extra hours. Ours ended up leaving before an epic dance battle broke out. Actually, maybe it's a good thing there's no evidence...
Our Photos
When Michael and I saw each other, I felt relieved that he had made it to the wedding in time! He told me I looked beautiful, but it really can't compare to the moment we were married in November of 2011. Then, we were nervous about taking the plunge, especially because we had no idea what to expect. This time, I was anxious to see his reaction to my dress, but we were both excited more than anything.
We took our family photos in a nearby park that overlooked the city. The Scrabble tiles were actually the photographer's idea, but we loved the concept. We had a fairly young crowd at our wedding, which helped keep the atmosphere fun.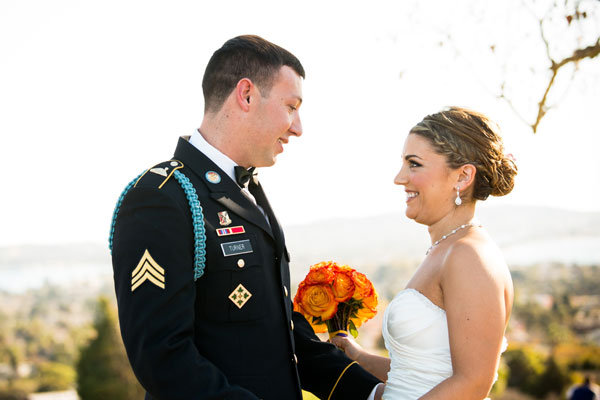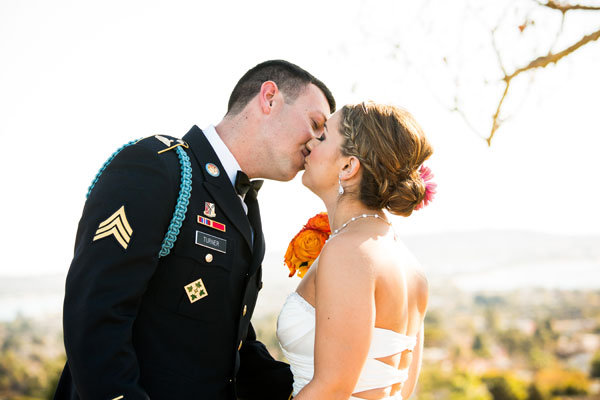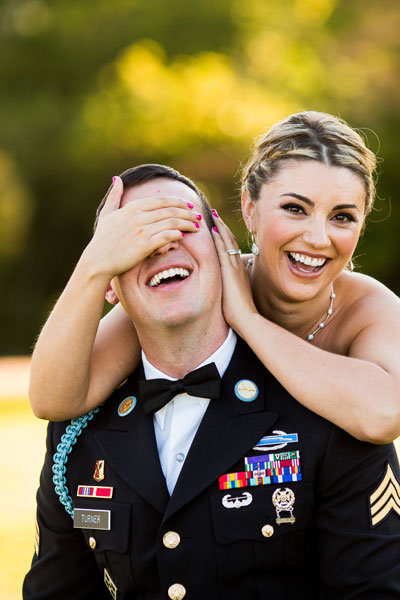 Our Reception
From what I heard, our wedding menu was a hit. While Michael and I finished up the last of our photos, guests ate finger food like mini-quesadillas and taquitos and washed them down with fresh margaritas. For dinner, our caterers cooked the carne asada and chicken on-site, and served rice, beans, and nopales to go with it.
Michael definitely partook in the tasty Mexican food, but I wasn't able to enjoy it as wholeheartedly. My wedding dress was pretty snug, and I didn't want to risk an overstuffed taco belly to test the limits of the seams! We were disappointed that we didn't get to try the margaritas (they were finished by the time we got there) but we did enjoy dessert.
For dessert, we served Mexican wedding cookies and two Costco wedding cakes — one vanilla and the other chocolate. Tip: I know it seems weird to buy bridal purchases at a major warehouse, but it saved us a ton of cash. We purchased our cakes, wine, and the flowers for the bouquets at Costco, and we spent less than $500.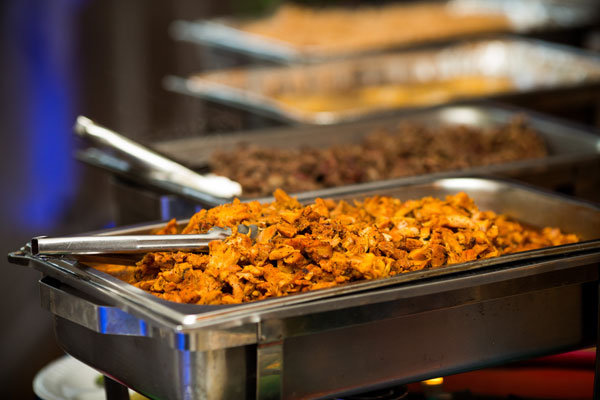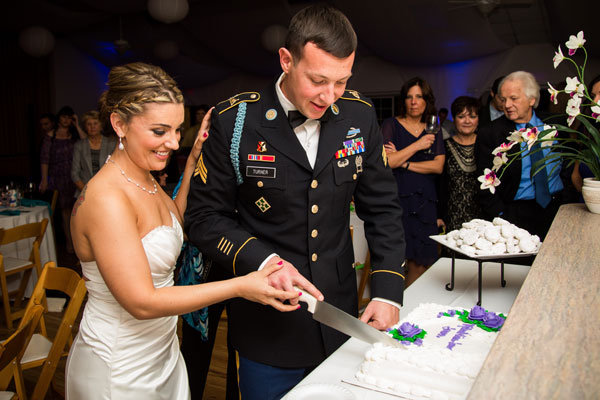 For our first dance, Michael and I danced to Zac Brown Band's "Free." The band is great, and we love that song because it reminds us that no matter where we go, we'll always have each other and the love we share.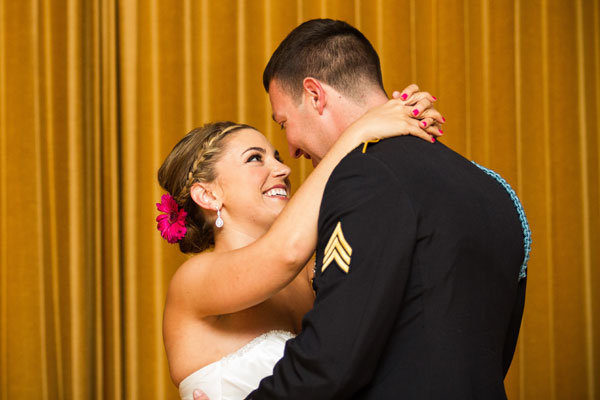 During the planning process, I blogged about my parents' involvement in my wedding. They couldn't have been more pleased with how everything turned out. I think they both realized that it was going to be a beautiful celebration, regardless of the napkin color or the cake decorations. And it was! It was perfect.
One of the best parts of the reception was our photo booth, complete with a ton of props and photos that guests could take home with them. At first, it took some coaxing to get people in the booth, but as soon as they did, the line never ended. It was fun looking at the Facebook album of everyone in their wacky poses.
Another memorable part was having my brother sing for us. He's a super-talented musician, and it was great having all eyes on him. We listened to the Beatles a lot growing up, so he sang two of our favorite songs: "When I'm Sixty-Four" and "Something."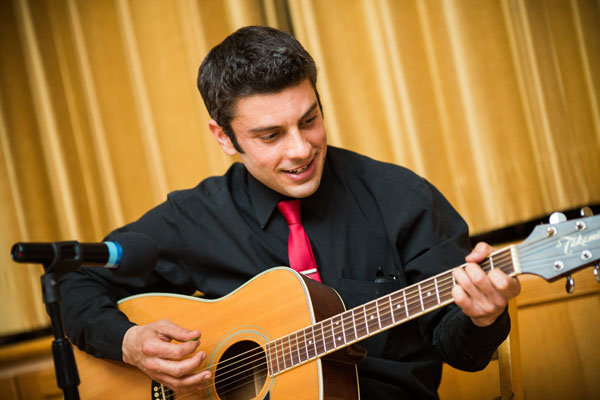 My Top 5 Moments
1. I loved spending those morning hours with my mom getting our makeup done and buying her dress! On the morning of my wedding, she decided that she didn't want to wear the same dress she wore to my actual ceremony, because she thought it was too stuffy. We raced through the dress department and found a swingy, light blue party dress that was a perfect fit for a fiesta.
2. The weather was absolutely perfect.
3. Dancing with my husband and friends into the wee hours was unforgettable. They are so much fun.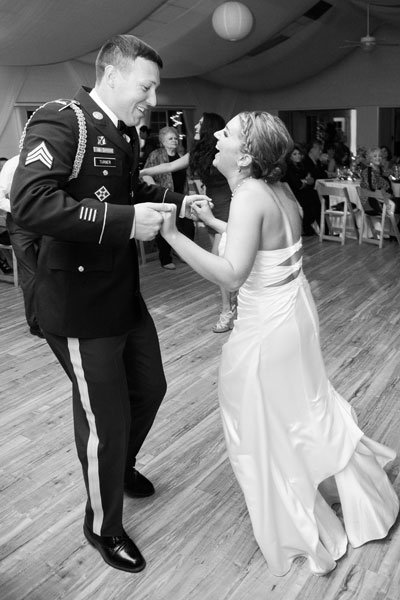 4. I appreciated our diligent photographer and DJ, who both did a phenomenal job of keeping everything on schedule. There's no doubt that our wedding would have crashed and burned without their help.
5. Hearing all of the wonderful things our friends and family shared during our toasts. Yes, my dad did share an embarrassing story about my birth, but I wouldn't have wanted anything different.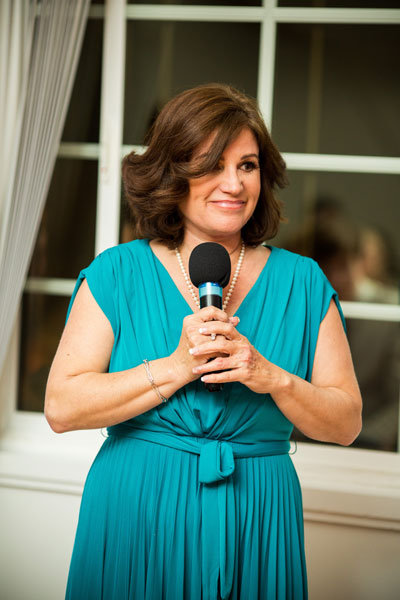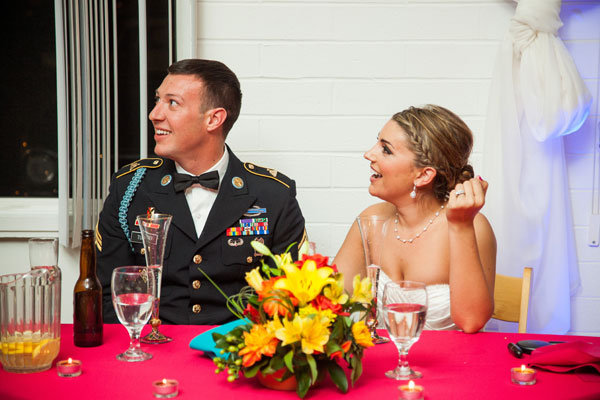 What I regret: Not leaving the party a little earlier. I think I wanted to keep it going all night, and we were some of the last to leave! By the time Michael and I arrived at the hotel, we were exhausted. We opened up a few cards, but didn't have the energy for much else. I would have loved to talk more about the wedding and recap some of the special moments.
I learned that it's important to let go and trust that everything will happen the way it's meant to be. While it's necessary to plan ahead and anticipate potential issues, those smaller details won't even matter on your special day. That being said, make sure everyone knows what's going on before the wedding begins. There was some miscommunication leading up to our introductions, and things got chaotic. And don't drink too much, or else you won't remember how great of a day it was!
The most important aspect of the day truly was sharing our special day with friends and family, and feeling all the love in the room. The entire day went by in an instant, but what really stuck out was knowing that everyone was there to celebrate with us and have a fabulous time.
—Lisa Turner
Vendors
Photography: Mark Hillis, Unveiled Wedding Photography
DJ: Scott Butler, San Diego's Favorite DJ
Catering/venue: I Love Tacos Catering, Soledad Club
Florist: Beverley Ireland, Jasmine Creek Florist
Hair: DIY
Makeup: Kasey Shelley, [email protected]
Cake: Costco
Favors: N/A
Invitations: Love by Design
Dress: David's Bridal
Shoes: Nina
Bridesmaids Dresses: Assorted (they chose their own)

Lisa Turner is a newlywed who blogged about her wedding-planning experiences for Bridal Guide. She married Michael Turner in November of 2011 before he served a tour of duty in Afghanistan. This past January, the high school sweethearts celebrated their marriage with a wedding reception in San Diego, when Michael returned from the U.S. Their Mexican and vintage-themed party reflects California's fun lifestyle.