I love looking through real wedding photos of couples that incorporated handmade touches into their big day. Although it's difficult for me to complete a lot of these DIY projects while I'm still in graduate school, I'd like to make as much as I can to add that special touch.
One trend I've been obsessed with lately is paper flowers. They're usually pretty easy to make, and you can do them months in advance—without worrying about wilting! Plus, they're budget-friendly and will last forever. This step-by-step paper flowers tutorial shows you how easy it is to spruce up your space. I also found these photos to serve as inspiration.
1. Multi-colored bouquet.  I'm not having a ceremony since I'm throwing a second wedding reception, so a bouquet hasn't been a top priority for me. However, I would still like to do a traditional bouquet toss during the celebration. I love how this ornate one ties in beautiful autumnal colors, and even incorporates buttons.
Photo Credit: http://jillianmcgrath.com/ on Heart Love Weddings via Lover.ly
2. A more whimsical take on the bouquet. There's no doubt that all eyes would be on your huge and colorful (paper) flowers! It's perfect for the bride that doesn't take life too seriously.
Photo Credit: Studio Castillero
3. Miniature paper flower centerpieces. These bright pink and orange flowers would make great centerpieces. Customize them for your wedding by making them out of your wedding colors. Believe it or not, they're made using just one piece of paper. Get the DIY instructions here.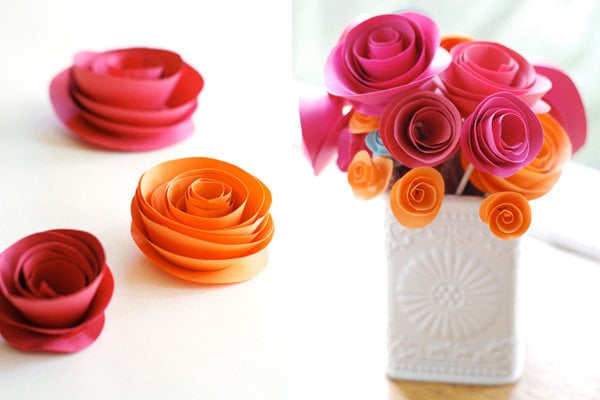 Photo Credit: Santa Barbara Weddings
4. Paper pom poms. Michael and I were set on using either paper lanterns (view a photo of them here) or puffy balls that hang from the ceiling, but these paper pom-poms take the cake! I tend to like things a certain way, so taking this craft into my own hands will yield even better results.
Photo Credit: The Sassy Crafter
5. Floral-inspired garlands.  If you'd prefer a more subtle look, these delicate strings of flowers would be a striking addition to the rest of your décor.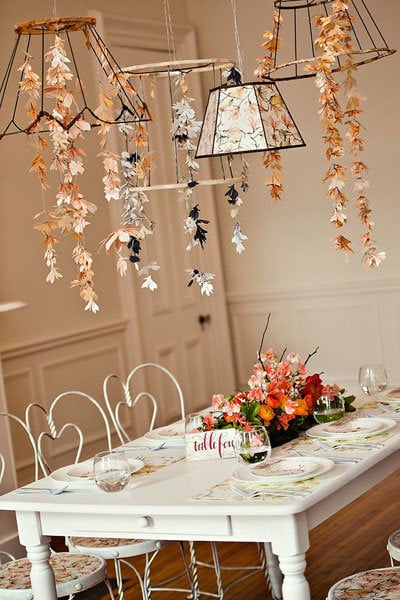 Photo Credit: Swoon Over It Photography on Inspired By This via Lover.ly
6. Paper pinwheels display. If you're not the flower type but you still want to inject a pop of color, try this pinwheel display. These bright circles would give any space the perfect touch of color and fun. I'm definitely going to do this fun DIY project with my bridesmaids to add a special touch to the dessert table.
Photo Credit: Dana Grant on Every Last Detail via Lover.ly
7. Pinwheel archway. This look is a bit advanced for me, but I'd love to scale it down and make a banner of pinwheels and paper flowers near our bar. How fun is this?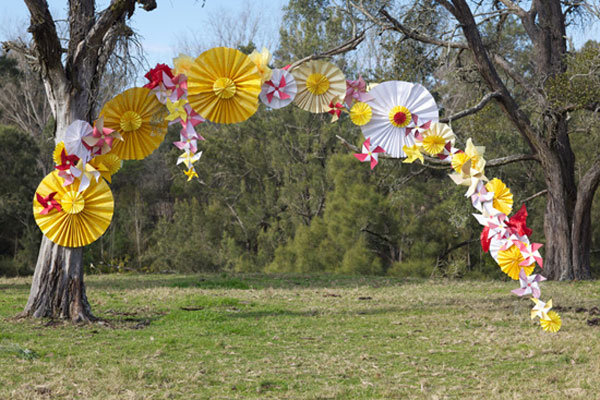 Photo by: Angelica Peady on Polka Dot Bride via Lover.ly

Photo by: Angelica Peady on Polka Dot Bride via Lover.ly
Photo Credits: Ashley Rose Photography
Happy crafting!
—Lisa Turner

Lisa Turner is a real bride who is navigating the planning process with her friends and family while her groom, Michael Turner, is serving in Afghanistan. Already married last year, the high school sweethearts will have an official reception in January of 2013 in San Diego when he returns to the U.S. The party will take place in a clubhouse near the beach, complete with Mexican and vintage-inspired touches to celebrate their marriage in a fun and very California way.