Your vendors are the experts who will bring your wedding vision to fruition — but with so many different options available, it can be difficult to know where to even start. Bridal Guide has partnered with YP to help connect couples with top photographers, videographers, florists, makeup artists and more in their area!
Use our vendor search tool to pull up local listings, complete with business hours, contact information, website URLs, and client reviews. Once you have a list of potential candidates, you can begin the selection process with your fiancé.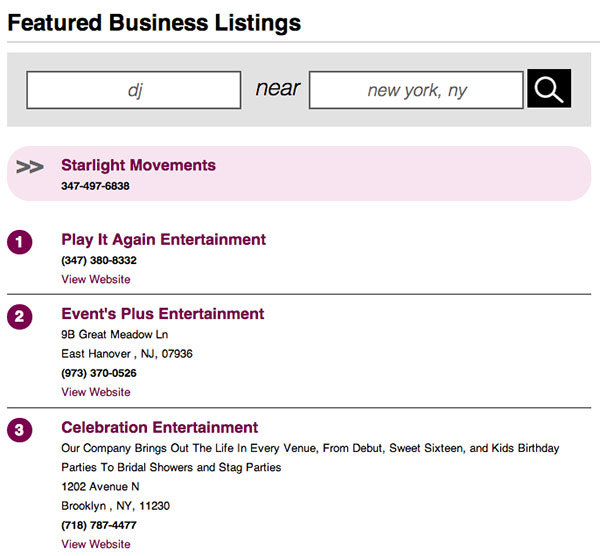 First, a few basics: 
Schedule appointments with the most sought-after vendors on your consideration list first, such as a popular venue in your area or a photographer who books up two years in advance. Gauge which vendors, if any, out of the pool of candidates you're considering may fall into this category by having an initial phone call to inquire about their availability so that you can prioritize accordingly.
It's important to meet face-to-face, and if that isn't possible, whether because you're throwing a destination wedding or you need to book now, then set up a Skype chat. Reading a potential vendor's facial and body cues will give you a better sense of their demeanor.
Follow the same etiquette that you would for a meeting at work: dress professionally (no sweats!), respect the vendor's time (call if you think you're going to be late), and be courteous and hear them out (even if you know they're not "The One" after just five minutes).

Photo Credit: Michael Jung/iStock
1. Do your homework with your fiancé and set a ballpark budget in advance.
Set your budget and the number of guests first so that you don't fall in love with a venue or vendors that are out of your price range or can't accommodate the size of your group. Even if you do end up spending a little more than you had anticipated, it's better to lay out your expectations in private. You don't want to put yourselves in an awkward situation where one of you wants to book but the other is concerned about cash flow, and you're arguing about it in front of the wedding planner, DJ, or whomever. As you comparison shop, you'll get a much clearer picture of how much this is all going to cost you.  
It's also important to discuss your major likes and dislikes. That way, you're both on the same page about what your must-haves are — a stellar band, an out-of-this-world menu, gorgeous photos to look back on — as opposed to what would be considered bonuses. Come prepared with a list of questions so that you don't get so carried away with their amazing portfolio, film or demonstration that you totally forget to nail down the specifics. Find out what to ask your photographer, videographer, florist and more ►
2. Determine if your personalities mesh well. 
Let's say that you and your fiancé evaluate their work and find that it's top-notch and in line with your wedding style. Great! Another not-so-obvious consideration is whether you have chemistry with this person. You'll be entrusting them with an important service (not to mention the significant monetary costs involved), so it's crucial to be comfortable around them. Remember, you'll be interacting with them on what will likely be the most emotional day of your life, so you want someone who will be able to put you at ease, not stress you out even more.
If something feels "off" and you're not sure what it is, that may be your subconscious telling you to keep searching. Beware of the following red flags: disparaging talk about a current or past client (who's to say they won't bad-mouth you, too?), it takes 10 phone calls just to get in touch with them, or they make judgmental assumptions about you based on your budget, whether by trying to strong-arm you into adding more features or making you feel bad that you're on the lower end of their client roster (e.g. "Well, most brides I work with spend $2,000 more on their flowers").
3. Ask for client referrals.
The old adage of "you get what you pay for" isn't always necessarily true — you might find that a $10,000 videographer is just OK whereas one that costs only $2,000 could blow you away. This is where other brides' testimonials come in! Ask vendors to provide contact info for recent clients who can vouch for their services. Don't forget to pay it forward when you're married by writing glowing reviews on YP, along with thank-you notes, for those who went above and beyond to make your big day special.
Since many vendors work closely together in a given region, you could also ask others you've already booked if they've worked with this particular person before and if they would recommend them.
4. Get everything that's included in writing, down to the smallest detail.
In order to truly understand what's included in a quoted price, the vendor should itemize everything for you. For example, if you know that you want orchids, garden roses and hydrangea in your centerpieces, then all of that should be listed. Although this might sound slightly over-the-top, this information will safeguard you in the event of a dispute or in case the items you requested aren't available during that time because of unforeseen issues.
When reviewing the contract, look out for any hidden costs (wording such as "additional costs may be incurred" and "plus the cost of setup and delivery" are dead giveaways). Ask for clarification if anything is unclear. You'll also need to know their policy on late fees in case the ceremony or reception runs later than you expected. Check out more examples of unexpected expenses here ►
5. Don't be afraid to negotiate.
Already have tons of beautiful photos of the two of you that you'll be able to use for your save-the-date or other wedding elements? Skip the engagement shoot or, if that isn't possible, ask if you can use that photo session for your future child's birth announcement, instead. Unsure about whether you need a two-hour wedding video? Inquire about whether you can get an edited highlights clip and raw footage, in case you change your mind at a later point in time. Using the same vendor for multiple services (e.g. music and lighting) may also help you save a bundle.
You'll never know unless you bother to ask — just keep in mind that a little kindness goes a long way.
Once you have your dream team of vendors in place, give them clear directions and let them do their jobs while you enjoy your loved ones, and more importantly, the beginning of your new life with your partner. 
Happy planning!
—Stefania Sainato