Food is the number-one priority at my wedding: I believe that meals should be an experience, not just a mindless string of bites. Your wedding menu helps set the tone for the reception. The main focus for my husband Michael and I is to create a fun atmosphere, so we decided to build our party around Mexican cuisine. It encompasses all the flavors that Californians love—fresh, spicy, and full of flavor. You're sure to find disagreements about who does it best, but most San Diegans can agree that we capture that south-of-the-border essence pretty darn well.
Although I may not be Mexican myself, I've enjoyed eating Mexican food ever since I was a little girl. I have fond memories of Mom making quesadilla dinners for my brother and I, Dad taking us to a local taco shop every other Wednesday night, and even crossing the border into Tijuana to get authentic street tacos. Here's how I'm incorporating all of my Mexican favorites into the wedding menu.
1. Start the party with a kick. While Michael and I are busy taking photos, I thought it might be fun to serve plates of chips and guacamole to guests. We'll get the party started with margaritas (both blended and on the rocks), and micheladas for the folks who want to start slow. A michelada is beer mixed with either lime or tomato juice and a ton of spices.
Photo Credit: espimraim via Flickr
2. Have dinner take center-stage. We'll be serving tacos for the main dinner entrée. Different types of meat, like carnitas, carne asada and nopales (for our vegetarian guests) will be cooked on-site and served with an array of different toppings. People keep telling me that the bride and groom are usually too overwhelmed to eat, but I have a feeling that we'll dig right in.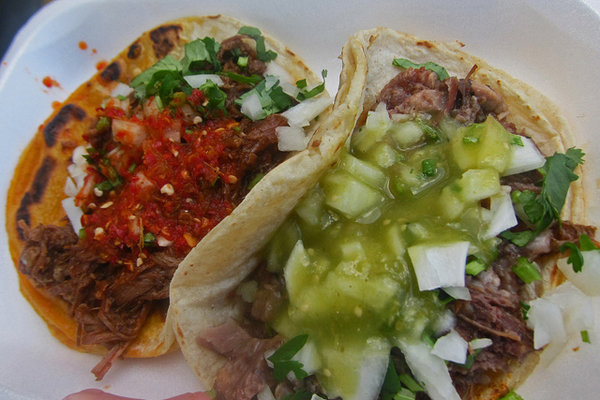 Photo Credit: Kirk K. via Flickr
3. Create a wow-worthy food station. I almost hired a wedding planner – mostly because of this one brilliant idea she had. In a perfect world with a limitless budget, I'd have fresh churros made for each guest, topped with sugar, cinnamon, or even chocolate. However, given that I'm trying to stick to a budget, I will either have to serve premade churros or ditch the idea altogether. Any suggestions are welcome!
Photo Credit: Carly Taylor
4. Help your guests unwind. Another biggie: booze. While a fun party is possible without alcohol, why risk it? In addition to traditional Mexican beers and wine, a bartender will serve up made-to-order margaritas anyway you'd like it. Originally, I had planned to serve tequila as well, but our venue doesn't allow shots, which is likely for the best. For those who choose to walk along the straight and narrow, we'll have a table with yummy punches, tea and horchata, so they don't feel like they're missing out.
Photo Credit: Studio Castilero
5. Do dessert your way. I've got a confession to make—I'm not a big cake person. My dad has convinced me that we've got to have a small one for tradition's sake, but I think I might serve cookies or a sheet cake afterwards. What I'd really love is a huge plateful of Mexican wedding cookies: buttery, nutty, rich delicacies that I fell in love with my freshman year of college. I'll make them myself if I have to!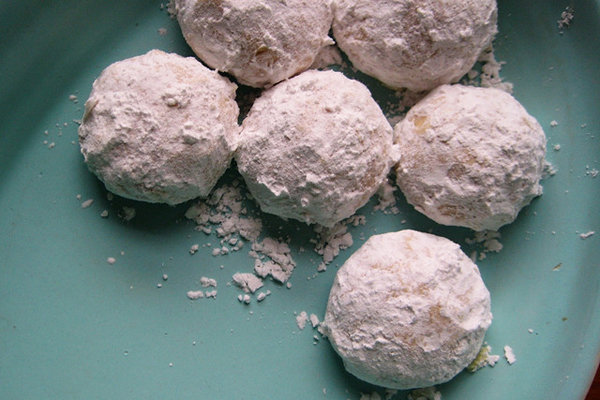 Photo Credit: Toffuti Break via Flickr
I think all of these Mexican goodies will help make our wedding a success. I'm getting hungry just thinking about it.
What kind of cultural foods do you plan to include at your wedding? Do you have any traditional recipes that you're planning to make?
—Lisa Turner

Lisa Turner is a real bride who is navigating the planning process with her friends and family while her groom, Michael Turner, is serving in Afghanistan. Already married last year, the high school sweethearts will have an official reception in January of 2013 in San Diego when he returns to the U.S. The party will take place in a clubhouse near the beach, complete with Mexican and vintage-inspired touches to celebrate their marriage in a fun and very California way.