A couple of months ago, a bride asked me how to incorporate a wedding theme without sacrificing any style points. It's a not-so-secret fact that I'm not the biggest fan of wedding themes in general, but I must say that a golf-themed wedding (which is what she was proposing) was especially hard for me to comprehend. It was a design conundrum!
In an effort to help her, I sourced ways that she could incorporate her fiancé's passion. In the process, I became in tune with the idea that adding a few meaningful details can turn an ordinary theme into a wedding that is a celebration of everything the two of you love together. Now that I've officially converted into a theme-loving gal, I thought I'd share some of my favorite wedding shoots that don't scream kitsch.
Ever After
Ever After is my favorite movie because the storyline hit incredibly close to home. If you've ever dreamt of having your fairytale moment, then get inspired by this beautiful shoot inspired by the film. Incorporate your favorite quote about love on a mirror, chalkboard, or even throughout your paper products to tie them all together.
This shoot was originally featured on Le Magnifique.

Photo Credit: Kristen Booth 
Pride & Prejudice 
Jane Austen is poetic goodness for a romantic's soul. This Pride and Prejudice-inspired shoot features fun ways to incorporate literature or vintage treasures into your wedding day. Calligraphy and handwritten letters to your husband-to-be are a must!
This shoot was originally featured on Le Magnifique.
Photography: Shannon Morse 
Robin Hood
If you're looking for steal-worthy wedding ideas (get it?), then this Robin Hood shoot is a guaranteed winner. The combination of whimsical invitations and details like the bow and arrow bring this legendary story to life. Plus, what's better than adding a horse? Nothing, of course!
This shoot was originally featured on Bridal Musings.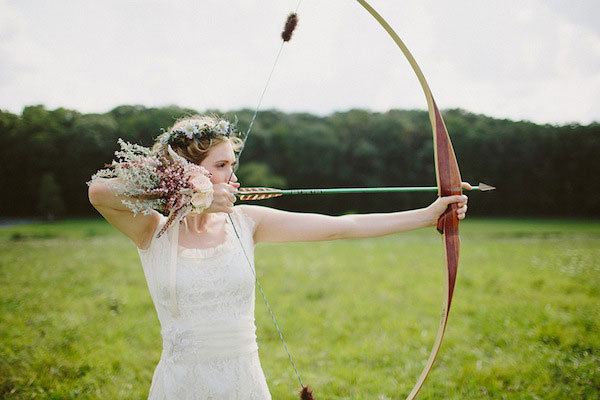 Photo Credit: With Love & Embers
The Hunger Games
You may have seen the Hunger Games theme circulating around bridal land and Pinterest a lot, but I think this shoot encapsulates everything we adored about Peeta and Katniss without being cheesy. When you're designing your wedding around a theme, especially a movie or book that you love, think about the best location and overall vibe that you want for your event. For example, The Hunger Games story might not translate inside a modern loft, but a dreamy reception in the woods? Swoon.
This shoot was originally featured on Green Wedding Shoes.

Photography + Concept: Meghan Christine Photography and Whitney McGillicuddy 
Water for Elephants
Reese Witherspoon was magical in this film adaptation, and so is this playful carnival shoot inspired by the novel. Consider the era of your theme when choosing your personal wedding-day style. Accessories, veils, and even makeup can make a big impact. And if you're adamant about not going into theme overload, add just one subtle element, like this fun dessert table below, with animal crackers and cotton candy.
This shoot was originally featured on Green Wedding Shoes.

Photography: Marilyn Nakazato 
Tell us: Which inspiration shoot is your favorite?
—Angelica Bragg