Sean Parker, 33, wed singer-songwriter Alexandra Lenas on Saturday in an enchanting forest setting at the Ventana Inn in Big Sur, CA. The over-the-top affair reportedly cost the Facebook billionaire a cool $9 million, making it one of the most expensive weddings held in Silicon Valley to date.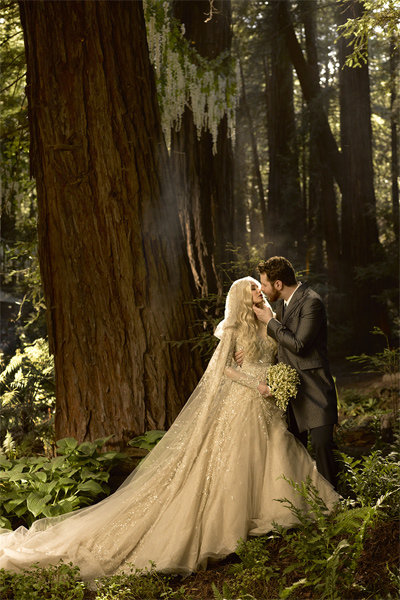 Photo Credit: Mark Seliger
The blushing bride wore a sparkling champagne gown by designer Elie Saab. Lenas's mother and Maid of Honor wore Marchesa and the mother of the groom wore Monique Lhuillier.
Parker spent a pretty penny on the his duds as well, hiring Lord of the Rings costume designer Ngila Dickson to a create whimsical-yet-modern wardrobe for not only himself but also his infant daughter, Winter, and all 300 guests! Though rumored to be a "Games of Thrones"-themed wedding, the groom denied it in a tweet on April 1: "Sorry to disappoint, but the wardrobe we're giving wedding guests is essentially modern … There will be nothing medieval about it." A friend of the couple, John Perry Barlow, posted, "Forget what you heard about Sean Parker's wedding. It [was] elegant, tasteful, and magical."
Parker and Lenas completely transformed the venue for the big day — "They've basically built a movie set to have their wedding," Stan Russell, head of the city's chamber of commerce, told Mercury News. It took several weeks for a crew of landscapers to create the backdrops and ponds that gave the venue a fairy-tale feel. Among the renovations was a temporary dance floor costing $350,000 and a cottage with a $600,000 stone gate. The famed Preston Bailey designed all of the flowers, which cost a whopping 1 million dollars.
Guests feasted on a carefully-selected menu from caterer Paula DeLuc and a scrumptious cake by Perfect Endings. Entertainment was provided by The Good, The Bad & The Ginger and singer Loreena McKennitt. The super-talented photographer Mark Seliger captured all of the picture-perfect moments.
Congratulations to the happy couple, Sean and Alexandra!
—Mary Gillen