As my wedding inches closer and closer (it's on Sunday, September 1st!), I can't stop playing the "Next week at this time…" game with my fiancé, Jason. It's quickly progressed from "…I'll be picking up my dress" and "…you'll be a nervous ball of energy waiting for me to walk down the aisle" to "…we'll be celebrating and dancing surrounded by everyone we love most" and, finally, "…we'll be in Hawaii watching the sun set at the infinity pool without a single care in the world."
We haven't been on a vacation in years, so the mental image of frolicking on a tropical island for two weeks with no to-do list in sight trumps whatever little anxieties I have about our big day. But before we can swim with sea turtles or indulge in five-course meals, we desperately need to pack!
I'm making it as painless as possible by relying on multipurpose items that cover all the bases, from beaching it and taking cat naps to sightseeing and dining out (if I ever make it past the first two aforementioned activities, which I highly doubt). Here are some go-to fashion items I've tested and worn several times that are coming along for the ride. Plus, check out some of our best editors' picks for beauty products and carry-on luggage, too.
A Maxi Dress You Can Dress Up (or Down)
As a petite bride-to-be standing at a mighty 5'1", shopping for maxi dresses is akin to wrapping myself up in a tablecloth: I always end up feeling (and looking) ridiculous. That is, until I found the Micro Stripe Maxi Dress in Oatmeal Heather/Olive from Tees by Tina ($85, teesbytina.com). Finally, I can rock the boho-chic look that my taller, leaner counterparts pull off effortlessly — no alterations necessary. (Malin Ackerman, Diane Kruger and Kim Kardashian are fans of this maxi, too.)
Nylon-spandex construction makes it one-size-fits-all, giving me peace of mind, since I plan on having macadamia desserts galore in Maui. Also, it features a slit up the back, making it easier to run around during sightseeing.
Eye-Catching Carryalls
A self-professed bag lady, I couldn't wait to try the "How Does She Do It?" Tote from Stella and Dot ($89, stellanddot.com), which uses snap-down functionality, allowing you to change the shape of the bag and make the profile smaller. But what I ended up loving even more is the wipeable lining (making it easy to remove stains) and roomy interior featuring multiple pockets (the zip-close pocket has a "hello gorgeous" inscription for an adorable touch). It comes in four prints: navy ikat, red ikat, metallic ikat and navy and white stripe. 
If you're big on accessories, spring for a matching "Bring It" Jewelry Roll ($39, stellaanddot.com) to transport them without fear of losing earring backs — or worse — tangling necklines up in knots. Attachments and elastics make it easier to pack bracelets and bangles as well. I plan on using mine to keep my pretty new wedding ring safe and sound while I'm out trying paddle boarding or jumping through waves.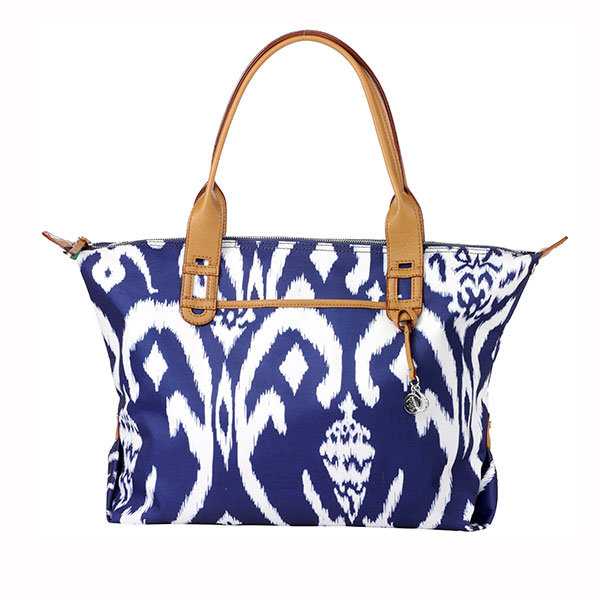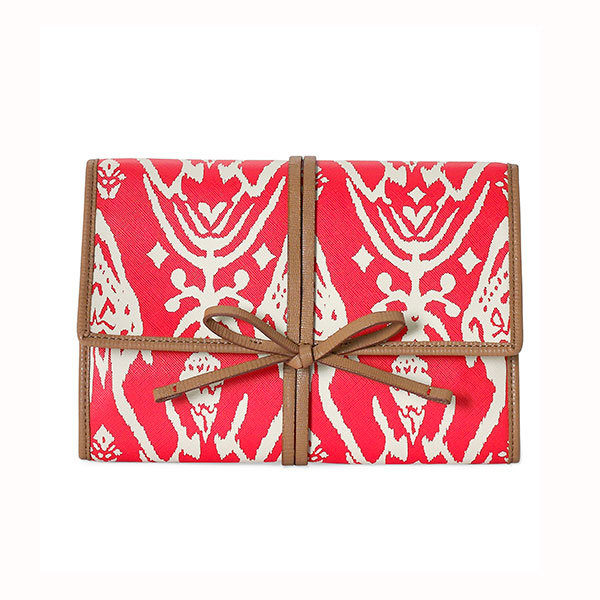 At nighttime, turn heads at the hottest dining outpost or club in town with the "Wifey" Clutch in Metallic Gold Leather with Black Ink from Comes with Baggage ($288, comeswithbaggage.com). At 9" by 6", I was able to stash my phone, keys, lipgloss, ID and a small wallet (depending on the size). It's a splurge, but all CWB items are repurposed vintage and silk-screened by hand, making for a one-of-a-kind statement piece that's environmentally-sound.
This clutch would also make for a fun group gift from the bridesmaids. You can wear it long after the honeymoon has come and gone to liven up date nights, office parties and formal functions. Did I mention that wifey Molly Sims also owns one?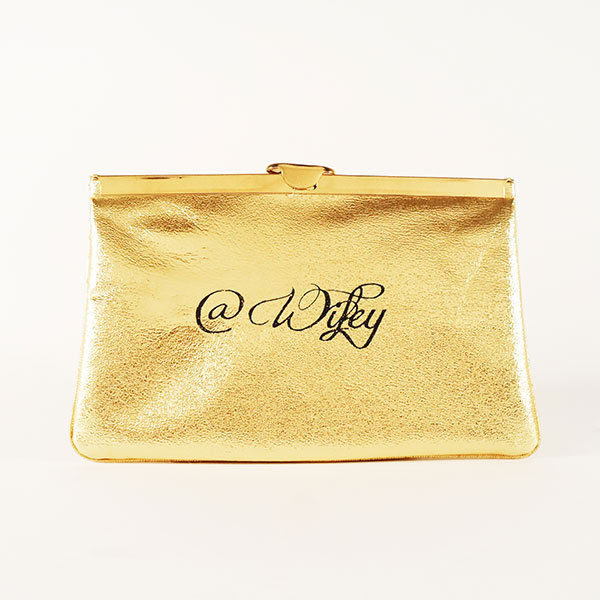 Comfy Jeans That Feel Like You've Owned Them Since High School
Jeans are a no-brainer — they're the first item of clothing I toss into the suitcase, regardless of where I'm heading. However, not all pairs are created equal. When I wiggled into Henry and Belle's Ideal Ankle Skinny Jeans ($152, shophenryandbelle.com), I had a flashback of my favorite pair of jeans from high school: They fit perfectly in all the right places, and I wore them over and over again until the legs frayed at the edges and my tailor could no longer repair all of the holes.
Made from XFIT Lycra with Supima Cotton, these skinny jeans are incredibly soft to the touch (no wonder Eva Longoria and Katherine Heigl have been repeat fashion offenders with this pair). Best of all, a portion of the proceeds are set aside for charitable causes that benefit women, children, and families in the areas of health care, education, and emotional or economic risk.
A Sultry-Yet-Sweet PG-13 Robe
With feminine and romantic accents like lace cuffs and grosgrain ribbon belts, the Homebodii collection of robes made me feel like an Old Hollywood siren lounging in between takes of her latest film. Two of my favorite styles: The Sibella Robe (pictured below at left; $79, homebodii.com) and the Natalia Lace Robe (pictured below at right; $120, homebodii.com).
"Ooh la la! Jason's going to pass out when he sees you in this," my maid of honor, Sonia, exclaimed when she spotted the robes in my packing pile. But unlike other more risqué pieces that would make me blush in case of an unforeseen security check, these are elegant and can even be worn while getting ready on the big day.
A Pretty Bathing Suit That Won't Budge
It was tough finding a suit that was both figure-flattering and honeymoon-worthy, but the "Very Sexy" Bandeau Top and Cheeky Hipkini Bottom from Victoria's Secret ($48.50 and $34.50, respectively; victoriassecret.com) quickly rose to the top of the pile. With gold tone detailing, this bikini set would fit right in at any beach-chic destination, from Bora Bora to Capri.
The bandeau is a powerhouse: it has moderate padding, is fully lined and comes with a removable halter strap, all of which help to keep "the girls" supported. I got numerous compliments on the Chain Link bottom, but it also comes in other styles like the Ruched Side Bottom and Strappy String Bottom. (The only caveat: It shrunk slightly after three to four washes.) Both the top and bottom come in 16 different pattern/color options so you can mix and match — I've been itching to get my hands on the Black Floral/Animal Print (pictured below at right) but sadly, it's out of stock in my size.
Cover-Ups You're Not Ashamed to Eat Lunch In
During a trip to Aruba Fashion Week last winter, I saw cover-ups in a new light. Arubans pride themselves on their cosmopolitan style, so why should beach attire by any different? Inspired by their crazy-colorful caftans, I decided to step up my usual tank-top-and-shorts ensemble for the honeymoon (not that there's anything wrong with it!).
Easily transition from surf-and-sand to dinner-and-drinks with Trina Turk's "Izu" Paisley Cover-Up (originally $164, neimanmarcus.com). I got it at a major sale and loved the three-quarter-length batwing sleeves and relaxed fit; plus, the whimsical pattern camouflages any wet spots that haven't dried 100% yet. 
I also recently scooped up the AE Paisley Boho Top ($44.95, ae.com). Also featuring three-quarter-length sleeves, it's made from lightweight chiffon and has fun braided ties at the neck, making it an affordable must-have.

Blister-Proof Walking Shoes
I originally bought the Champion Jute Stripe Slip-On from Keds ($50, keds.com) with the intention of wearing them while commuting to and from work. I found them to be almost as comfortable as sneakers — and infinitely better than wearing flip-flops — so they've become a summer wardrobe staple of mine. With a cushioned insole and breathable lining, I'm excited to test them out in new honeymoon terrain. This shoe is available in six different prints (I have the "natural stripe cream" version pictured below).
Double-Duty Workout Clothes
Dallas native and jetsetter Ashton Gillespie wasn't allowed to go to the beach with her parents unless she wore her sun shirt. Frustrated by the lack of stylish options available, her idea for SunKissed Girl was born, a line of sun-protective gear that can also be worn while working out. Unlike a regular long-sleeve shirt, which has the equivalent of SPF 5, every piece in this line has SPF 50.
Their best-selling item is the zip-up hoodie, but my personal favorite is this "St. Barths" T-Shirt ($85, skgirl.com) featuring ruching on the sides. Thanks to its quick-drying fabric, I did an intense cardio session at my gym with no sweat stains in sight. It's available in six different colors and 10% of all proceeds go to the SHADE Foundation of America, The Children's Skin Cancer Foundation.
In the event that my fiancé Jason and I are ambitious enough to go hiking or jogging along the beachfront, I'll be sporting my Oiselle tanks as well. They're super lightweight, and the fashionable designs are inspired by runway looks. I love the Origami and Miomesh styles ($42 and $52, respectively; oiselle.com). Fun keyhole detailing and draping may just motivate me to make a run for it.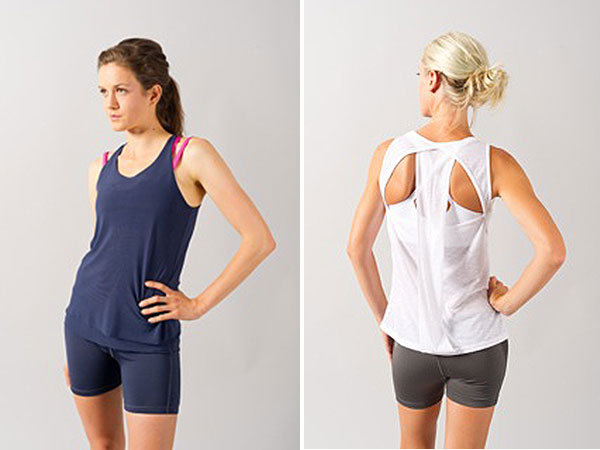 Stylish Outerwear to Top it All Off
Packing a jacket was the last thing on my mind — I'm one of those people who will do anything to escape the cold — but then I started feeling a little under-the-weather and I decided to try the Muse Drawstring Anorak ($109.95, sierratradingpost.com) to keep me warm. What I loved about this anorak is that it's heavy enough to cover your arms on cooler summer nights but light enough that you can wear it under a winter coat for cooler temps. It comes in black and beige.
I've also never been able to wrap my mind around the idea of wearing a scarf during the summertime. But then I tried the super-thin Brooklyn-Jenn Voile Scarves from April Marin ($26, aprilmarin.com) and I was hooked. One day, when our office AC was on full blast, I passed along the scarf to our web director to keep warm. Apparently, I'm in good company: Style icons Rachel Bilson and Jennifer Aniston have also been spotted covering up in them. These scarves come in pretty paisley and floral patterns, and they can even be wrapped up as a sarong if you're running low on cover-up options.
Something That Screams "Newlywed"
I never thought I'd be the type to wear anything that says "Just Married," but then my Mom bought me one of those crazy-fantastic "bride" hoodies with an engagement ring for a zipper, and I embraced the idea. You only get to wear it once, right?
So, I succumbed to the cuteness of these "Just Married" Sandals ($9.82, weddingfavorsunlimited.com). They leave a subtle imprint on the sand and would be fun to give out during a beach reception to bridal attendants as well. The black sandals are available in men's sizes (medium, large and extra-large) and the white are sized for brides only (small, medium and large). You must order at least two pairs of sandals in order to make a purchase.
Tell us: Which product are you most excited to try? What are your favorite items for packing on a trip? 
—Stefania Sainato