After a series of four harrowing hair trials, I'd love to share my experience with BG brides in case anyone is going through the same thing (you're not alone!) or in the process of scheduling their beauty appointments for the big day. This is my story about the connection between hair and self-image — including a few hard-earned lessons I learned along the way. 
I looked into the mirror and saw an imposter staring back at me in a haze of hairspray. I recognized the wide Katy Perry-like eyes, but everything else about her was foreign. She had a retro bouffant 'do warped from the '50s, with boho braids wrapped around the sides of her head. I could barely make out the sparkling headpiece on top because it was drowning in a nest of curls.
This wasn't exactly what I had in mind when I showed the hairstylist my inspiration photo of Kate Middleton (my fashion hero!) at a royal gala, looking resplendent with her updo and amazing Jenny Packham dress. This hairdo looked like the Duchess of Cambridge got into a tussle with a pin-up and a flower child, and there was no clear winner. Would my fiancé Jason even recognize this bride coming towards him down the aisle, with her Medusa tendrils?

Photo by: Tracie Howe Photography on Wedding Chicks via Lover.ly
"It's pretty…but it's not...you," my matron of honor said. (Lesson #1: Don't go to your hair trial alone — bring a friend who will be honest and give you constructive criticism.) When I tried to show the stylist the changes I'd like to make, she waved me off with a flick of her wrist: "That's not what you really want." MOH tried to intervene, suggesting that we try placing the headpiece further back, like I originally wanted. Her response: "Why would we do that? Don't listen to her, that's stupid." Horrified, I felt tears swimming in my line of vision, threatening to spill over. After a few stressful weeks of moving furniture into our new apartment and outwitting wedding dilemmas with ease, I was starting to crack. 
Yep, I was that bride sniffling at a wedding appointment over something silly, but it wasn't really about that. If this were a stranger, I would have given her a PG-13 description of where she should put that headband. But I felt cuckolded because she had done a great job with haircuts and regular blowouts in the past and was normally easy to work with. She was clearly having a rough day long before I enthusiastically skipped through the door with my "wedding hairstyles" Pinterest board already loaded up on my phone. So I kept my composure, thanked her for her time, and immediately started reaching out to recent brides for recommendations. (Lesson #2: Just because you love a stylist's haircuts and blowouts doesn't mean they'll necessarily be able to pull off the bridal look you want. Book your trial at least four to five months in advance, just in case they can't or they aren't available on your wedding day.)

Photo by: Justin & Mary on Inspired By This via Lover.ly
At the next hair trial with a different stylist, I hoped for the best but prepared for the worst, going on a pinning frenzy, adding photos of another Kate (Beckinsale) and Jessica Alba, both of whom have incredible locks. I explained what I wanted — high bun with a few intricate details in the back — and she nodded that she understood. She went straight to work and set a timer. (Lesson #3: Time how long it takes to do the entire hairstyle from start to finish so that you account for enough prep time on the wedding day.)
As she curled and twisted and sprayed, we settled into a natural, friendly rapport, chatting about everything under the sun. Relieved that she was nice, I zoned out — big mistake. (Lesson #4: Pay attention! Ask to see the back of your head at different intervals so that you can correct anything you don't like about the hairstyle before it's too late.) Almost three hours later, she handed me a mirror and spun me around for the big reveal.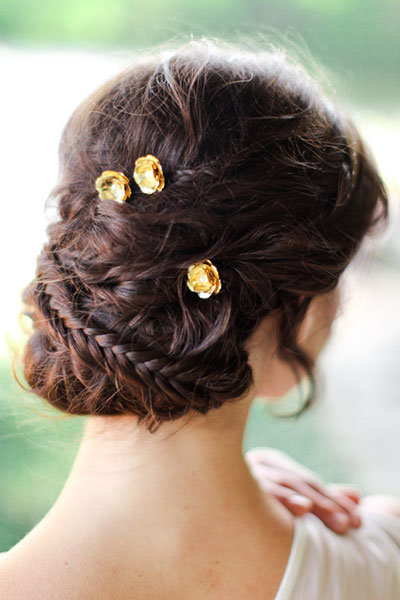 Casey Bobby Pins From Hushed Commotion via Lover.ly
Miniature Princess Leia buns stuck out in every direction, creating a massive conglomeration on my head. I have long, thick hair to begin with, so I was shocked to see it piled up and teased like that; flyaway strands were everywhere. Again, another savior came to my aid before I could utter a word; this time, it was my Mom. "The front is perfect…but the back is…does it need to be so messy? But the volume in the front is exactly what I pictured!" Distraught, the stylist pointed to my Pinterest board in indignation, saying that she was going for a "carefree" look based on what I showed her. P.S. I'm getting married in a black-tie, ballroom wedding. (Lesson #5: Show your stylist two or three inspirational photos, max, or else they could get confused. It also doesn't hurt to show them a snapshot of your wedding dress so they can see how to accentuate it. Above all, your hairstyle should match the vibe of your wedding.)
In an effort to make things less awkward, we all decided I should try on my veil, which would help get me into "bridal mode," that heavenly, elusive feeling that yes, I'm really getting married. They put it on and — I felt nothing. I still looked like bridal Princess Leia, surrounded by a cloud of tulle ("Where's Luke?" I wanted to laugh, but didn't.) (Lesson #6: Have a sense of humor! These stories are fun to tell your girlfriends later over cocktails. None of your guests will see the hairstyles that didn't make the cut.)

Photo by: Damon Tucci Photography on Every Last Detail via Lover.ly
Undeterred, I booked a second trial with her, if only for the fact that she was sweet and didn't call me a dummy like Stylist #1. (Lesson #7: Often, it takes more than one practice run to nail down the perfect look. Give your hairstylist a second chance — within reason.) Besides, it was my fault for making such a huge Pinterest board. This time, I asked for a simple bun using a doughnut, an easy styling tool you can get for 99 cents. My MOH's styled my hair this way before during tropical getaways, and it usually takes 20 minutes, tops. This time, with a pro, it took two-and-a-half hours because she insisted on curling and examining every strand of hair. At least I finally looked like me this time!
Defeated, I tried to accept that it would take an obscenely long time to get ready on the wedding day (even though I'm a ponytail-and-go kind of girl in everyday life). But my gut instinct told me something wasn't right, so I booked one last hair trial with Jeannie, a bridal specialist at Le Cut in Brooklyn, NY, who was recommended to me by my coworker, Noelle. (Lesson #8: If you're having trouble finding a stylist, get advice from people who have the same hair type as you, whether it's long, curly, straight, etc.) I did my whole Kate Middleton spiel one final time, and she listened carefully. Fried from my previous "bad dates," I anxiously sat on the edge of my seat, waiting for her to finish.
Jeannie hovered around me with a self-assuredness about her that was lacking with the other stylists. To my amazement, she pulled off a modified version of "The Middleton" and it was remarkable how much more the headpiece stood out now. (Lesson #9: Bring accessories to your trial and discuss where you'll place your veil.) Finally, I found someone who understood my vision, and this realization was so gratifying that I hugged her in relief!

Photo by: Kallima Photography on Every Last Detail via Lover.ly
All of these crazy/funny/weird experiences encapsulated what I love (and struggle with) the most about wedding planning: the journey of bringing a beautiful idea to life. (Lesson #10: Every bride deserves to have Kate Middleton hair, if only for a day.)
—Stefania Sainato