When it comes to choosing a wedding cake, brides and grooms are more creative than ever — from shopping in the supermarket aisles to serving a plate of cupcakes over the usual tiered creations. We rounded up 10 truly original creations from some of our favorite Real Weddings for ultimate inspiration.

Photo Credit: Abby Rose Photo
The bride, Dana, originally envisioned a funky-patterned cake for the botanical-themed affair but fell in love with this creative ombré look online. How fantastic are the winding silver branches?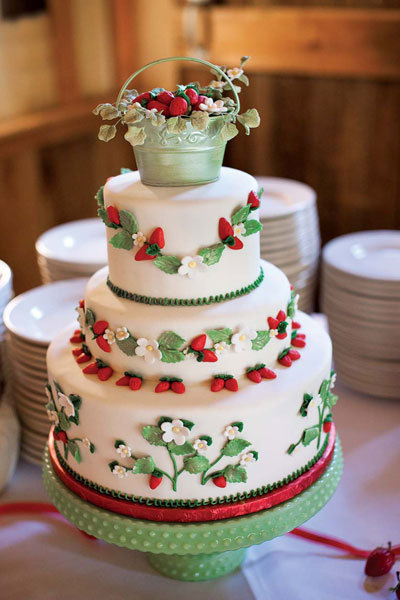 <
Photo Credit: Choco Studio
The strawberry basket cake topper is the perfect finish for the hazelnut cheesecake at Laura and Dave's strawberry-themed wedding in California.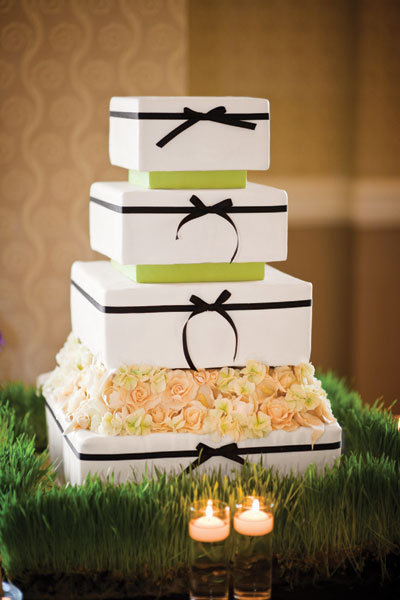 Photo Credit: Nick Brown
The pistachio-flavored cake with orange cream filling stayed true to the color scheme at Jessica and Amir's wedding at the Ritz-Carlton Half Moon Bay in California. The neon green separators and black bows add a nice contrast against the white cake, and we love how the bed of flowers intersects the bottom tiers.

Photo Credit: Lars Wanberg/ Withers Wanberg Pictures
Emily and Scott, two travel enthusiasts, met — and later got engaged on — a Southwest Airlines flight. The cake at their travel-themed wedding featured a customized monogram with an airplane. We love how they didn't shy away from a bold purple and orange color scheme.

Photo Credit: Ernest Ojeda
Linda and Abel, another pair of travel industry pros, also found an adorable way to incorporate their passion at their Ibiza wedding. They chose a cake topper of a couple holding suitcases to symbolize their new journey as husband and wife. Just looking at the orange stripes and whimsical patterns makes us feel like taking an Ibizan vacation!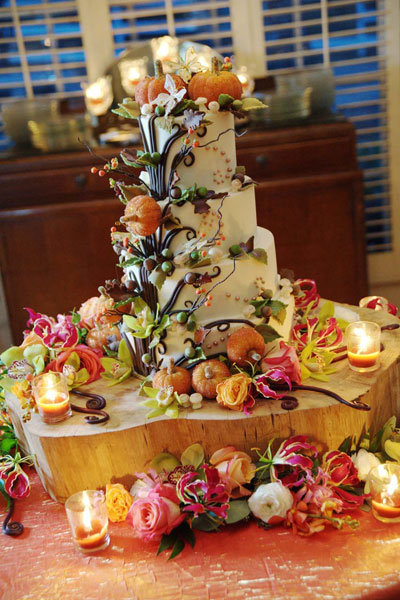 Photo Credit: Ace Photography
From the bride's wings to the pumpkin-adorned cake, Aspen and Brad didn't lose sight of the details at their Halloween wedding. The tree trunk-inspired cake stand adds to the rustic feel of their celebration. 

Photo Credit: Fender and Donisch
The intricate design matched that of the wedding invitations, and the yellow and rose colors matched the petal-strewn aisle at Amanda and Todd's Geneva wedding. Besides for the cake's tasty flavor combos (almond with chocolate ganache and lemon with lemon custard filling), the flower cake toppers make it truly exceptional.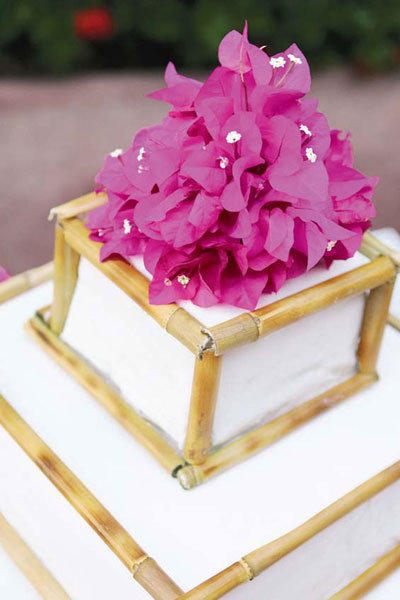 Photo Credit: Andrew Clark Photography
The white-chocolate frosted cake topped with bougainvillea blossoms included bamboo trim for good luck. The cake also matched the invitations for Holly and Randy's Mexico wedding, which featured a drawing of a fuchsia hibiscus, and the bridal party bouquets of pink roses.

Photo Credit: Susan Dean Photography
This three-tier cake is topped with dahlias and faux butterflies to match the bride's ballerina-style gown. Quinn and Max incorporated fresh twists throughout their wedding — even the knife they used to slice the cake was unique: A four-foot-long sword from World War II that belonged to the bride's uncle!

Photo Credit: Tu Photography
Bonny and Dave chose a sleek, chocolate-frosted cake topped with calla lillies for their garden wedding in Sonoma, CA. The cake featured layers of white cake with raspberry filling, white chocolate buttercream and chocolate with caramel filling.
—Paulette Safdieh