Cakes and cupcakes aren't the only desserts that can be served in tiers! Get inspired by these fun ideas:
Doughnuts
Create a sweet arrangement featuring your wedding colors, or go for ultimate variety with this rustic-inspired stack.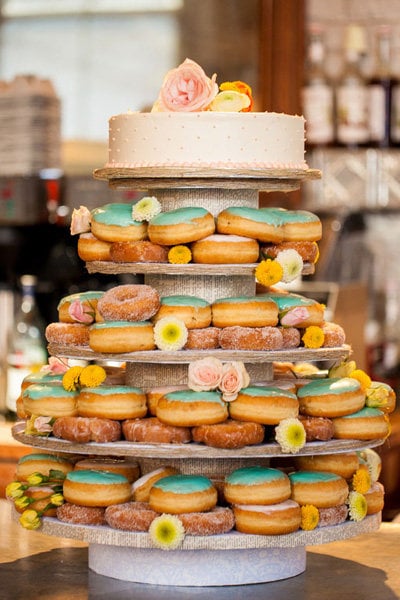 Photo Credit: Ashlyn Dawson Photography (left); Nick Sherman/Flickr (right)
Cake Pops
Bite-size cake pops are so fun to eat. Use different designs to distinguish the flavors, and include a sign letting your guests know what they're eating.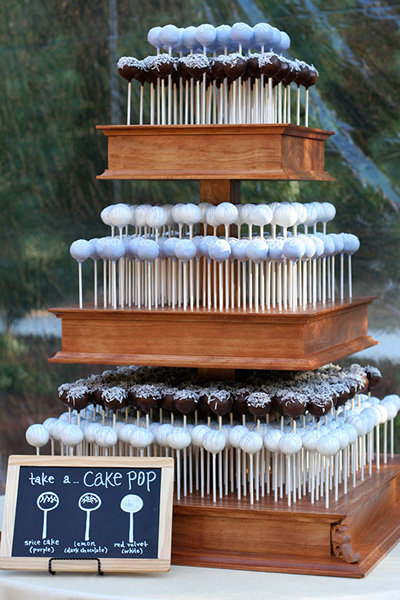 Photo Credit: Sweet Lauren Cakes
Mini Cakes
Fancier than cupcakes but more portable than a cake, these mini cakes are the perfect compromise.

Created by Pasteleria Martinez
Pies
Mirror a cake's tiers in pie, or go for stacks of mini pies.

Photo Credit: Jose Villa

Photo Credit: Set Free Photography on Southern Weddings via Lover.ly (left); Southern Weddings via Loverly (right)
Rice Krispie Treats
Add a little bit of childhood nostalgia with a Rice Krispie-inspired wedding cake.

Photo Credit: Kina Wicks Photography
Snack Cakes
Or, recall happy childhood memories with tiers of your favorite snack cakes.

Photo Credit: Hostess (left); Mindless Musings on My Average Life (right)
Cookies
Either homemade or store-bought, your guests will love this cookie cake.

Photo Credit: Devlin Photography (left); Andi Mans Photography & Design on Every Last Detail via Lover.ly (right)
Or, give each guest a sweet tiered cookie:

Photo Credit: Rena Harvey on Polka Dot Bride via Lover.ly
Ice Cream
How fun is this for a summer wedding? Serve individual ice cream cones (quickly!).

Photo Credit: Southern Light Photography
Croquembouche
This traditional French dessert consists of cream puffs and caramel.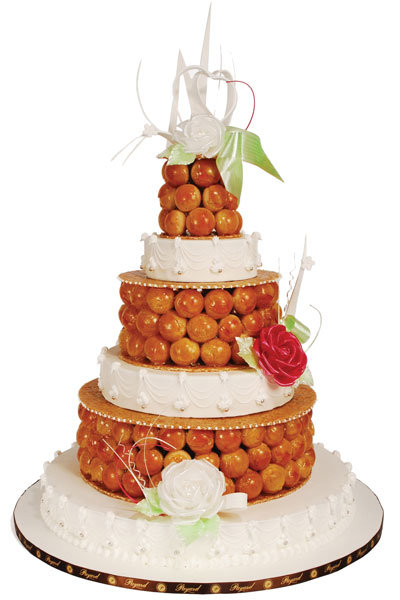 Photo Credit: François Payard (left); Equally Wed via Loverly (right)
Macarons
Another idea to borrow from the French — delectable little macarons, served in various flavors and colors.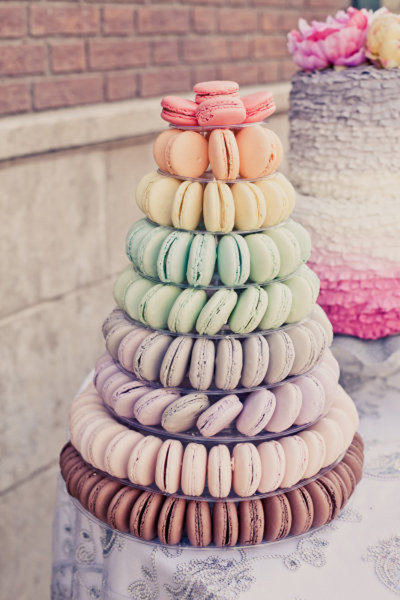 Photo Credit: Onelove Photography
Fruit Tarts
Mini fruit tarts are such a refreshing dessert option.

Photo Credit: Kurt Boomer Photo on Grey Likes Weddings via Loverly
Fruit
Who says your dessert needs to be unhealthy? Tiers of fruit are so eye-catching. Add some whipped cream and chocolate on the side for your guests who want to indulge.

Photo Credit: Love is a Big Deal
Tell us: Which would you choose for your wedding?
—Kristen O'Gorman Klein