One of the prettiest sights to see at a wedding (other than the décor, flowers and beautiful bride, of course!) is the dazzling dessert table. I recently came across some gorgeous tables featuring an array of yummy treats created by Alexis Streets, a Washington D.C.-based dessert and table stylist (clients include Spike Lee and the Washington Redskins). All of her food items are not only custom-made and handcrafted, but Alexis also designs the table décor. This talented entrepreneur definitely knows how to turn a negative into a positive, too: She started her business creating gift baskets while on bed rest after a car accident, and today, after just five years, her company has evolved into a highly successful business. Love that positive spirit!
Now, back to dessert tables: If you're thinking of having one at your wedding, Alexis recommends that you "consider your own personal taste and style, your wedding colors and the needs of your guests." And, for upcoming fall weddings, some of Alexis' favorite choices include chocolate-covered strawberries infused with wine, candy apples, spiced cupcakes and her custom 14k-gold candies. "Our cake pops are always a year-round favorite, too, as they can be customized to look like brides and grooms!" says Alexis. For inspiration, take a look at some of her sensational tables and eye-catching goodies, and visit Alexis Streets and discover more delicious treats:

Clockwise from top left: Chocolate strawberries, gourmet pretzels, gourmet krispy treats, pecan turtles, cake pops, and gourmet strawberry shortcakes.
Tuxedo cups filled with a chocolate mousse cake

Clockwise from back: Fruit- and brownie-filled dessert cupcakes, cake pops, chocolate-covered strawberries, gourmet Oreos and krispy treats, cheesecake phyllo-dough tarts and candy apples.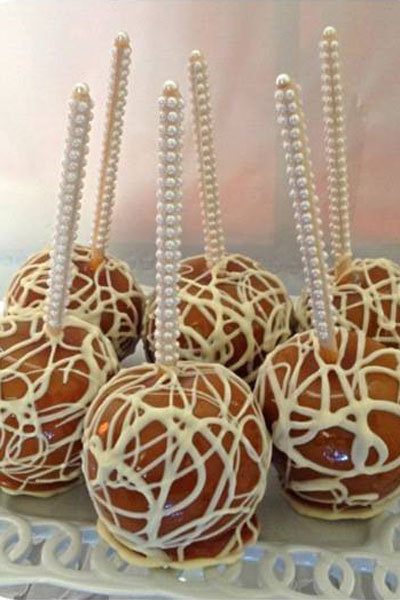 Pearl-handled and wedding couture candy apples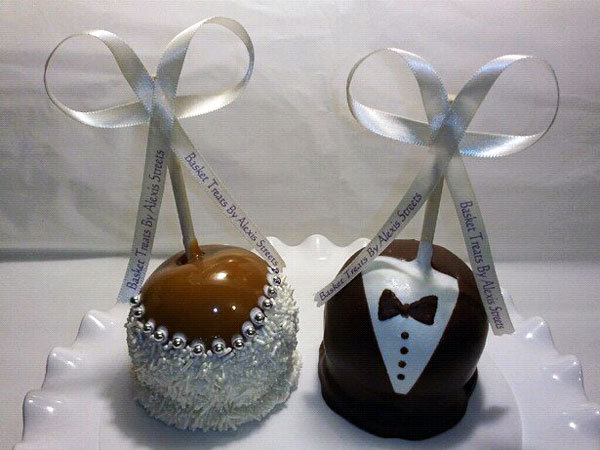 Wedding-themed candy apples

Bride and groom cake pops
Tell us: Will you have a dessert table at your wedding?
—Diane Forden