You survived the wedding planning, you pulled off a gorgeous wedding, and now you're off to Miami to enjoy the 3 S's of a successful beach-themed honeymoon: sleep, spas and lots of sunsets!
Miami is arguably one of the most beautiful places in the country, with its crystal clear water, white sandy beaches, swaying palm trees, stunning architecture, and blue skies — just being in the city will make you feel like you've escaped to your own private paradise. So where will you stay? What will you do? How can you make sure this honeymoon is one you'll never forget? Check out some of these sure-fire ways to make your Miami honeymoon sizzle:
Photo courtesy of The Miami Beach Edition Hotel
Sizzlin' Places To Stay
Known for some of the most beautiful and luxurious beach accommodations in the world, Miami has countless options when it comes to where to stay for your honeymoon. Some couples are drawn to high-end, luxurious waterfront high-rise hotels such as The Miami Beach Edition or the recently renovated Naples Grande Beach Resort. From high-end dining, sparkling pools, romantic guest rooms and private beaches, these premier accommodations will make you feel like a celebrity. For those who want something smaller and more intimate, beachfront cottages and vacation rentals provide a little more room to relax, and a lot more privacy as well. Miami's Fisher Island, an exclusive private island accessible only by ferry, is home to historic cottages, villas, and suites that combine old-world Miami with a modern and elegant twist. Other exclusive islands, like Star Island, are great for sunset strolls amongst multi-million dollar mansions but don't offer accommodations for visitors. Bed and Breakfasts are another romantic way to spend your honeymoon together, as they offer some of the same amenities as a resort in a smaller and more intimate setting.
Photo courtesy of The Carillion Hotel and Spa
Serene Places To Relax
If your idea of paradise is to be pampered in an upscale and relaxed setting, Miami is the place for you. The city offers some of the highest standards in massage services, beauty treatments and relaxation techniques at world-class spas. The Carillion Hotel and Spa provides guests with a unique, nine room steam room experience, complete with herbal therapy treatments, experiential rains, and a finnish sauna. This top-ranking spa experience takes place in a 70,000 square foot wellness area and provides countless treatments and services for the ultimate relaxation experience. Other upscale spas, like The Standard Spa and The Wellness Garden and Spa at The Betsy offer luxurious options to unwind. Pro Tip: Ask about a couples massages to spice things up a bit! Beach clubs and poolside bars are also popular places to spend all day doing absolutely nothing, together.
Photo courtesy of The Wellness Garden and Spa at The Betsy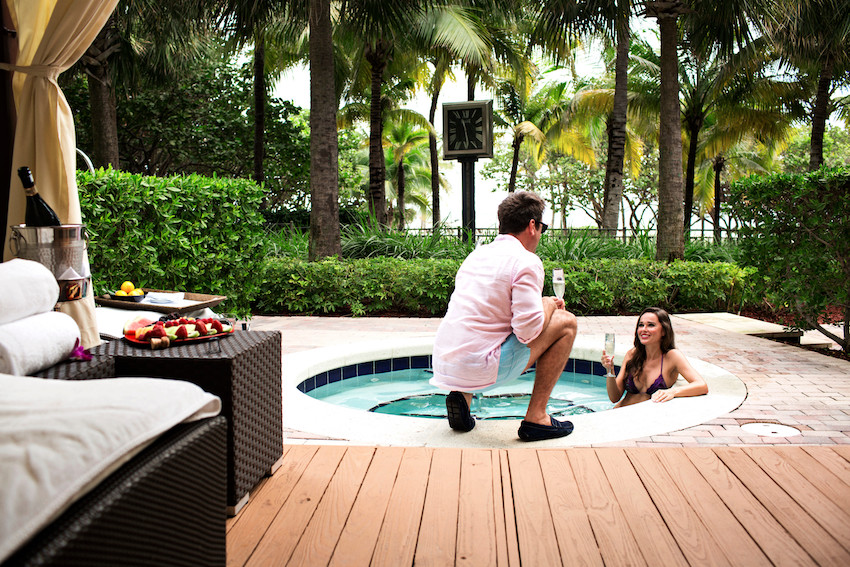 Photo courtesy of Greater Miami Convention & Visitors Bureau
Unique Ways To Work Up A Sweat
If you're looking to get your heart pumping while you're on your honeymoon, you're in luck! From dancing all night in sexy nightclubs like Dream and Club Liv, to parasailing, jet skiing, paddle boarding or soaring above the waves on a futuristic jetpack, Miami is full of fun and high-energy activities to keep you and your honey entertained. Take a dance class like salsa, or heat things up with a pole-dancing lesson. And, if adult clubs are your thing, the city has plenty of those as well. 
Image courtesy of Greater Miami Convention & Visitors Bureau
If you're looking to stay in the U.S. for your honeymoon, this city combines a slow paced, relaxed, tropical beach vacation with a vibrant, diversified, high-energy city vibe. Miami is known for knowing how to turn up the heat, so what better place to spend your sizzling honeymoon than here? 
— Kaya Wittenburg is the Founder and CEO of Sky Five Properties.