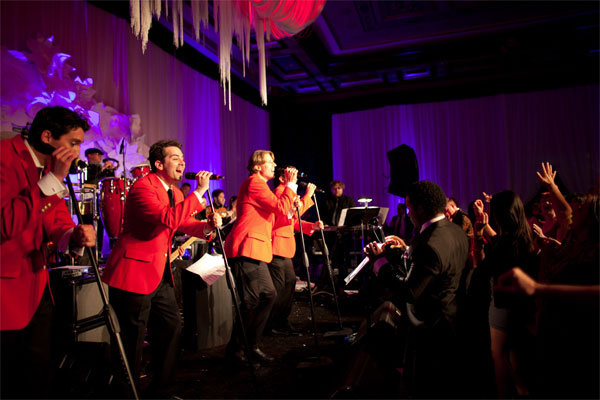 Live music adds such a "wow factor" on your big day that's hard to replicate with a DJ. The right band will create a true party atmosphere that'll get your guests out of their seats all night long. But hiring a band is significantly more difficult than finding a DJ — how do you know if the band is the right fit? What details do you need to know?
To find the answers to these questions and more, music industry expert Bobby Borg spoke with Jim Eppolitto of West Coast Music (a nationally renowned, full-service production company providing live music for special events), and with Stewart Jean and Jude Crossen, drummer and vocalist for Encore (a successful wedding band offering a diverse repertoire of music from classic Sinatra to '70s funk and more).
Q: How should a bride and groom get started with finding a band?
Encore: There are typically three ways that a couple can find a band: They attend an event (concert, corporate party, etc.) where a talented band is performing; they receive a recommendation from a friend or family member who recently married and hired a band; or they conduct a keyword search online for a "full-service production company" or "music agent" in their area that recommends a band based on certain needs. The latter approach is how Encore has always been booked to perform.
Q: How can a bride and groom be absolutely sure that they are getting a band that is the "right" fit for them? 
Jim Eppolitto: Most of my clients do business with me on the phone while viewing my agency's website, which includes pictures, live videos, and testimonials form recent clients and venue owners. Testimonials are key, and every bride and groom should ask to see an updated list of happy customers.
Q. What questions should the couple ask when meeting with a band?
JE: A bride and groom should discuss whether they want dancing after dinner, during dinner, before dinner, or all of the above. This will have a lot to do with the type of band and the style of music that an agent will recommend.
As for the prices: it's an issue that every bride and groom should discuss. But remember that prices range anywhere from $2,000 to $35,000 based on the client's needs. Some people are happy with a small band that plays for an hour during the cocktail reception, and others want a large (and even famous) group that performs all night. Prices will also differ depending on the time of year. The first quarter of the year is the slowest season for weddings, and thus, the prices for bands are at their lowest.
Q: What should a couple know about hiring a band vs. hiring a DJ?
Encore: First and foremost, let me say that a live band is visually and sonically more impacting than a DJ, especially when there are a substantial number of guests present.
As for the breaks, a band usually gets three 15-minute breaks, unless the client wants continuous music all night (which would require an additional payment).
An experienced wedding band should not have any limitations regarding musical style and repertoire (unless, of course, the client imposes these limitations and specifically asks for a "Motown" or "jazz" band). And should the bride and groom have a unique or "obscure" song request, remember that a talented band will always be able to learn and perform the song as long as the couple provides the sheet music and CD.
Finally, the size and instrumentation for your average wedding band includes bass, drums, guitar, keyboards and a male and female vocalist, but for additional impact, instrumentation can include a full horn section, percussionists, and even back-up singers and dancers (at an additional cost to the customer).
Q: Is there anything else that a bride and groom must know to ensure that hiring a band goes smoothly? 
JE: So much depends on where the event is being held. If it's held at a residence, a couple must have a large room or backyard for the band to set up. They should be prepared to spend a little extra money for the band to bring a generator for power, they should know that neighbors are likely to complain about the noise after 10 p.m., and they should be prepared to designate a quiet and well-lit "holding room" or "green room" with refreshments for the band. As for parking, the band can usually find spots on nearby residential streets.
If the event is held in a hotel, a lot of the issues mentioned above are easier to control — there are typically no space, noise, or parking restrictions. Thus, the finer details that a bride and groom must consider when hiring a band really depends on where the event is being held. Really, an entire article can be written on wedding venues alone!
—Bobby Borg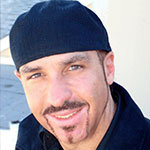 Bobby Borg is a former major label, independent, and DIY recording/touring artist with over 25 years experience. He serves as a music business educator at Musician's Institute in Hollywood and at the University of Los Angeles in California and also arranges educational programs with institutions overseas. As a music business and A&R consultant to managers, labels, and supervisors, Borg is also a prominent guest speaker at music industry events and a regular contributor to international music business publications. 
 
Copyright © 2013 by Bobby Borg