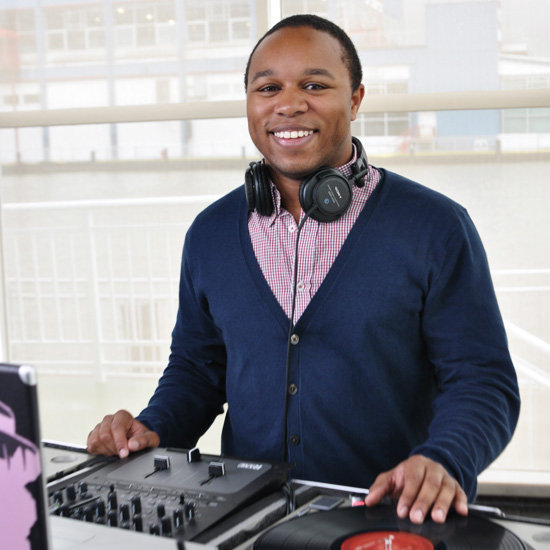 Scratch Weddings is the nation's leader with the best wedding DJs at affordable prices. This week's post comes from DJ Kuato, whose unique blend of feel-good music has extended from New York to London and beyond. He has shared the stage with the legendary Patti Smith and DJed alongside Justin Timberlake, Tim Gunn, and Nigel Barker.  "I enjoy meeting new couples, understanding their backgrounds, influences and how they got to where they are today. The highlight of the wedding night for me is always watching the bride and groom smile and dance the night away, alongside their closest friends and family members." 

Photo Credit: Rhphotoarts via Lover.ly
These hidden gems — the "unsung heroes," if you will — make unique additions to your wedding reception playlist.  
► "Cupid" — Amy Winehouse
A modern-day version of a wedding classic song.
► "Love On Top (Ted Smooth Remix)" — Beyoncé 
What's a wedding without Beyoncé? Leave "Single Ladies" at home, throw on this Ted Smooth remix, and watch your party erupt.
► "Baby I'm Yours" — Breakbot
Nobody says "amour" like the French. This French producer creates a lovely tune about a man madly in love with a woman — "Your wish is my command."
► "Never Stop" — Chilly Gonzales
A nice cocktail hour number with a progressive beat.
► "Da Butt" — E.U. 
An old-school line dance number that is anything but cheesy... just ask Spike Lee.
► "Paris (Aeroplane Mix)" — Friendly Fires 
This one can be played any time during the wedding. It's light but impactful — "One day we're going to live in Paris, I promise, I'm on it..."
► "November Rain" — Ghetto Blaster Ltd. 
A very nice bossa nova rendition of a classic rock n' roll song. This one can be found on the Bossa n' Roses compilation.
► "My Boo" — Ghosttown DJs
For you DJs, this one has a fast BPM, so you can mix into it from a dance track. I could rewind and start this one up all night — it's one of the best drops in hip-hop.
► "I Like The Way (Kissing Game)" — Hi-Five
If you bring back one old-school song this year, make it this one. It's Texas R&B at its finest.
► "Every Day Of The Week" — Jade
The lyrics sum it all up — "When do I want to love you? When am I thinking of you? Every day of the week. Monday, Tuesday, Wednesday, Thursday, Friday, Saturday, even on Sunday..."
► "Move Your Feet" — Junior Senior
I've seen this song move crowds everywhere from department stores to weddings. It has the perfect combination of soul sounds and dance beats.
► "Love Come Down" — Evelyn "Champagne" King
People like to knock disco because of the "cheese factor," but like all genres, disco has those inescapable gems. This should be next to any Whitney jam.
► "That Could Be Us" — Maino
If the party needs some modern R&B but nothing too played out, this is a good one. It's another love song about a man chasing the girl of his dreams.
► "Honey" —  Mariah Carey
Every woman in the building will be belting this one... and the fellas, too — "Mariah, you on fiya..."
► "Maybe So, Maybe No" — Mayer Hawthorne
I'm a big fan of newer soul sounds coming out. Mayer Hawthorne does it right with this one.
► "Holidays" — Miami Horror
This is a nice one when it's time to get the dancing started. I love the lyrics — "I don't know just where you came from, but I need you now."
► "Sunny" — Yambu
Yambu's version of the classic song has fewer vocals and more moving Cuban instrumental melodies. I like to throw this one on during the cocktail hour pre- or post-wedding.