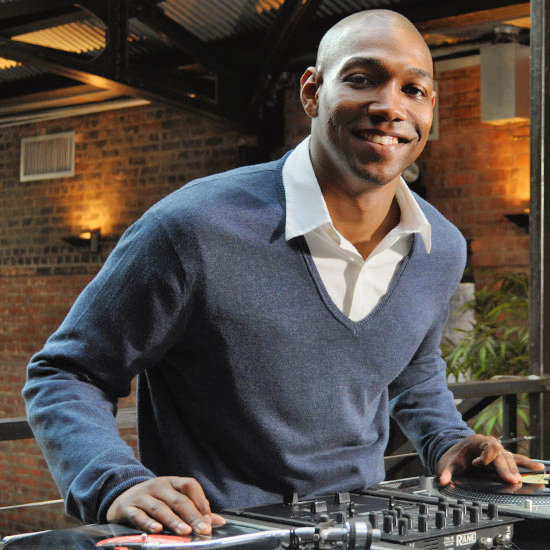 Each week, we feature wedding music recommendations from Scratch Weddings, the nation's leader with the best wedding DJs at affordable prices. This week's post comes from DJ Trife. One of the best DJ performers on the East Coast, he expertly applies his skills—scratching, mixing, beat matching and live mash-ups—to his gigs at clubs, events, private parties and weddings. He brings an exciting and fresh spin to DJing, customizing sets that appeal to clients' tastes. His upbringing on Soul, Rock, Hip Hop and House provide him with a deep music knowledge, and his personality makes him instantly likable among couples.
You can't go wrong by playing the classics at your wedding, but peppering in some fresh tunes will make any wedding feel more modern and fun. Whether you're going for a vibe that's more indie, more party or more worldly, turn to these rising star artists for options that guests of all ages will enjoy.
Cocktail Hour/Dinner Music Stars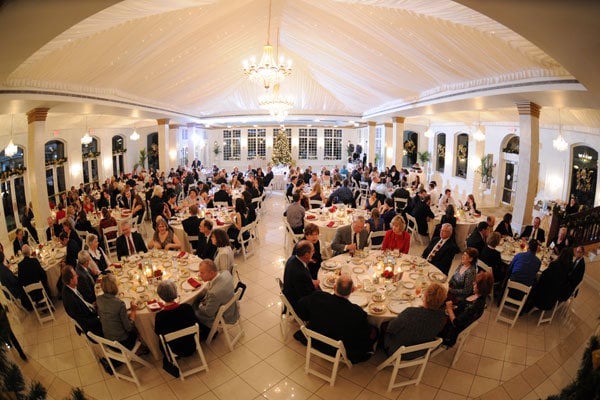 Photo Credit: Jason Kaczorowski Photography
► Mumford & Sons: Their great acoustic soundis excellent for the cocktail hour. I like to play this before the dance set to create energy for the crowd to start dancing. Guests will often pour out to the floor and start dancing when the song crescendos (as almost every Mumford & Sons song does.) 
Songs to Try: "The Cave," "Sigh No More," "Little Lion Man." 
► Bruno Mars: Bruno Mars writes lyrics that every guy wants to sing to the girl he loves. He's immensely popular but still credible because of his superb songwriting. Almost all of his top singles are wedding appropriate.
Songs to Try: "Just the Way You Are," "Count on Me," "Marry You."
► Portishead: This band, while not new, is still gaining popularity. When couples ask me for a sexy vibe during cocktail hour, there's no better choice than Portishead. Their jazzy sound hits the mark every time.
Songs to Try: "It Could Be Sweet," "Wandering Star," "Glory Box."
► Mayer Hawthorne: I can't say anything bad about him. He's got music for almost everything but dancing. When people are dining or sipping drinks, his music is perfect to create a mellow vibe for conversations and relaxing.
Songs to Try: "Hooked," "Make Her Mine," "Finally Falling."
► The Foreign Exchange: They have a new record out that is sexy, soulful, and cooled-out. If you're going for the NYC lounge-sound for your cocktail hour, this is the artist to play.
Songs to Try: "Sweeter Than You," "Happiness," "Daykeeper."
►The xx: If the couple tells me they want indie rock for their cocktail hour and/or dinner music, The xx must be played. They have a supple minimalist sound that sounds like it was created specifically to play while sipping cocktails.
Songs to Try: "Infinity," "Islands," "Stars."
► Brazilian music: Sexy+summer+evening = Brazil. Brazilian house and bossa nova are growing in popularity and are two of the most elegant genres of world music that will consume your guests into an exciting and exotic vibe.
Songs to Try: "Bat Macumba" by Os Mutantes, "Irene" by Caetano Veloso, "Amor I Love You" by Marisa Monte. 
► DJ Shadow: You cannot lose with Shadow. His first album, Endtroducing, is packed with vibey instrumentals that are perfect for creating chill and enjoyable listening.
Songs to Try: "Six Days," "Midnight in a Perfect World," "I've Been Trying."
► She & Him: They have a diverse sound that is new with a hint of retro, perfect for an upbeat cocktail hour and/or dinner.
Songs to Try: "In the Sun," "Sweet Darlin'," I Was Made for You."
Dance Floor Stars

Photo Credit: Hoffer Photography
► Flo Rida: I'm finding more and more that playing Flo Rida gets everyone up dancing, no matter when I play it. He keeps putting out infectious dance floor hits that people love to dance floor.
Songs to Try: "Club Can't Handle Me," "Good Feeling," "Low."
► Pitbull: Not only does he have hits, his hits span across pop, Latin, house, and hip hop audiences. He can do no wrong when it's time to party.
Songs to Try: "Give Me Everything" (feat. Ne-Yo, Nayer, and Afrojack), "The Anthem" (feat. Lil Jon), "Shut it Down" (feat. Akon).
► Rihanna: Every boyfriend or husband will get dragged to the dance floor when the beginning of "We Found Love" hits. Everyone knows—and loves— her songs.
Songs to Try: "We Found Love," "Cheers," "What's My Name" (feat. Drake).
► Phoenix: The indie band that isn't too indie. "1901" is probably their most popular song, but you'd be surprised how their other music keeps people grooving.
Songs to Try: "Lisztomania" (original version or Shook Remix), "1901," "If I Ever Feel Better."
► Avicii (aka Tim Berg): If the bride says, "I really like house and club music," this is the guy right now. "Malo" and "Levels" are already dance floor classics, and when the club music from the 2010s makes its resurrection in 2050, I'm sure this guy's going to be one of the biggest artist of the era.
Song to Try: "Levels," "Malo," "Seek Bromance."
► David Guetta: This guy is like the king of commercial club music right now, and he has numerous big hits that guests love to dance to.
Songs to Try: "Without You" (feat. Usher), "Memories" (feat. Kid Cudi), Gettin' Over" (feat. Chris Willis, Fergie, and LMFAO).
► Lupe Fiasco: At the end of the night, you can't go wrong with this artist. If there's a lull in energy, this will get everyone right back to a level 10.
Songs to Try: "Out of My Head" (feat. Trey Songz), "The Show Goes On," "Superstar" (feat. Matthew Santos).
Note: All of these artists and songs are great but there are numerous takes on these songs. Googling any of these titles with the word "remix" will generate a number of retakes on these selections. You may find a remix that you like better than the original to get the party going.