At the start of the New Year, I'm guessing that many of you vowed to eat better, exercise more and really get in shape for the wedding. My own New Year's resolution was to improve my diet, forgo junk food (struggling with this one!) and live a healthier lifestyle. It's not always easy but certainly well worth the effort, which leads me to some fantastic products geared toward keeping your homes and bodies super-fit and healthy. Add these to your registry list, and you'll feel and look your best long after the wedding day.
1. Healthy Sole System, $269
Ok, we may wash our hands constantly, use an anti-bacterial hand gel and back away from coughing, sneezing people, but did you know that the soles of our shoes track in millions of harmful pathogens, viruses and germs that can become airborne and then be transferred throughout our homes? Pretty amazing. But Healthy Sole, developed by a team of scientists and researchers, uses a safe, green UVC light technology that greatly reduces and in some cases completely eliminates the germs on your shoe soles in just 8 seconds, promising a much healthier environment. Keep it in your entryway, and be sure to get the additional template for the little ones. Bonus: The rechargeable battery lasts a full two weeks. Available at healthysole.com.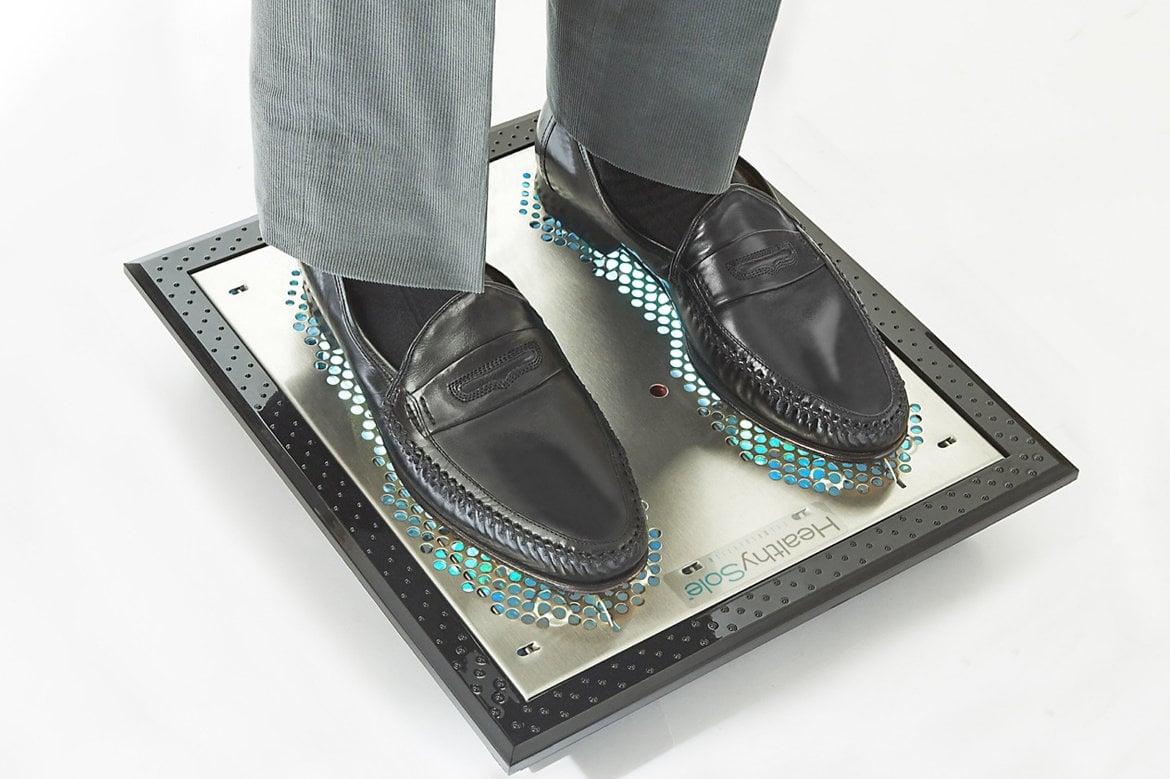 2. Rowenta Intense Aqua Control, $215
All across the country, this "Frozen" winter has kept most of us indoors, where the dry air not only affects our hair, skin and throat but can also aggravate any sinus or respiratory problems. To the rescue: Rowenta's state-of-the art humidifier that runs on a timer, displays the room humidity level and allows you to target the ideal humidity level. It's unique warm mist function increases steam output by 20% and effectively kills bacteria in the water. Bonus: The ergonomic design provides 2 gallons of steam per day and produces only 40 decibels of sound (in other words, it's like being in a library!).
3. SodaStream Play, $89.99
Tired of boring flat water? Spending too much on bottled water? Enter SodaStream Play, a sleek new addition to the popular SodaStream line that easily turns tap water into sparkling water in an instant with its CO2 carbonator. You can also create a variety of your own flavored sparkling water. Bonus: A recent survey of 3,680 SodaStream owners reveals that they now consume 43% more water than they did without it. More water means better health. 
4. All-Clad PC8-Precision Pressure Cooker, $360
Cooking with steam ensures that you're preserving all the flavors and nutrients of your food. And with the All-Clad Stovetop Pressure Cooker's technological features, you're guaranteed perfect cooking results for all your healthy foods — veggies, grains, meat/poultry, fresh fish, fruits and more. There are four specific cooking programs and a two-part cooking process to optimize flavors and texture. Plus, a "smart timer" automatically notifies you when just the right pressure has been achieved and the meal is finished. Bonus: A recipe book with over 20 recipes and tips on how to convert traditional recipes in the Precision Pressure Cooker is included. Available at macys.com and surlatable.com.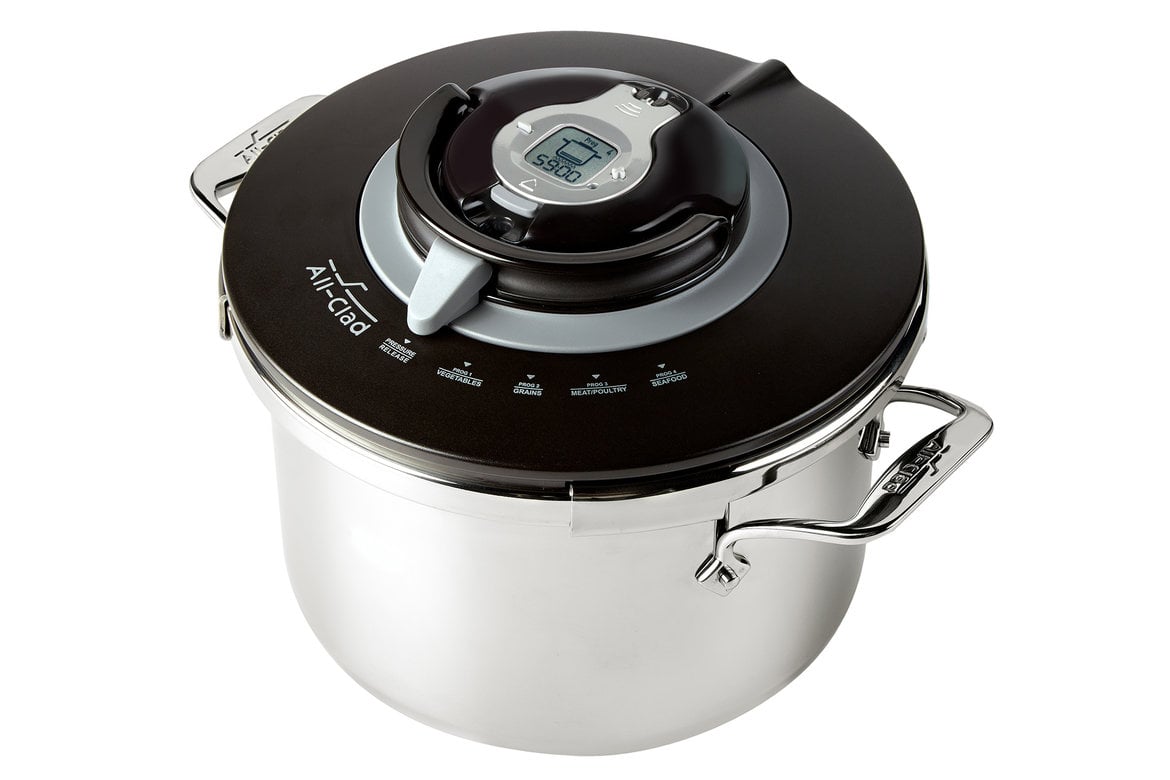 5. Black & Decker Lean Green Prep Machine, $49.99
Make healthy eating even more fun with the Lean Green Prep Machine. The combination slicer/grater/shredder attachment makes salads in a snap and pushes the fixings directly into your salad bowl. Bonus: There are 4 interchangeable blades for grating, shredding and thick or thin slicing, as well as a frozen treat maker for making delectable desserts from frozen fruit.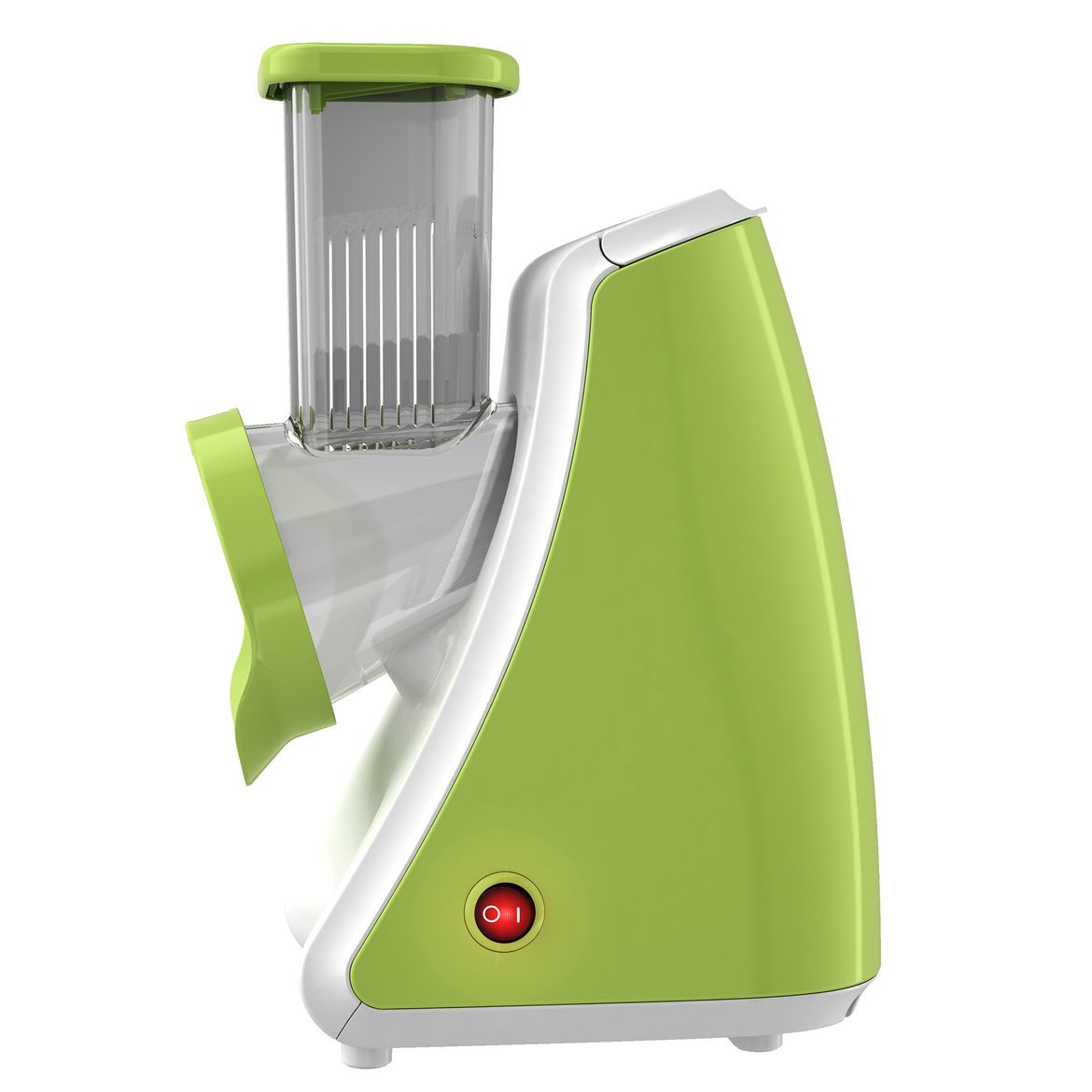 6. Excalibur 5-Tray Clear Door Dehydrator, $269.95
Better to snack on healthy foods rather than cookies, candy or chips, right? Now, with the Excalibur 5-Tray Clear Door Dehydrator, you can make your own snack favorites, like dried fruit, apple chips, kale chips and more without the high cost of store-bought dried foods with their added preservatives and sugars. Bonus: With the dehydrator's accurate temperature controls you can "set it and forget it." 
For those who prefer a more compact size, check out the Excalibur ECB50B 5-Tray Stackable Dehydrator, $139.99. This sleek, square design features five trays and mesh screens, two fruit roll sheets and four yogurt cups along with a handy quick-start guide and recipes.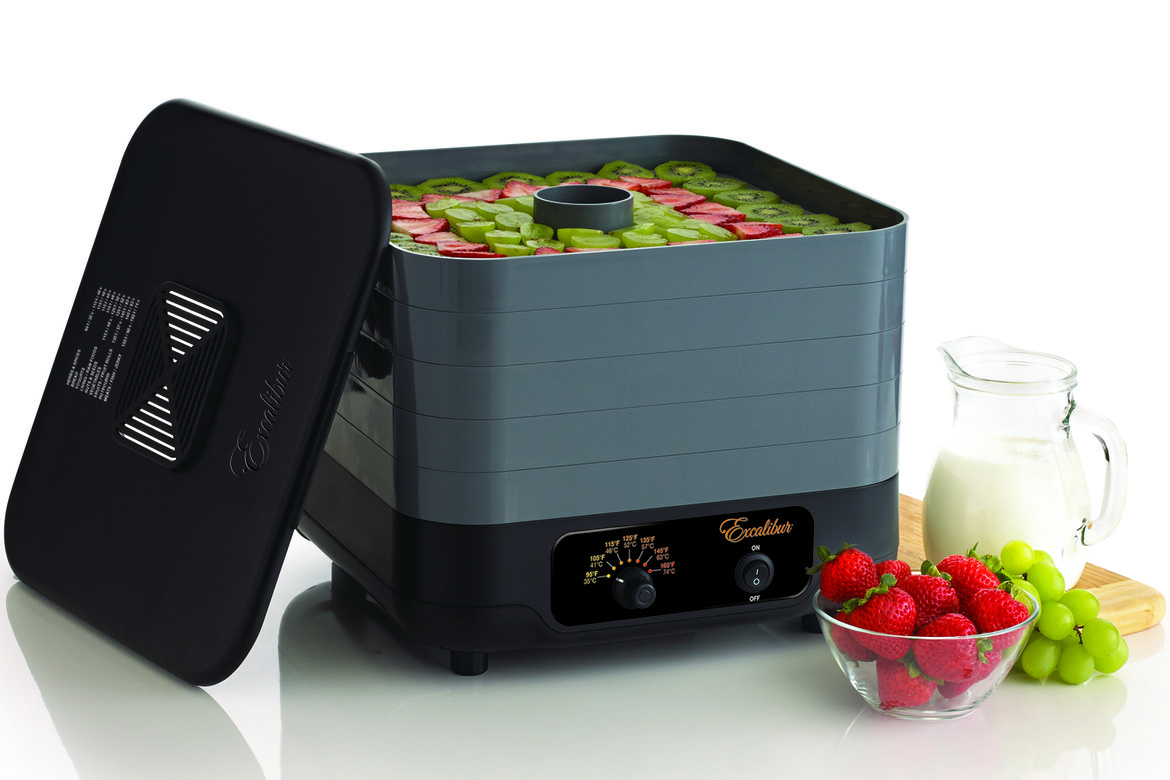 7. Cuisinart Velocity Ultra Trio 1 HP Blender/Food Processor with Travel Cups, $149
Don't you just love it when a product offers a little something extra? Cuisinart's 3-in-1 blender/food processor comes with its own travel cups, so you can whip up your favorite smoothies (it even chops ice), pour the drink into the cups, snap on the lids and voila!—you have your healthy drinks to go. Bonus: Use the food processor bowl to slice, shred, chop or mix your favorite foods.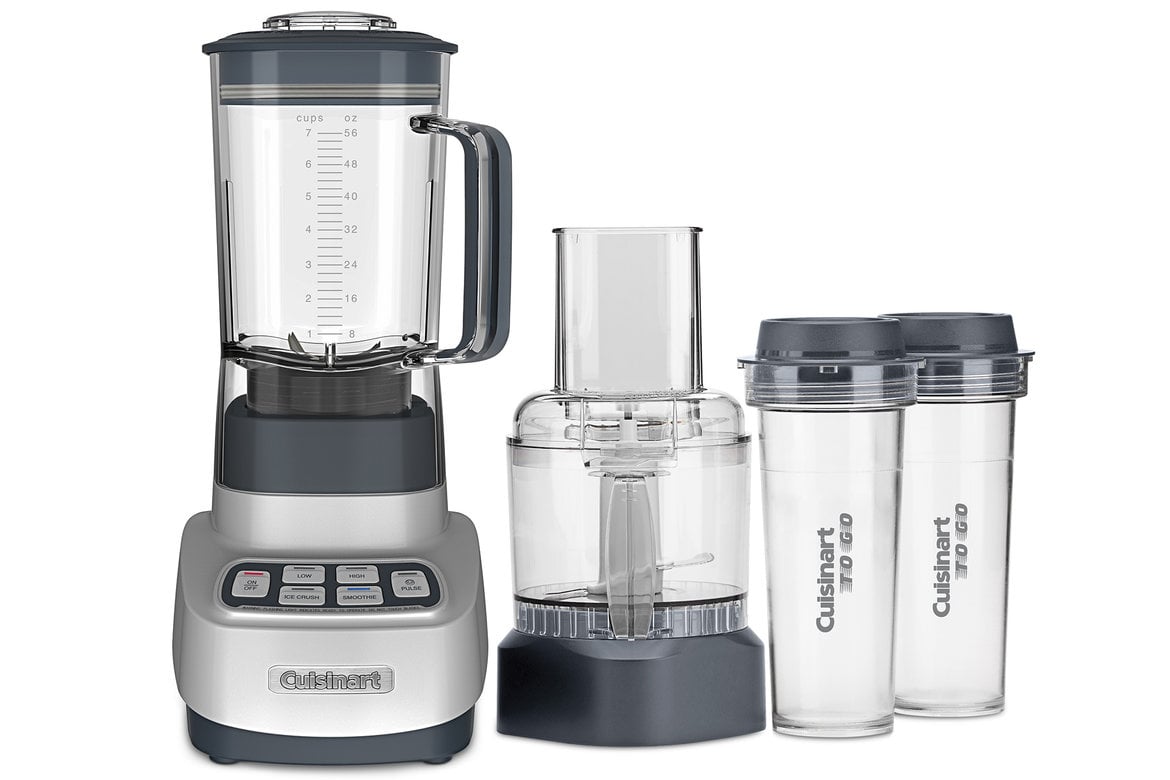 8. Imusa Gourmet Citrus Juicer, $47.99
Squeeze your own fresh orange or grapefruit juice or add citrus flavors to salads and marinades with Imusa's Gourmet Citrus Juicer. Bonus: It has a sturdy base with extra suction and an easy-to-use one-lever process.
9. T-Fal ActiFry, $249
Living healthfully doesn't mean total deprivation. I'm a firm believer in allowing for the occasional French fries or mac 'n' cheese to satisfy those must-have cravings. With T-Fal's ActiFry, you can enjoy these and many other dishes using only a tablespoon of oil (use healthier oils like olive, canola or sesame) or no oil at all! Oprah herself claims that this versatile low fat multi-cooker "changed my life. And they're not paying me to say it." You can cook fish, risotto, vegetables and desserts: Just add the ingredients, close the lid, set the countdown timer and turn it on. Bonus: ActiFry comes with a recipe book that includes over 35 healthy recipes each featuring specific nutritional information. Available at Bed, Bath & Beyond.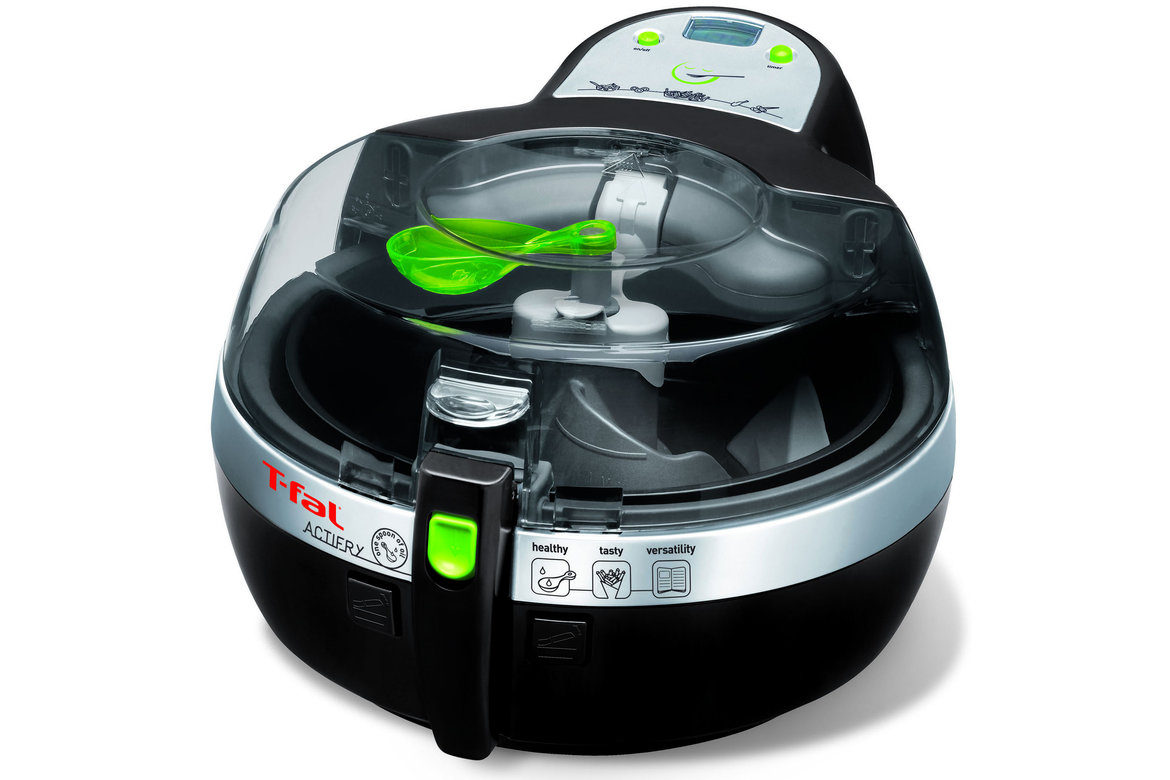 —Diane Forden