I'm a huge fan of socially conscious companies that make a dedicated effort to assist those in need. Their commitments — to make contributions that will help ease poverty, improve living conditions and encourage employment and education around the world — should inspire us all.
Here, a few companies whose products are ideal for your registry list, the wedding day, or as gifts to bridesmaids, friends and family.
1. Prosperity Candle
"Equal opportunity for all, a brighter future for women" is this company's motto. Founder Ted Barber believes in investing in women "because they invest in their children and communities." In his Easthampton, MA studio, each candle is handcrafted by recently resettled Burmese women artisans. Having lived in refugee camps, they now have a chance to rebuild their lives from "hopelessness to opportunity." Inspiring…so keep Prosperity Candle in mind when considering special gifts for your nearest and dearest.
The Forever Collection, $65, comes with complimentary lifetime refills.
The Coco Shine Collection, $45, features an ethically sourced reusable ceramic Japanese rice bowl.
And the Blue Kaori Brushstrokes, $38, is a three-wick candle that includes a reusable ceramic Japanese rice bowl.
2. Aromaflage
This company's founders, husband and wife Michael and Melissa Fensterstock, also believe in "doing well by doing good" and, with their partner in Southeast Asia, seek to help legalize Burmese refugee women by offering them employment, housing and education. Their mission is commendable, and so are their amazing products. Not only are the Aromaflage candles and fragrances free of deet, chemicals and parabens, but they also double as insect repellents! Use the candles at outdoor cocktail parties and weddings. Take the on-the-go purser fragrance with you to your tropical honeymoon or give them as gifts. A win-win for everyone! (Plus, you'll love its citrus fruit, warm cedarwood and silken vanilla scent.)

Aromaflage Purser, $30; Fragrance, $65 and Candle, $40
3. Nest Fragrances
One of my favorite candle fragrances is Passion, $38, created by Nest founder Laura Slatkin to honor the memory of Evelyn H. Lauder. I love its floral scent of peony and rose blended with warm sandalwood and the fact that 20% of the net proceeds from its sales are donated to The Breast Cancer Research Foundation, founded by Evelyn Lauder. 
Nest also contributes to other notable charities. With each sale of the Elton John Woodside Garden candle (a floral fragrance inspired by the blooms in his own floral garden at Woodside in Old Windsor, England) and the Sir Elton John Fireside and Holiday candles, 20% of the net proceeds is donated to the Elton John AIDS Foundation. 
And with the sales of the Blue Garden candle, $38, and luxury set, $85, 20% is donated to Autism Speaks.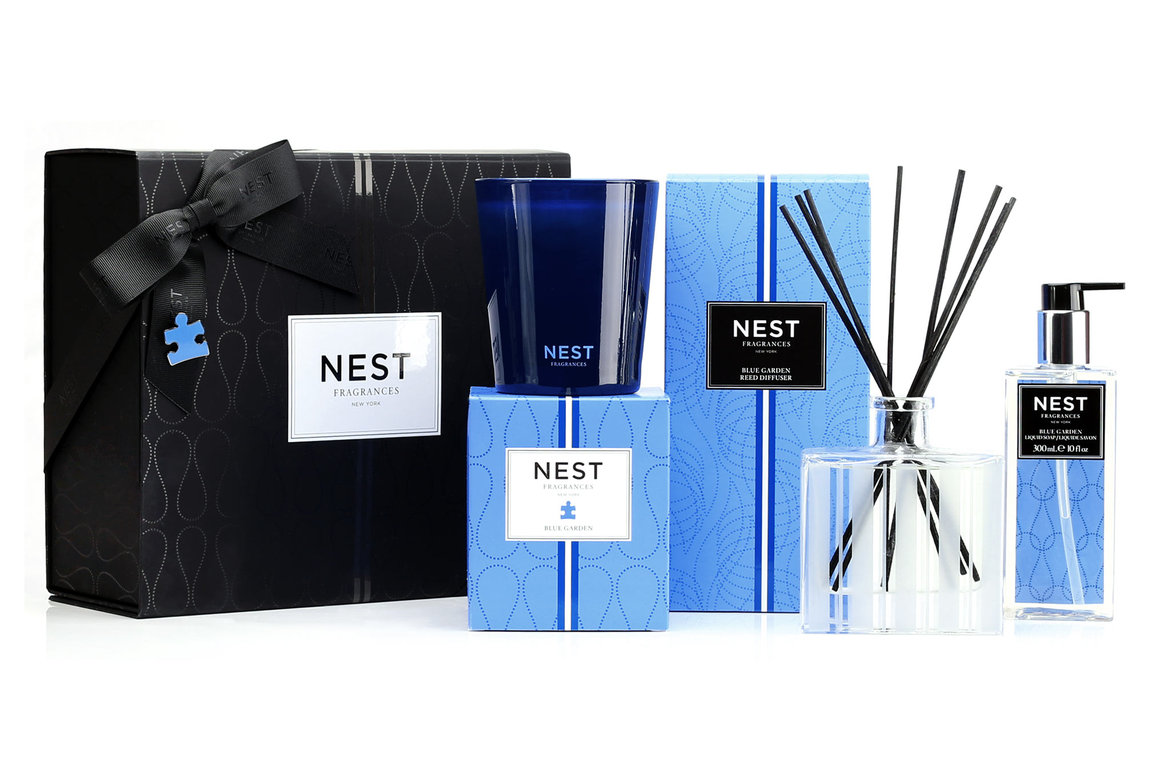 Fill every room of your home with these fabulous fragrances and give them as gifts to your bridesmaids, friends and relatives.
4. Wordologies
This company, founded by mother/daughter entrepreneurs DeAnn and Juliane Monko, not only centers their products around "mindfulness and well-being through inspirational messages" but also contributes 5% of their proceeds to Women for Women International, an organization dedicated to advancing women's health and well-being by offering business and job-skills training in conflict-ridden nations. Wordologies' products include candles, magnets, mugs, notepads and journals with sayings such as "Tranquility Triumphs" "Contentment Completes" and "Happiness Happens." Prices range from $4 for a magnet to $36 for a candle.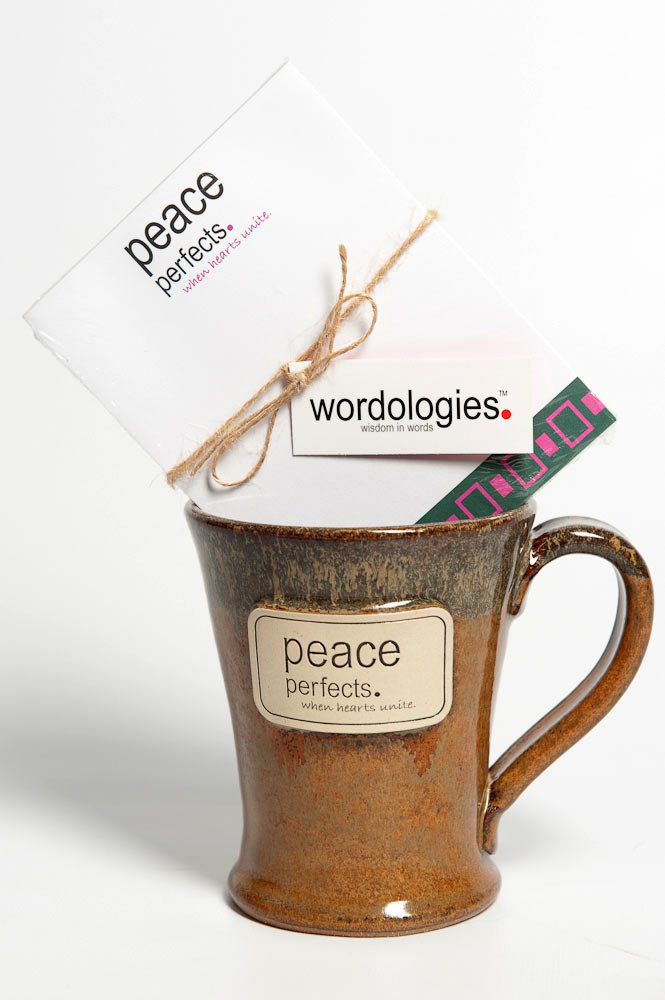 5. Toms
Founded by Blake Mycoskie in 2006, his mission to help a person in need with every sale of a Toms product has greatly succeeded. Since then, Toms has helped 35 million people across five continents. By working with Giving Partners, Toms diligently plans how they can best support communities in need. They have given gifts of shoes, sight, clean water and safe births around the world and are currently building a sustainable shoe industry in Haiti. So why not make your wedding day even more meaningful by purchasing a Toms product, knowing that you, too, are helping to make life better for those less fortunate? Here, some pretty shoes to consider from the Toms Wedding Collection: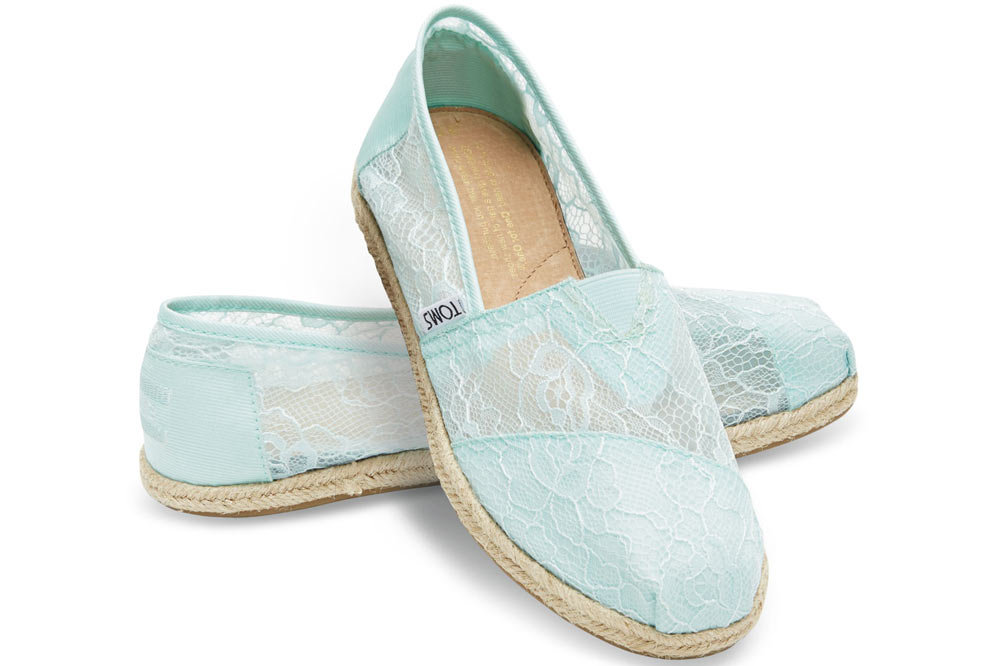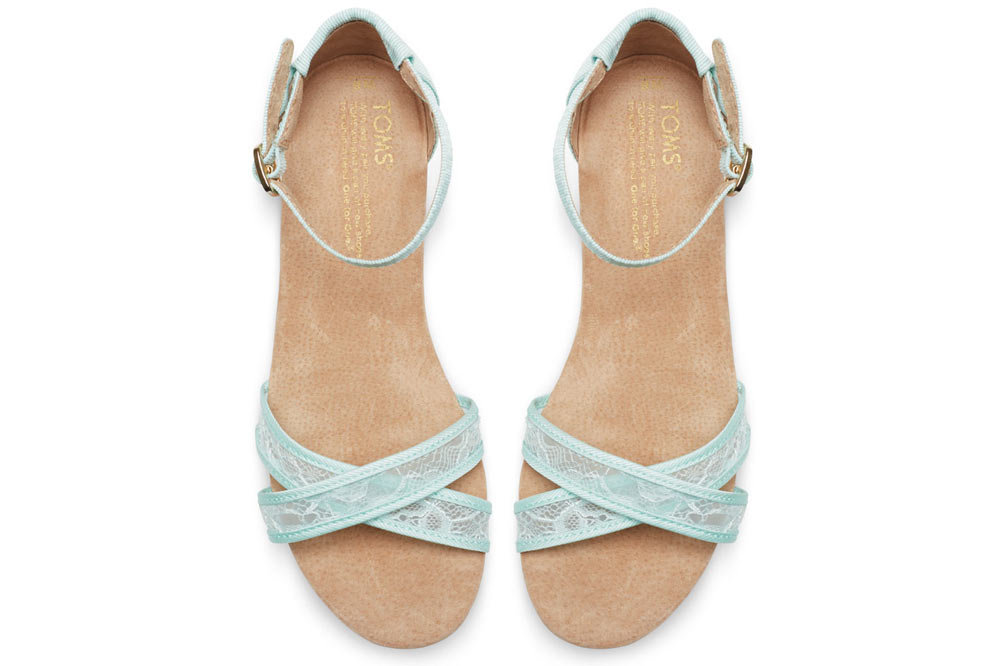 6. Roma Boots
Its mantra is "For One. For All," and this five-year-old company founded by Samuel Bistrian is determined to "give poverty the boot" by donating a pair of boots to a child in need for every boot sold. Roma Boots also contributes 10% of sales toward purchasing educational supplies to fill the boots before they are donated. Make your rainy days brighter with any one of their fab boot styles in basic shades of black, brown and navy or choose from a rainbow of colorful bright hues. And, for a limited time only, you can get the "Love Art" boot, $98 — how perfect for brides-to-be!
7. Ten Thousand Villages
Founded by Edna Ruth Byler in 1946, this company is America's first and largest fair-trade retail organization. Proceeds from the sale of their handcrafted products directly benefit thousands of disadvantaged artisans in 38 countries. These artisans are given a fair income, and the product sales help pay for food, education, health care and housing. Having visited one of the 390 Ten Thousand Villages stores recently, I was impressed with the variety and quality of the products, as well as the unique designs. You'll find great gift items like jewelry and scarves, as well as art, picture frames, candles and more. Here are just a few exceptional items to add to your registry list.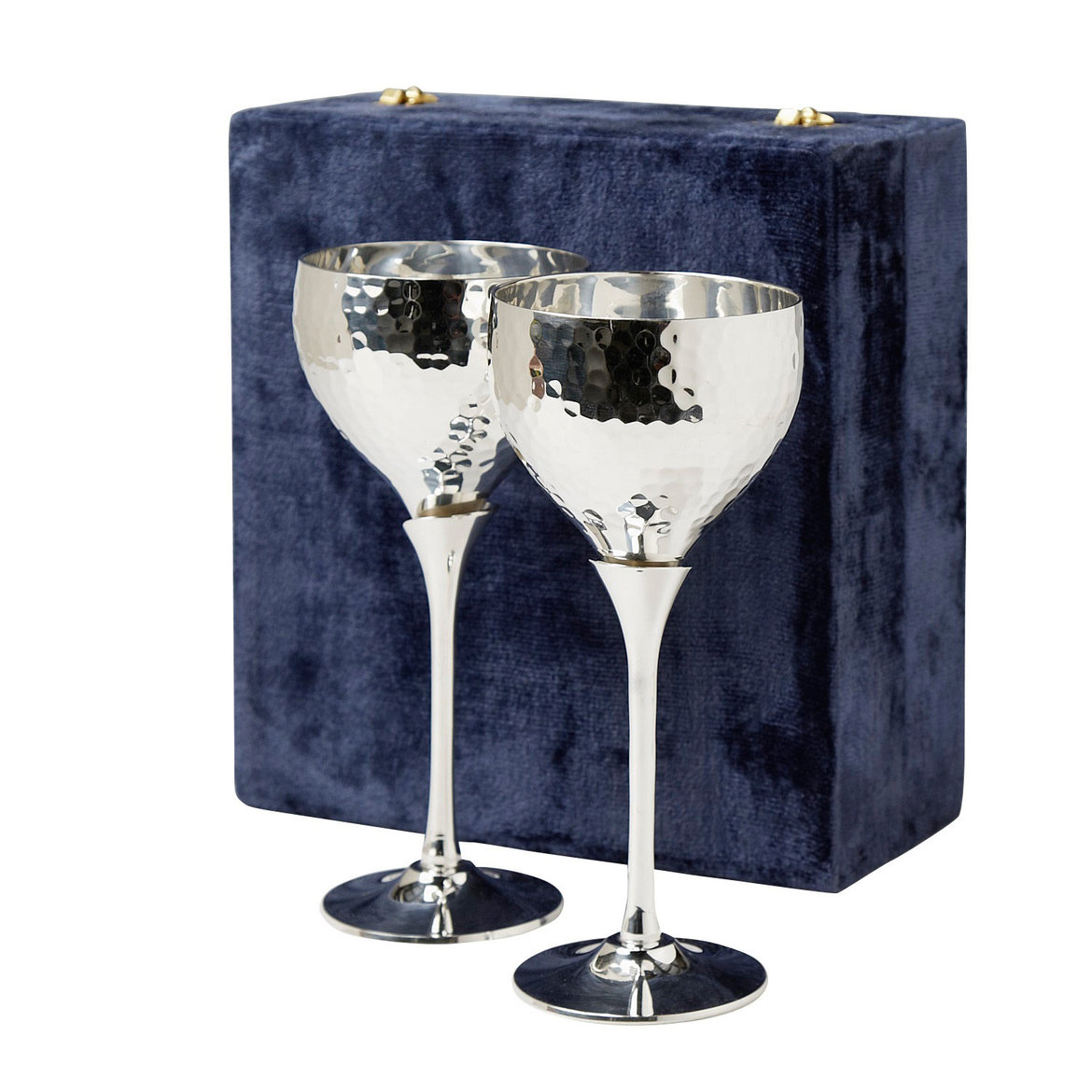 Celebration Goblets, $79

Festivity Cake Stand, $79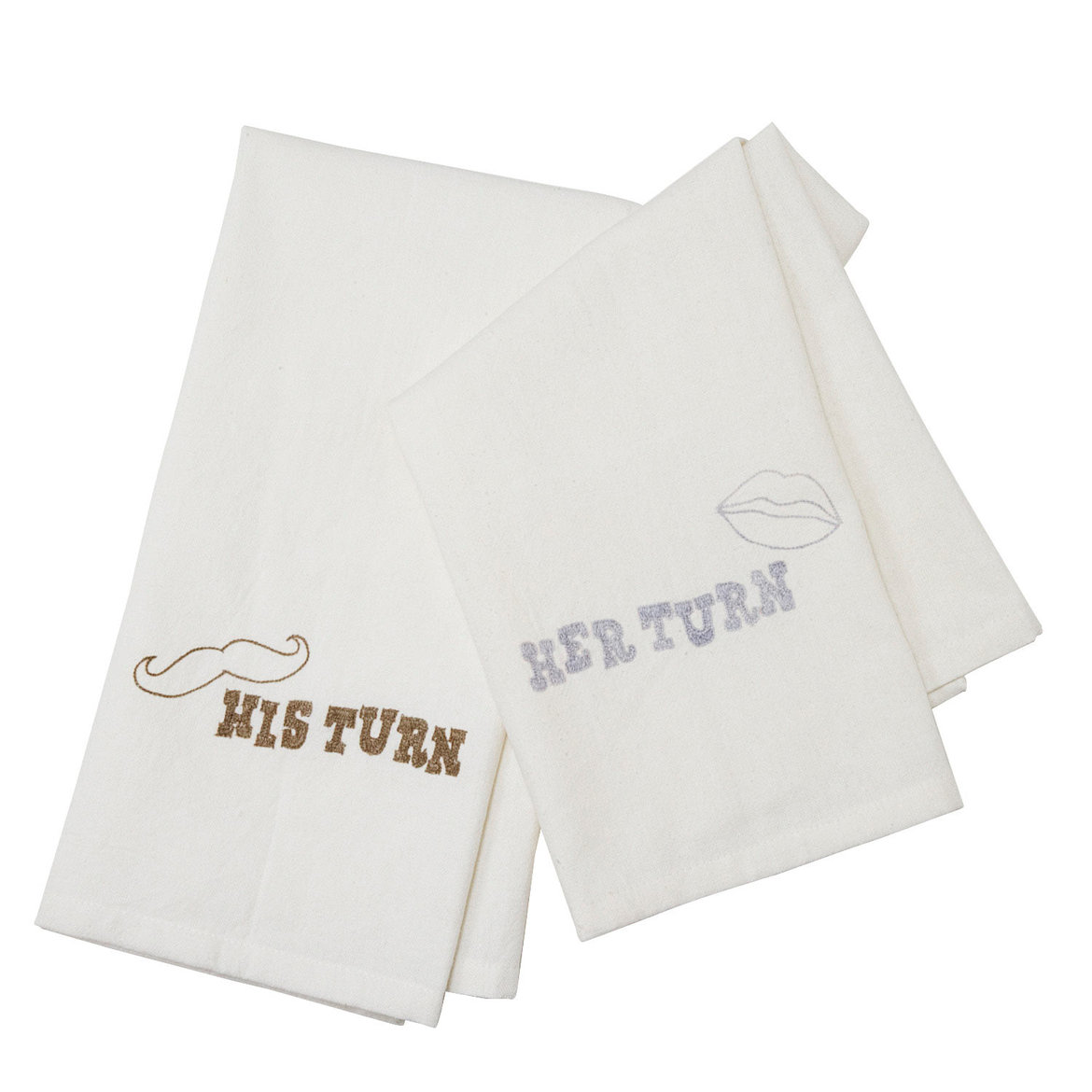 His & Hers Tea Towels, $20

Phoenician Green Pitcher, $69

Ocean Blue Tall Vase, $39

Silhouette Salad Servers, $39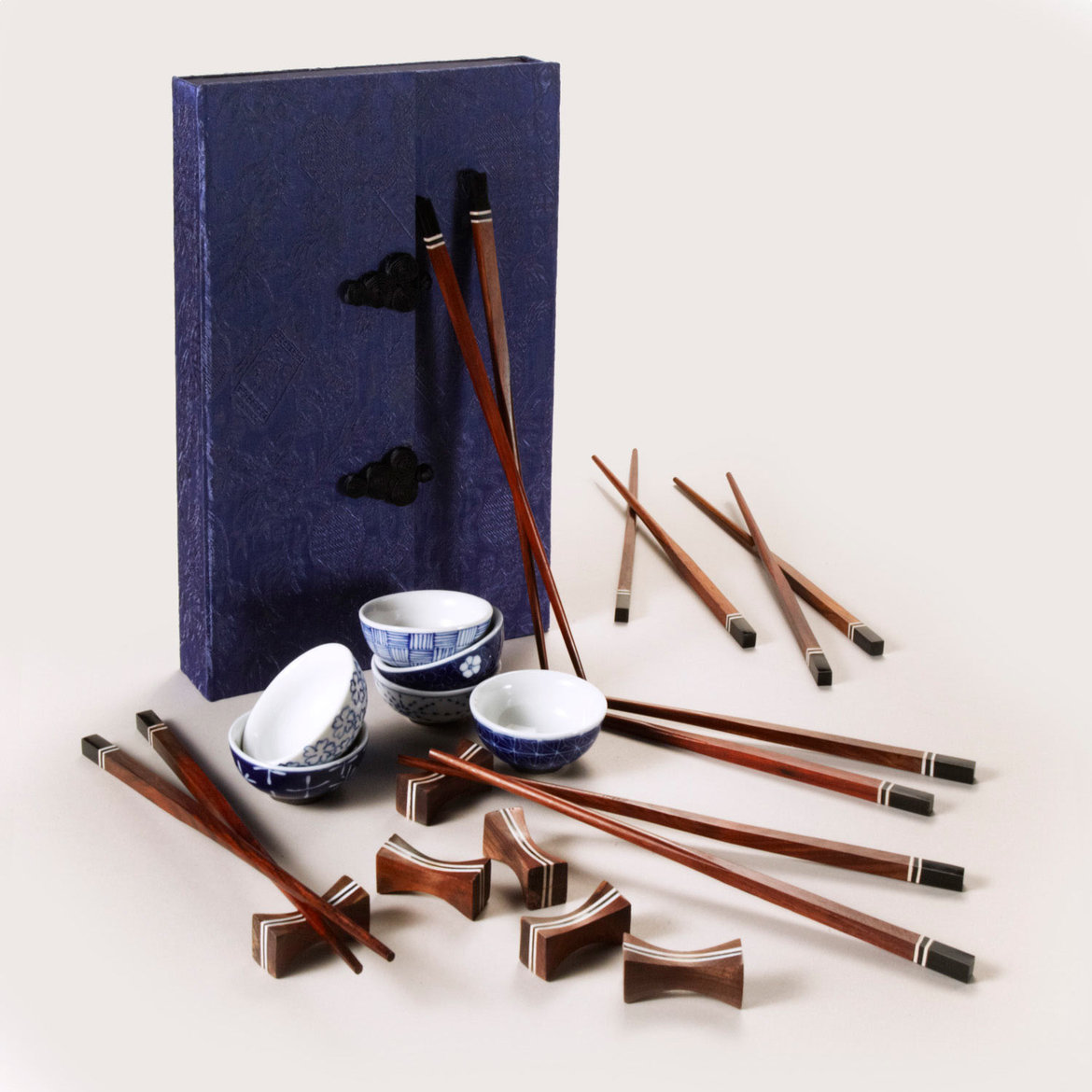 Hand-painted Sushi Set, $79
8. Mud Pie
If you're looking for a sweet gift for mom, whether as a thank-you on the wedding day or to give her on Mother's Day, consider this pretty jewelry from Mud Pie. For every Bella Bar bracelet ($13.50) or Mom Bar necklace ($19.50) sold, $2 will be donated to the March of Dimes imbornto (website launching April 15, 2015) campaign.

Mud Pie "Mom Bar" Bracelet, $19.50

Mud Pie "Bella Bar" Necklace, $13.50
9. A&E Jewelers
This sparking Swarovski crystal, sterling silver Enchanted "Healthy Beginnings" necklace, $99, is sure to thrill mom. A&E Jewelers is also donating 20% of the purchase price to the March of Dimes imbornto (website launching April 15, 2015) campaign.

A&E crystal "Healthy Beginnings" pendant, $99
10. Waiäkea Hawaiian Volcanic Water
When founder Ryan Emmons created this company in 2012, his mission was not only to provide healthy Hawaiian volcanic water but also to promote clean water access throughout the world. Waiäkea contains a multitude of beneficial minerals and electrolytes, such as magnesium, potassium and calcium. It also promises to increase hydration and bone density and bolster the immune system. Nice! Plus, for every liter you buy, Waiãkea donates 650 liters of clean water to those in need in Africa through Pump Aid, so stock up on this healthy water and have plenty on hand for your guests to enjoy at summer weddings.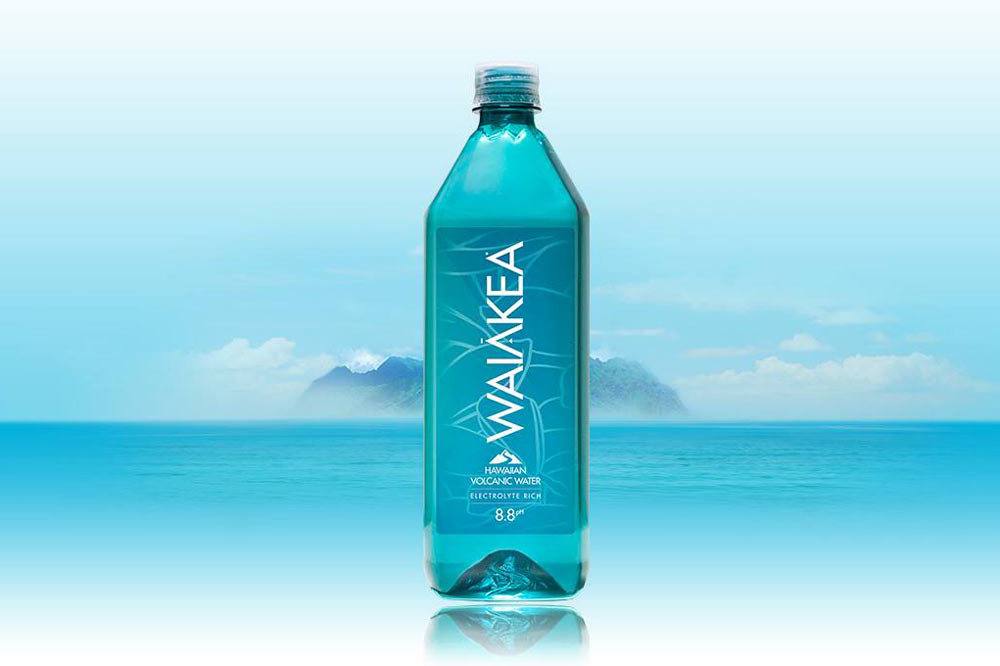 11. ManiCare
When founder Kate Arian underwent a double lung transplant in 2011, she realized how important it was to her recovery that she look good as well as feel good. "Without my usual beauty and maintenance routines, I never felt like myself," says Kate. After her recovery, she created ManiCare, a unique service for the homebound, ill or de-mobilized. Her mobile nail and beauty service now visits people in hospitals, homes and offices in New York, New Jersey, Pennsylvania and Connecticut, and 10% of the proceeds are donated to charities, including the Richie's Spirit Foundation that promotes organ donation. ManiCare is a fantastic gift idea. Treat yourself (especially in the midst of wedding planning when schedules are tight), thank your maid of honor for all her help or give mom a relaxing in-home or at the office mani/pedi for Mother's Day.
—Diane Forden