Labor Day Weekend went by so quickly! I definitely ate and drank way more than I should have. Saturday, Rene and I went to our friend's house for a BBQ party. We ate ribs, burgers, hot dogs, and salad, and we drank vodka, fireball shots, Jell-O shots, and beer. We partied like rock stars... but we definitely did not feel like rock stars the next day. We had a great time, but Sunday, we spent most of the day laying around and eating like crap. Not a good weekend to have when you're trying to lose weight!
Monday, September 2
Thankfully, we had a training session with Bonne Marcus this morning — it was much needed. She had us do a workout today called "The Hundreds Workout." We started with a medicine ball pass 10 times, held a 10 second plank, and then mountain climbed for 10 seconds. We had to get through this 10 times total. Then, we moved on to 25 kettle bell swings and squats, 25 tricep-extensions with the kettle bell, and 25 bicep curls with the band, four times through. After that, we did another set, which consisted of 10 push-ups and 10 more tricep-extensions lying down, but this time, we only had to get through four sets (thank god!).
Lastly, we did abs. Bonne introduced a new piece of equipment to me today called the "flexi-bar." It looks like a regular bar, but you can bend it. You stand in a plié squat, flex the bar over your head, and move your abs side to side. I did 50 reps, and it was not easy! The workout was hard but felt great when we were done. I refused to get on the scale today because of my weekend binge, but I'm back on track now!

After the workout!
In the afternoon, Rene and I went peach picking out east with my family. We picked peaches, nectarines, apples, and plums, and we visited a bunch of cute farms along the way. It was so nice to spend time with everyone, especially my little nephew!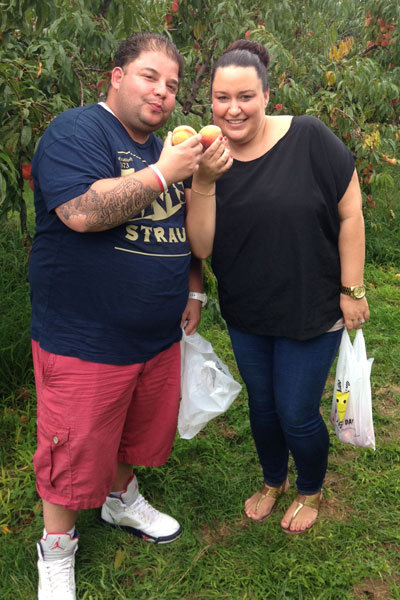 Tuesday, September 3
Back at work today after a long weekend! I planned on going to the gym this morning but woke up so sore, I could barely get out of bed. My abs and sides burned from that flexi bar workout. Luckily, I'm not sore anywhere else this week. This morning, I had two hard-boiled eggs and a skinny latte for breakfast. For lunch, I made salads for Rene and myself with mixed greens, cranberries, sliced natural almonds, crumbled gorgonzola cheese, grilled chicken, and a light raspberry vinaigrette dressing. It was delicious! We also had a side of watermelon and freshly-picked peach. For dinner, I came home and was surprised with a delicious meal from my man. He made pork chops breaded with whole-wheat bread crumbs, spinach, and roasted red potatoes with a little bit of olive oil, salt and pepper. Yummy!
Wednesday, September 4
I woke up and took a 5:45 a.m. spin class this morning. My favorite instructor is back from vacation, so it was a good one. For breakfast, I had a skinny latte and a peach, and for lunch, I am having the same salad I had yesterday with watermelon. Tonight, we are going to my mom's for Rosh Hashanah dinner. I will eat some turkey and vegetables, and I won't have any dessert. Shana tova to all who celebrate!
Thursday, September 5
I woke up early again this morning to go to the gym, and I did a half hour of cardio on the elliptical. Bonne suggested doing intervals on the elliptical, where you work as hard as you can for 50 seconds, followed by 10 seconds at an easy pace, then repeating that cycle for the duration of your workout. I tried this out and burned over 300 calories, so it definitely works!
Tonight, I went over to my girlfriend's house for a wine night. I drank about three glasses and ate some fresh mozzarella, almonds, and pita chips with hummus. That was my dinner, so I didn't feel too guilty.
Friday, September 6
Unfortunately, I got home late last night, so the gym this morning was not an option — it was hard enough getting up at 5:45 for work. For breakfast, I had a coffee with skim milk and sugar and ate a mini wheat muffin and a banana. For lunch, I went out for sushi with some co-workers and had one spicy tuna roll and one shrimp and avocado roll with brown rice and a small side salad. Tonight, Rene and I are going to his mother's house for Rosh Hashanah dinner, so I'm going to try and not eat badly. We have a workout with Bonne tomorrow, and I need to get on the scale. Have a great weekend!
—Jennifer Crow