Back to the grind today! Here are a few lessons learned from the past week on my wedding weight-loss program. 
Get rid of sore muscles with light exercise.
Monday morning, I was still so sore from Saturday's workout with Bonne Marcus — I could still barely get out of bed, let alone walk down the stairs. Every time I got up from my desk chair at work, it took a few seconds to get my legs to move! Bonne told me to just do some abs tonight and try some light cardio to help bring fresh oxygenated blood to my muscles, which are sore from lactic acid buildup.
Getting home from work was a disaster, thanks to a train derailment on the Long Island Railroad – all trains were cancelled, and I didn't get home until 9 p.m., so that light cardio was not happening. I did do 50 crunches and 20 side crunches before I got in bed, so at least I did something! And when I woke up the following morning, I wasn't nearly as sore anymore. Thank God! I thought I was never going to feel better.
You can still eat your favorite foods; just in smaller portions.
After Monday's nightmare commute, we needed a quick and easy dinner. We ordered Chinese, and I ate just a few pieces of Sesame Chicken with brown rice.
Friday was pizza day in my office. But instead of indulging, I split one plain slice with a friend and then filled up on my healthy dinner leftovers from the previous night. After work, I met up with some college friends for happy hour and chose a low-calorie drink, vodka with club soda. Even though I had four instead of my intended two, I still felt okay about it!
My little brother graduated from high school on Tuesday — I'm so proud of him! After the ceremony, Rene and I went with my family to T.G.I. Friday's for dinner. I had about 730 calories left for the day, so I opted for a small house salad with Caesar vinaigrette dressing (230 calories) and a small French onion soup (260 calories). Rene ate grilled Jack Daniel's chicken breast with rice. It was nice to spend the evening with my family.
Take advantage of extra time to prep dinners for busy weeknights.
I took the day off work on Tuesday so that I could attend my brother's graduation. After cleaning my apartment and working out (using the new workout from Bonne — see below!), I prepped dinner for the following night — skinny chicken enchiladas from skinnytaste.com — so that I'd just need to pop it in the oven and whip up some fat-free refried beans and yellow rice when I got home. It was delicious, and each enchilada is only 160 calories.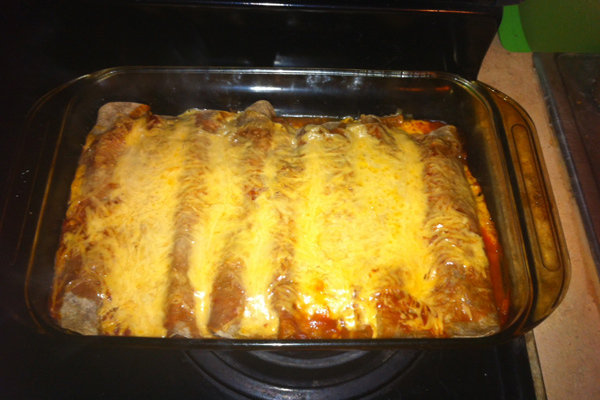 I spent the rest of the afternoon writing out envelopes and putting together my invitations for my engagement party in August! I used weddingpaperdivas.com for my invitations, and I really love the way they came out.
Don't forget the importance of sleep.
Sunday night, I was so exhausted that I went to bed at 7:30 p.m. and slept through the entire night. I can't even remember the last time I got that much sleep! It helped refresh me for the week ahead.
The following Saturday, I hit the gym at 9:30 a.m., spent some time at the beach (and got burnt like a lobster), and then took a beautiful nap when I got home – which is something I never do! Rene and I went to the diner that night (I ate grilled chicken and fresh mozzarella on a whole-wheat wrap with balsamic, and Rene had a waffle). Since we had a workout scheduled with Bonne for the following morning, we made sure to get to bed early.
Exercise doesn't have to mean hitting the gym.
On Wednesday, it was so gorgeous outside that after dinner, Rene and I decided to go for a walk together. We jogged every few blocks, so we got our cardio in! After our walk, we finished doing our invitations, so now all we need is to mail them out.
Don't ignore injuries.
Sunday morning, we woke up early and went food shopping. Rene was complaining his back was really bothering him. When we got home, we had to get rid of the old couch in our living room to make way for our new one, and it didn't go so well. I have no idea how Rene got it in there in the first place! We hit off our light fixture and put a hole in the wall trying to get it out, and Rene really blew out his back. I felt so bad for him; he couldn't even move and I've never seen him in so much pain. He went back to bed, and I was stuck with a couch in my hallway that I had to climb over to get into the other rooms in our apartment. Sounds like fun, right? I canceled on Bonne because I didn't want to leave Rene alone. I ended up doing the workout she gave us in our kitchen. Later, my dad and some friends came over to help saw the couch in half, bring it outside and bring the other one up. Finally, at 4 p.m., I could walk through my hallway. Rene started feeling a little better, so we just hung out the rest of the day and relaxed. I was sleeping by 10 p.m. last night!
Try a circuit-training program.
Here's our workout plan, courtesy of Bonne Marcus:
This week's circuit consists of five to six exercises: lower body exercises, like step-up; upper body exercises, like push-ups and chest flyes; and abdominal or core exercise, like a plank or crunches.
The goal is to run through the entire routine one to three times, followed by cardio, three to four times per week. For cardio, Bonne recommends finding activity you'll enjoy, whether it's walking, jogging, kickboxing, spinning, or Zumba. "For me, cardio is about burning calories, and every calorie burned counts," said Marcus. "It is in the strength/resistance training where we can change the shape of the body."
—Jennifer Crow