Guest blogger: Bonne Marcus
A fitness industry expert for 27 years, Marcus holds numerous certifications from the Aerobic Fitness Association of America (AFAA), including Step, Spin, Bosu™, Pre/Post Natal, Youth Fitness, Aqua, and Personal Training. She has taught for New York City's top health clubs, including Crunch, New York Health and Racquet, and Reebok Sports Club. A recognized name on Long Island, Bonne has taught at Dany Holdstein's Two Worlds, North Shore Health Club, LA Fitness, Sport time, Equinox and currently teaches at the Sid Jacobsen JCC in Roslyn. Learn more at getfitwithbonne.com.
If you are one of the many brides-to-be preparing to walk down the aisle in a strapless, spaghetti strap, or sleeveless gown, here are a few of my favorite exercises to help tone your arms for the big day.
Triceps Extensions with a Resistance Band

Position yourself on your knees with a resistance band under your shins. Hold the band in both hands, and raise your arms above your head, biceps aligned next to your ears. Bend your elbows to a 90-degree angle behind your head, then fully extend the arms without locking your elbows. Aim for 20-25 repetitions.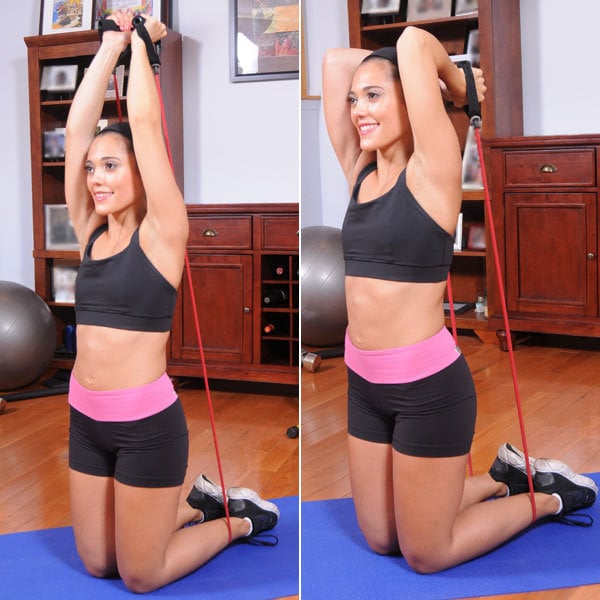 Biceps Curl with a Resistance Band

Wrap the band around your feet with your arms extended, palms facing up. Curl both arms toward your shoulders. Aim for 20-25 repetitions.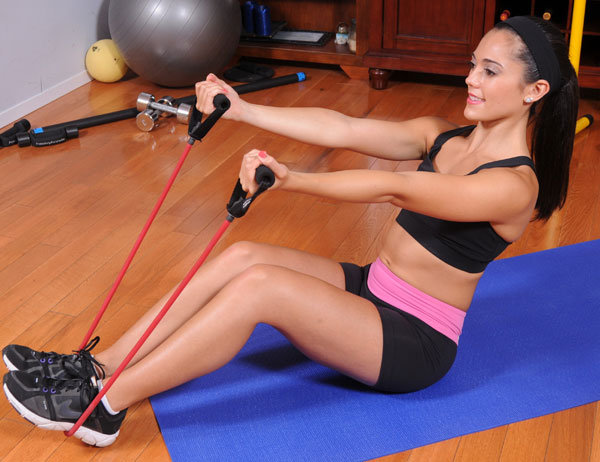 Alternating Triceps Press 

Lie on your back with your knees bent. Holding 8-10 pound dumbbells, extend your arms as pictured. Bring your right elbow to the floor, and as you extend the right arm up, simultaneously lower the left elbow to the floor. Aim for 20-25 repetitions.
Static Biceps Curl

Standing with your knees slightly bent, hold a pair of 8-10 pound dumbbells. Position one arm at a 90-degree angle and keep the other arm is straight, as pictured. While one arm curls the dumbbell, the other arm remains in a static hold. Do 5 reps, and switch arms 4 times.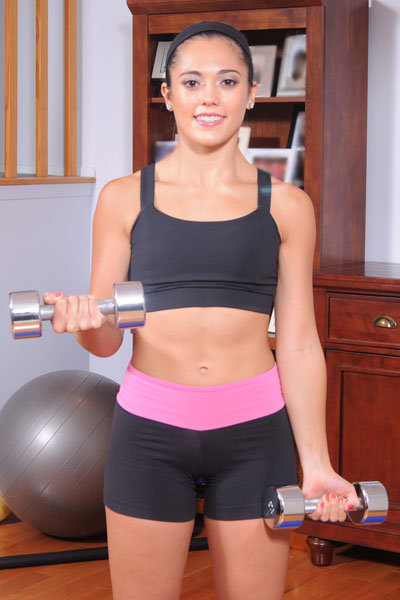 Need more ideas or have questions? Email me at [email protected] and follow me on Facebook.
—Bonne Marcus
Photo Credit: Robert Cincinnati / Model: Maddi-Lyn Alvarez