Deciding on the perfect venue is a challenge. Do you have your reception at a hotel, a catering hall, an estate or perhaps under a tent in a gorgeous garden setting? The decision, of course, depends upon the time of year, the number of guests, your budget, etc.
But there's another great option to consider, for all you fashion-forward foodies who crave a chic, intimate environment along with a fantastic meal: the restaurant venue. Think about it — you'll enjoy a cozy atmosphere, amazing food and the cost will undoubtedly be considerably less than having your reception at a much larger venue. Many restaurants have private rooms to accommodate small receptions, and some restaurants, such as Sepia — one of Chicago's top eateries — have a separate venue just for special occasions. Sepia's venue, called Private Dining by Sepia, is located right next door to the restaurant.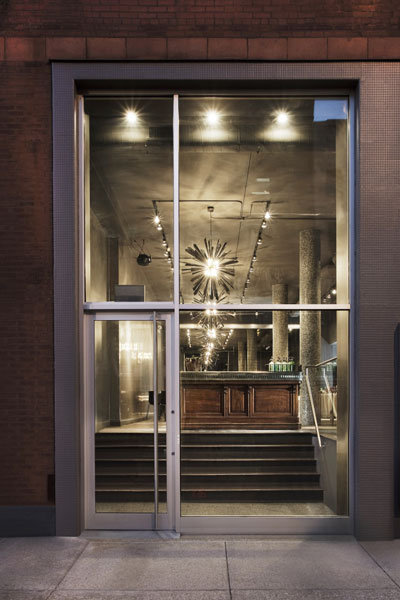 Photo Credit: Paul Strabbing Photography
Inside, the shimmering metallic walls and distinctive bold lighting create an elegant atmosphere. I love the unique lighting fixtures and the warm golden hue they cast.

Photo Credit: Paul Strabbing Photography (left); Jabob Hand (right)
And all that's needed is a single pop of color, such as these bright pink peonies nestled within silver metallic containers.

Photo Credit: Paul Strabbing Photography
I recently spoke with Danielle Giampoli, Sepia's Private Event Manager, for some tips on how to plan a restaurant reception.
Q. When is the best time of year to have a restaurant wedding?
A. The couple needs to take into consideration the busy seasons in the restaurant industry. Typically, wedding venues (like banquet halls) book up in the spring and summer months, whereas in the restaurant industry, our busiest months are November and December. The planning time should be anywhere from six months to a year out for the busiest months.
Q. What is the ideal number of guests for a restaurant reception?
A. Keep in mind that these are smaller, more intimate spaces, so I would suggest fewer than 100 for a cocktail reception and about 60 guests for a more formal sit-down dinner.
Q. What about the price?
A. In terms of the average cost, it depends on the size of the group and the month/day of the wedding. However, since we incorporate many different aspects of a wedding, such as the venue, food, beverages, linens, staffing and rentals all for one fee, it tends to be cheaper than booking everything separately. The average cost at Private Dining by Sepia , for example, ranges from $6,000 to $10,000, which is far below the price of a wedding held in a larger venue.
Q. How does décor factor in?
A. A nice perk about hosting your wedding in a restaurant is the ability to get away with less décor than usual because restaurants are already beautifully decorated. I would say you just need to think about centerpieces for each table, and that's about it. We offer complimentary votive candles and, in my opinion, lighting goes a long way. The candles and the lighting add a magical part to the ambiance!

Photo Credit: Jacob Hand
Q. Any other tips couples need to consider?
A. When you're starting to think about your venue, definitely consider what's most important to you: budget, guest list, time of year, etc. And if having exceptional food is at the top of the list, then opt for a reception in a restaurant. Our Executive Chef Andrew Zimmerman, Pastry Chef Cindy Schuman, Wine Director Arthur Hon and Head Bartender Josh Pearson personally cater to all the couple's needs and preferences to create a Michelin-worthy menu for the big day. Your guests are sure to enjoy an unforgettable meal!
—Diane Forden