Ahh, Valentine's Day… a day for flowers, candy, dinners-for-two, greeting cards and e-cards… and myriad other ways to let those we most care about know that we love them. It's also a day for proposals and weddings galore, and I'd like to give a special shout out to one of BG's favorite event planners, Preston Bailey, who tied the knot with his long-time fiancé, Theo Bleckmann, atop New York's Empire State Building at the stroke of midnight. None other than friend of the couple and E! television personality, Joan Rivers, officiated their 1920s-inspired event. 
Preston has long contributed to Bridal Guide's many articles on receptions and weddings. And having designed events and weddings for celebrities including Oprah Winfrey, Donna Karen, Uma Thurman, Liza Minnelli and royal families around the world, it's wonderful that Preston has finally celebrated a wedding of his own. Our heartfelt congratulations to Preston and Theo! 

Reem Acra designed a dramatic 12-foot custom wedding gown to display:

Preston and Theo with Joan and Melissa Rivers:

The Real Housewives of Atlanta star NeNe Leakes attended with her ex-husband Gregg Leakes — NeNe and Gregg are now engaged again, and Preston is planning their upcoming nuptials — and co-star Cynthia Bailey: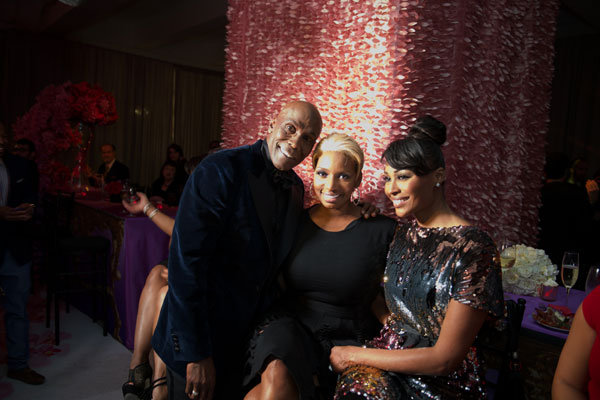 Preston and Theo with famed cake designer Sylvia Weinstock:
Now, to plan your own extra-special celebration, here are some tips from the master himself on how to make your wedding (and newlywed life) romantic. Hint: You might want your fiancé to take a look at these, too!
1. Before the reception, try and spend 20 minutes alone with your partner and just enjoy each other's company.
2. Have a romantic letter delivered to the room of your soon-to-be spouse before the wedding. Express how excited you are and how much your fiancé means to you.
3. After you return from your wedding, re-live your special moment by replicating your bridal table at the wedding for an intimate dinner with your new spouse.
4. Have a florist send your new spouse flowers similar to the ones you used for the wedding every month for the first three months of your marriage.
5. Write your own vows. Incorporate special moments and memories into them and remember that while all eyes are on you, this moment is just about you two and the commitment you're making to one another.
6. Include meaningful songs into your playlist, and surprise your spouse with a dedication.
7. Have a gift waiting for your new spouse in your newlywed suite. It could be an engraved watch, a pair of earrings or even tickets for a trip on your first anniversary.
8. If your spouse is close to his or her parents, make a special toast to them. Tell them a few things you love about your spouse and thank them for their role in raising your spouse.
9. Find ways to laugh, even if things don't go exactly as planned. After all, this is one of the happiest times of your lives!
10. Focus on what is truly important. A wedding is not about the flowers, the food or the dress — those are just gorgeous accessories to enhance a special moment in time between two people who have chosen to spend their lives together. Think about your partner, why you love them, how happy you are they have chosen to be by your side and the fact that the two of you are sharing your love with your closest family and friends.
—Diane Forden
Photo Credit: Robertevans.com