I can't imagine starting the day without two cups of java from my one-touch-coffee server. After all, who wants to spend time measuring out coffee grinds and waiting for the pot to brew? I just insert a single cup, press the button and my coffee is ready to enjoy in an instant. But there are those times when, well, maybe more than two cups is necessary.
Drum roll, please: Keurig Green Mountain, Inc. has now introduced their latest brewer, the Keurig 2.0, that is an absolute personal favorite. It not only makes perfect single cups but also brews a full 4-cup pot of coffee quickly and easily at the touch of a button — the first one-touch to offer both.
All that's needed for your pot of coffee is the K-Carafe pack that you insert just as you would the K-Cup. The K500 Series ($189.99 - $199.99) features 10 brew sizes ranging from 4 to 30 ounces and an illuminated 80-ounce water reservoir. Plus, you can choose from over 290 varieties of coffee, tea and other hot beverages from more than 50 brands. I not only love how easy it is to use and how great the coffee tastes (the Keurig 2.0 Brewing Technology enables the brewer to recognize each pack and optimize the flavor) but also its other fabulous features such as determining your coffee strength, an auto brew for the K-Carafe, auto on and off, a customizable clock, favorite settings, the extra-large color touch screen display with customizable wallpaper and even a built-in night light with a customizable color! The Keurig 2.0 comes packaged with a plastic carafe and a stainless steel thermal carafe ($29.99) is also available to purchase.
The other two brewers in this series include The Keurig 2.0 K400 ($159.99 - $169.99) that offers nine brew sizes and a 70-ounce water reservoir and the Keurig 2.0 K300 ($139.99 - $149.99) that also offers nine brew sizes with a 60-ounce reservoir. Trust me, you will love having the Keurig 2.0 in your kitchen to give you that tasty single cup or two in the morning as well as a perfectly-brewed pot of coffee to share with your hubby and friends.
For those who like to grind their own coffee beans, check out the Cuisinart Single Cup Grind & Brew Coffeemaker ($99.95). Add beans, water, press a single button and coffee beans are ground and brewed right into your cup.
Espresso lovers will be happy to hear that Nespresso recently introduced the new VertuoLine system that offers both espresso and a large-cup coffee size. The sleek machine ($299) is available in three colors, red, black and chrome, and can also be purchased with the Aeroccino Plus milk frother for $349. For large-cup sizes choose from eight coffee blends in different intensities, a first-ever half-caffeinated coffee, two flavored coffees (Vanilla and Hazlenut) and one decaf variety.
Coffee gourmets will appreciate Krups' new fully-automatic one-touch machines: the state-of-the art EA9010 Barista ($2,500), an update on their EA9000 Barista machine, that now offers 17 recipes from the original 8.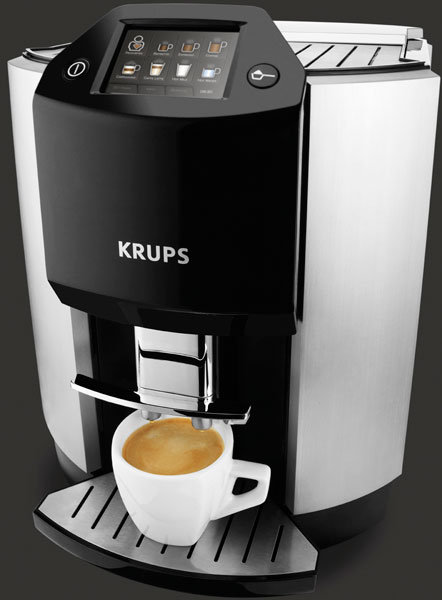 and the EA84 Full Auto ($1,000).
Enjoy coffee, espresso, ristretto, cappuccino, café lattes and more. The EA9010 boasts self-cleaning functionality and offers a 2-step frothing technology, while the new EA84 Full-Auto features a color touch screen display with intuitive illustrations for easy navigation, and an integrated potentiometer for the perfect quantity adjustment of ground coffee needed for each recipe. Consider these as great group gift options for your registry.
So coffee-lovers, rejoice! With these registry-perfect choices you'll never want for a perfect cup of your favorite beverage.
—Diane Forden