Looking for ways to personalize your wedding? Make headlines with this unique concept from newsfavor.com: your very own custom hand-written newspaper keepsakes! Choose from engagement announcements:
Invitations: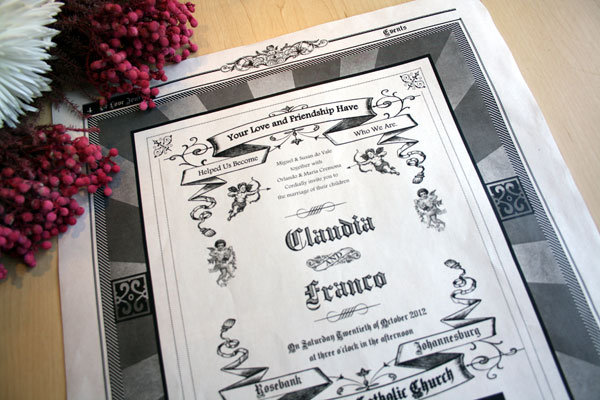 Wedding programs: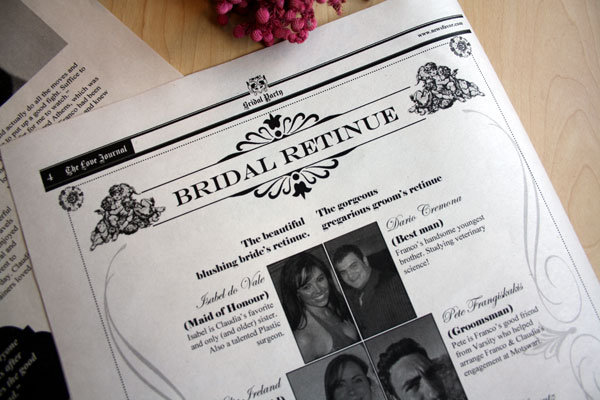 And favors for your guests to enjoy:
This unique concept allows you to tell your love story through custom-written articles and features. You can include photographs of you and your fiancé, your wedding party, friends and family members. The keepsakes are printed on real newsprint, ranging from 2 to 4 pages and are available in a variety of sizes. Pricing, which varies according to the number of prints and pages ordered, begins at approximately $300 for a minimum order of 100 prints of a 4-sided wedding newspaper. A digital range, beginning at $115, is also available for easy at-home printing.
Other options include festive confetti cones:
And this cool seating chart:
One couple welcomed their guests at the venue with multiple newspaper seating charts that were displayed in vintage frames and mounted on elegant easels. You're sure to have fun creating these memorable keepsakes. Go to newsfavor.com and start spreading the news!
—Diane Forden