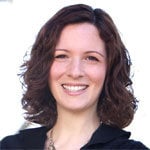 Guest blogger: Kate Harrison, creator of greenbrideguide.com.
After planning her own green wedding in 2007, Kate wrote the best-selling green wedding book, The Green Bride Guide: How to Plan an Earth-Friendly Wedding on Any Budget (Sourcebooks, 2008). In 2009, she founded greenbrideguide.com to help couples use their weddings to promote social and environmental change while supporting the local green economy. Kate has a JD in Environmental Law and a Master's from Yale in Environmental Policy.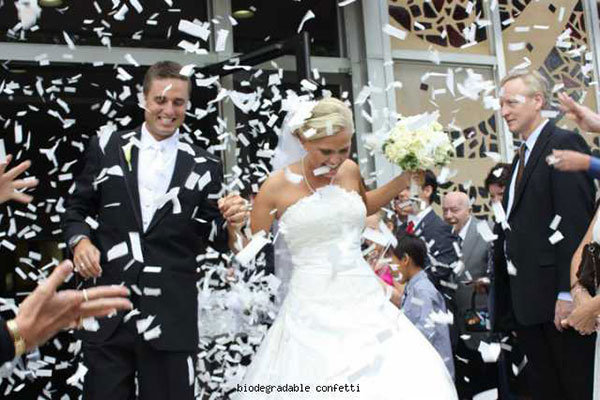 Photo courtesy of zuukusa.co.cc
There is nothing more fun than frolicking through a cloud of celebratory confetti. Launching things in the air is a timeless staple of any celebration. There is something so exciting about letting loose – hurling something into the wide blue sky to express the deepest joy. But there is a downside to all that hurling: waste. Traditional confetti falls everywhere: in your hair, on your clothes, and on the ground. All of those tiny pieces can be a real mess, especially if they aren't environmentally safe. Protect nature and have fun with these great eco-friendly confetti options. Hurray!
Snowflakes

Photo Credit: Libbyjamesblog.com
This is the stuff they use to make snow in the movies! It floats in the air, hovering like so many snowy angels posing for photographs. Plus, it's 100% biodegradable — it dissolves with the first rain. If you don't want to wait that long, just turn the hose on the lawn for the quickest clean-up ever.
Seed Bombs
These adorable Pillow Box Seed Bombs by Davita's Seed Bombs can be thrown at or around the happy couple. It's best to throw these in a grassy area where they will later sprout into flowers!
Heart-Shaped Biodegradable Rice
This is an original take on a wedding classic. These mini hearts are made of rice but, like the snowflakes above, they disintegrate when they come into contact with water. They're safe for the birds and won't roll around uncomfortably underfoot. Rice is traditional because it symbolizes fortune and fertility, but it's dangerous for wildlife and a real pain to clean up. Hold onto the tradition but ditch the mess with these precious mini hearts.
Birdseed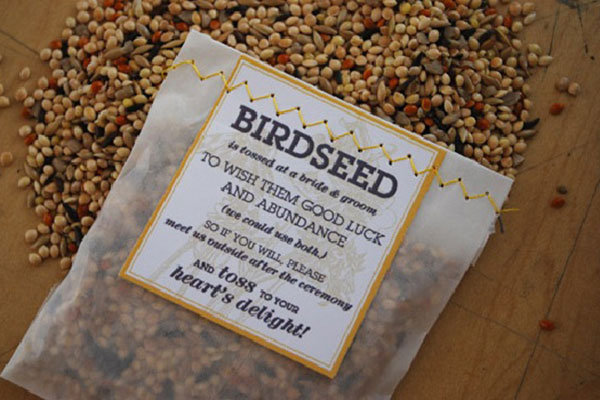 Photo courtesy of moistyling.blogspot.com
Speaking of birds, birdseed is a great outdoor alternative to other biodegradable confetti, mostly because it attracts the birds! Imagine a yard full of feathered friends: robins, blue jays, and sparrows. The birds won't get in your way — they're skittish around people, after all — but they'll add some living décor to your outdoor space. You'll feel like Snow White calling the animals with your pure heart. Plus, whatever doesn't get eaten will either break down naturally on its own or sprout where it falls.
Eco-Friendly Butterflies

Photo courtesy of theweddingdecorator.blogspot.com
These butterflies are simply magnificent! They flutter, just like the real thing! They're made of rice paper and are yet another example of the magical biodegrading confetti (just add water). These come in many different colors to match your palette. Unlike many of the other confetti options out there, these look gorgeous dotting the lawn. It's as if hundreds of butterflies all landed at once!
For more eco-friendly confetti ideas, visit the Green Bride Guide's Wedding Shop.
—Kate Harrison