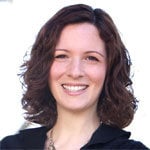 Guest blogger: Kate Harrison, creator of greenbrideguide.com.
After planning her own green wedding in 2007, Kate wrote the best-selling green wedding book, The Green Bride Guide: How to Plan an Earth-Friendly Wedding on Any Budget (Sourcebooks, 2008). In 2009, she founded greenbrideguide.com to help couples use their weddings to promote social and environmental change while supporting the local green economy. Kate has a JD in Environmental Law and a Master's from Yale in Environmental Policy. 
I got really excited about the cake topper at my wedding. I searched high and low for the perfect vintage piece, from local boutiques to eBay to my grandmother's antique-filled attic. I was looking for something timeless and sweet, something that embodied our style and attitude. The topper I decided on was porcelain. It was from the 1920s, and the bride and groom were dressed as dapper flappers. Our whole wedding was vintage, and the cake topper was the perfect finishing touch.

Photo Credit: Redbreastedbird.blogspot.com
Put the finishing touch on your eco-friendly wedding with these cute and responsible cake toppers.
Vintage
Vintage is always eco-friendly, and it's also a very open-ended category. You can find pieces on eBay from as far back as the turn of the 20th century (and even earlier than that, though price skyrockets as you travel back in time). Vintage also includes the recent past, so if you're looking for something more contemporary, pieces from the 1980s and 1990s count, too. Make sure the piece you choose is in good shape and doesn't contain harmful ingredients like heavy metals — some antique pieces do. The last thing you need at your wedding is a toxic cake!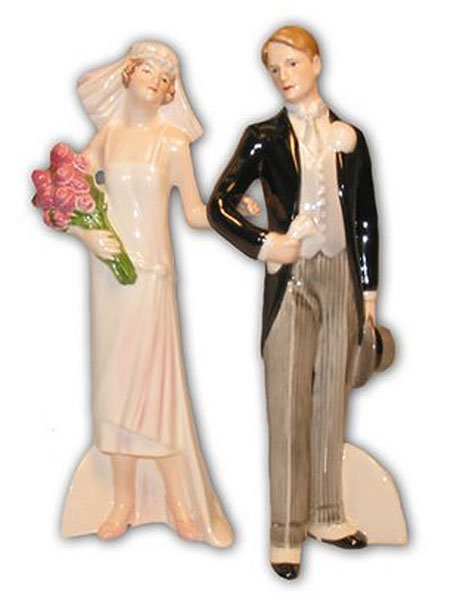 Photo Credit: Weddingcake.name
Custom Wooden Designs
Etsy is every starved-for-time DIY-loving bride's dream come true! I found these incredible custom wooden creations by Star House. You send her your photograph, and she creates a custom cake topper with eco-friendly wood and paint. She starts by creating a sketch from your photographs for your approval so you can be involved in the process. These unique keepsakes are sure to impress your crafty friends!

Photo Credit: Weddingchicks.net 
O My Deer! Wooden Cake Toppers are hand-crafted of poplar design, woodburned, painted in non-toxic water paints, finished with natural sealer, and lightly polished with beeswax cream. Both animals have a simple red heart, groom has hat and bow tie. This cake topper can be personalized.

Photo Credit: Etsy.com
Handcrafted Ceramic Toppers
This ceramic topper by Susabella is completely handmade, fired in a kiln, painted with food-safe glaze, and then kiln fired again. These are heirloom pieces you can display next to a wedding photo or pass them down to friends and family to use at their weddings for years to come.

Photo Credit: Weddingchicks.net
Sugar Creations
Edible art is the ultimate recyclable. Many bakeries will create custom sugar cake toppers, or you can order them online. You can choose an object or animal that reflects your theme, or go for something whimsical and unusual as an offbeat accent. Sugar sculptures are delicate, beautiful, and delicious.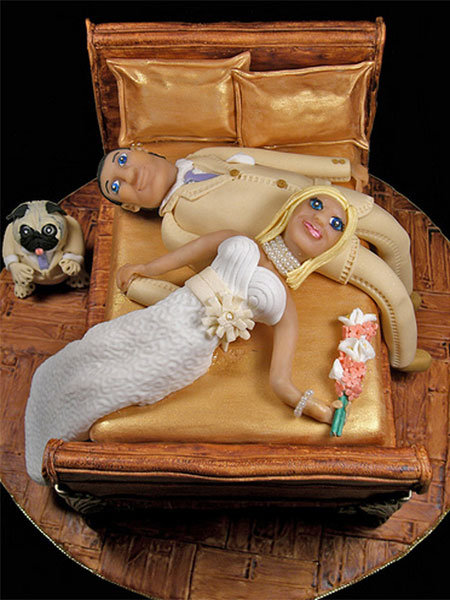 Photo Credit: Cakepicturegallery.com
Recycled Paper Origami
Origami is an all-purpose decorative tool. Skillful folders can create animals, flowers, and geometric shapes of all sorts. Match the paper to your theme or colors. Accent the origami on your cake with origami garlands, centerpieces, or favors. You can order pre-folded origami online or try your hand at folding your own. Be sure to double-check that the paper you're using is recycled.

Photo Credit: Flickr.com
For more great cake topper ideas, visit the Green Bride Guide's Wedding Shop.
—Kate Harrison