Each week, we feature wedding music recommendations from Scratch Weddings, the nation's leader with the best wedding DJs at affordable prices. This week's post comes from DJ Dan Chaves, who has been rocking dance floors across the US for well over a decade. .Dan's expert mixing skills keep the energy high, and his considerable music knowledge helps the couple to throw a party that reflects their personal taste. "I love the moment when I play that one song which gets everyone on the dance floor, young and old, and creates that special memory for the bride and groom."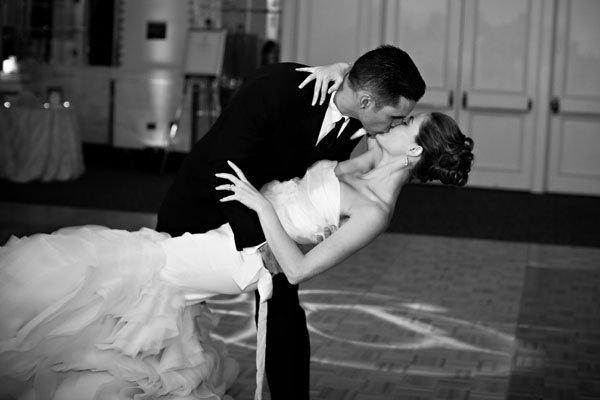 Photo Credit: Muriel Silva Photography
When music is a very important part of your life, it's especially key to find the right song to complement your first dance as a newlywed couple.
My personal favorites to spin for special moments like these are songs that are just as unique as the couple that's dancing to them. As a professional DJ, the best advice I can give is this: The first dance is one of those magical moments where time stands still, the spotlight is shining bright, and all eyes are on you, so literally anything goes as far as pairing music to your perfect moment. This is an amazing opportunity to spotlight any song that's personally meaningful to the both of you as you take center stage and shine. Here are a few different styles and examples to help you along your way.
Listen to these songs (and more!) for free with Amazon Prime ►
Classic:
 

 "It Had to be You" - Harry Connick Jr.
 

 "At Last" - Etta James 
 

 "For Once in My Life" - Stevie Wonder  
 

 "Into the Mystic" - Van Morrison 
 

 "God Only Knows" - Beach Boys  
 ► "In My Life" - Beatles  
Romantic:
 

 "In Your Eyes" - Peter Gabirel
 

 "Fade Into You" - Mazzy Star
 

 "Falling Slowly" - Glen Hansard and Marketa Irglova
 

 "The Luckiest" - Ben Folds
Soulful:
 

 "I Could Write a Book" - Ella Fitzgerald
 

 "My Baby Just Cares for Me" - Nina Simone
 

"I Belong to You" - Lenny Kravitz
 

 "I'm Glad You're Mine" - Al Green
 

 "Fever" - Peggy Lee
Fun:
 

 "You Can Never Tell" - Chuck Berry 
 

 "Por Una Cabeza" (from Scent of a Woman and True Lies) - Carlos Gardel
 

 "Love Theme" - The Godfather Soundtrack
 

 "Grow Old With You" - Adam Sandler
 

 "Never Gonna Give You Up" - Rick Astley (Rick Roll your own wedding!)
Indie:
 

 "Hysteric" - Yeah Yeah Yeahs 
 

 "Heartbeats" - Jose Gonzalez 
 

 "The First Day of My Life" - Bright Eyes
 

 "I Will Follow You into the Dark" - Death Cab for Cutie