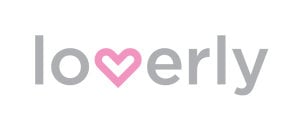 Loverly is the heart of weddings: a visual inspiration search engine designed to help brides discover ideas, people to hire, and things to buy. Loverly makes finding beautiful wedding inspiration easier than ever! Their images are powered by the best wedding publishers and wedding shopping partners on the web. Find Bridal Guide on Loverly >>
As you start planning your wedding stationery, your invitations are likely your first thought. Invitations are ours, too! However, there are so many other pieces of stationery you'll need to have on hand before, during, and after your wedding day. Think about save-the-dates and shower invites before, programs and menus during, and thank you cards once your gorgeous wedding day has come and gone. There are a number of other stationery pieces we don't want you to miss, so make sure to read about our top 10 below!
1. First, start building your wedding party. An invitation accompanied with a handwritten note will do the trick:

Photo Credit: Wedding Chicks via Lover.ly
Discover dozens of dresses for your bridesmaids >>
2. You (and your guests!) will need to know all of the details about your bridal shower and bachelorette party:

Photo Credit: Blush Printables on Heart Love Weddings via Lover.ly
Your hosts will also need to decide on a theme >>
3. Make sure to mail your save-the-dates at least six months prior to your wedding:

Photo Credit: Wedding Paper Divas via Lover.ly
So many save-the-dates, so little time!
4. Encourage your love's family to mail rehearsal dinner invites to your wedding party, as well as out-of-town guests traveling in for your wedding weekend:

Photo Credit: Minted via Lover.ly
What will you wear to your rehearsal dinner?
5. If you're hosting a wedding weekend, present guests with a full itinerary, plus a list of fun things to do and see in town throughout the weekend: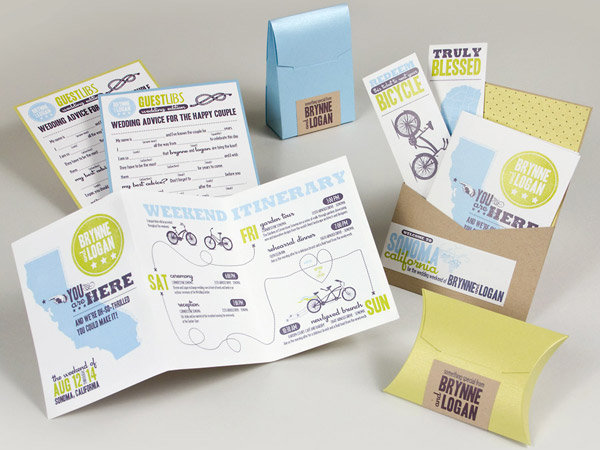 Photo Credit: Envelopments via Lover.ly
Planning a destination wedding?
6. Welcome guests to your ceremony with programs: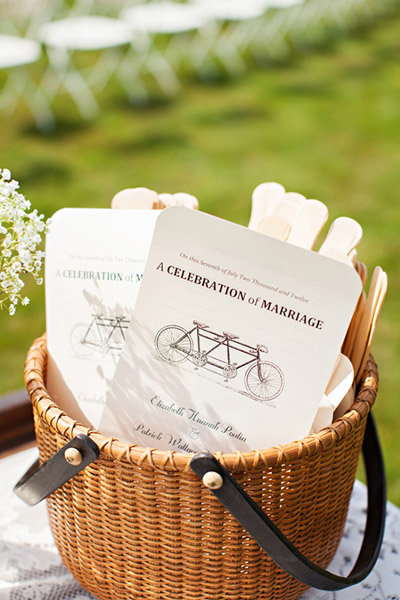 Photo Credit: Deborah Zoe on Wedding Chicks via Lover.ly
Find a beautiful veil for your walk down the aisle >>
7. Help everyone find their tables with escort cards: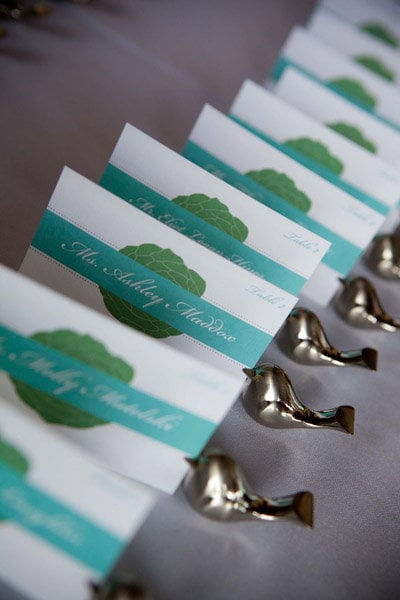 Photo Credit: Photo Divine on The Paper Plume via Lover.ly
Let's talk about signature cocktails!
8. Remind your guests what you're serving by presenting them with menus (table numbers will also help them find their seats!):

Photo Credit: Wedding Chicks via Lover.ly
Find tons of inspiration for your wedding cake >>
9. Don't forget about your favors! A note about what guests are receiving is always welcomed: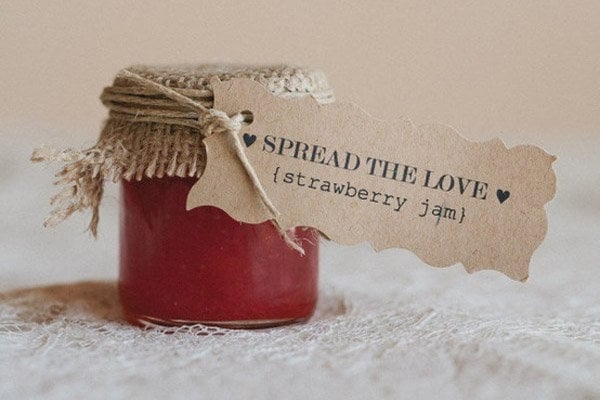 Photo Credit: Paula O'Hara on Southern Weddings via Lover.ly
Favors are always appreciated >>
10. Once your wedding day (and honeymoon!) have come and gone, don't forget to send thank you notes to your guests:

Photo Credit: Lani Blue Stationery via Lover.ly
Shop for your thank you cards in the Lover.ly Shop >>
Have you decided on all of your stationery pieces? Fill us in below!
—Carly Totten